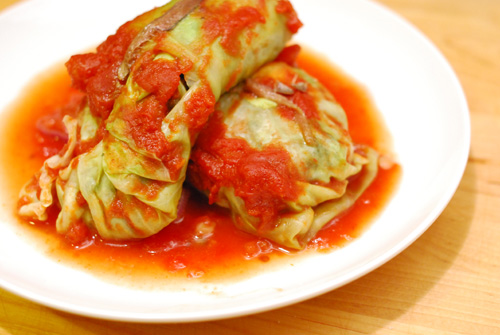 This week's Golden Earthworm's CSA box included a very large and beautiful green cabbage.  So what to do with this healthy leafy green now that it's in season?  Stuffed cabbage!  For the stuffing, I decided to go in a fresh vegetarian direction and used lentils and Israeli couscous (trusty pantry staples they are).  They work very well together since they're roughly the same size/shape, and the grain/legume combo packs a protein punch.   For flavor, I added Kalamata olives (I love that briney goodness), and to fill it out, a carrot, since that's what I had on hand, but you could use celery, or most any vegetable.
Once the cabbage was stuffed, it was braised in chopped tomatoes, and topped with anchovies.  This dish was so good I predict it will stand the test of time… in 40 years maybe this will be what grandmas will be serving at family dinners!
Lentil and Israeli couscous stuffed cabbage
1 large head of green cabbage, cored
2 onions, 1 chopped and other sliced
2 cloves garlic, chopped
1 carrot, chopped
1/2 cup small, French lentils
1/2 cup Israeli couscous
1 handful of chopped pitted olives (I used Kalamata)
1-1.5 cups canned chopped tomatoes (with juices)
6-8 anchovy fillets (optional, without them, the recipe is vegan and delicious)
2 cups of vegetable stock or water
Olive oil, salt, pepper
1. Preheat oven to 315F
2. Prepare the filling: In a large skillet over medium high heat, sauté the onion, garlic and carrot in olive oil.  Season with salt and pepper.  Once the vegetables have softened and taken on some color (5-10 minutes), add the lentils and couscous, and stir for about 1 minute.  Add the stock and olives and bring to a boil.   Turn the heat down to low, and cover.  Cook until the liquid is absorbed and the lentils and couscous are softened.  (Don't worry if they are still a little hard, since they will continue to cook in the oven.)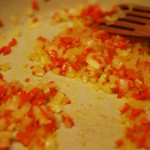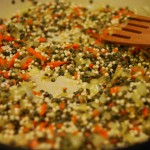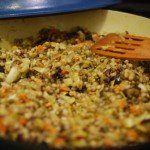 3. Prepare the cabbage: First core the cabbage by cutting around the stem end with a medium-sized knife. Next, gently separate the leaves, working from the core end, until you have about 10 nice large leaves, don't worry if they rip a little.   Prepare a large saucepan fitted with a steamer basket, and place the leaves in, cupped side down (see pic below).   Steam the leaves until they soften up, about 1 minute.  Remove the last bit of the core on the leaves, and set aside.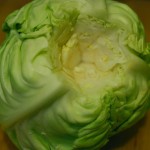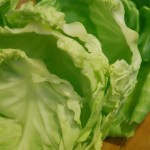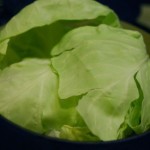 4. Stuff the leaves: Place a cabbage leaf on a flat surface, and spoon about 3 T filling in the bottom/middle third. To roll, start by folding in the sides, then roll from the bottom up.  Place rolled leaves in a small baking dish, on top of sliced onions, seam side down.   Continue until all the filling is used up.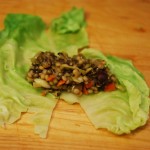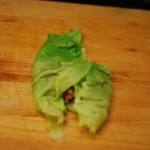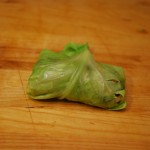 5. Bake: Pour the tomatoes over the rolled cabbage and lay anchovies on top (optional, but highly recommended).  Bake, uncovered, for 20-25 minutes.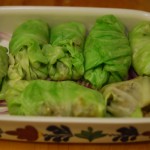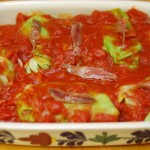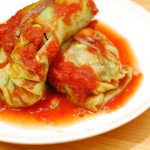 Similar Posts: