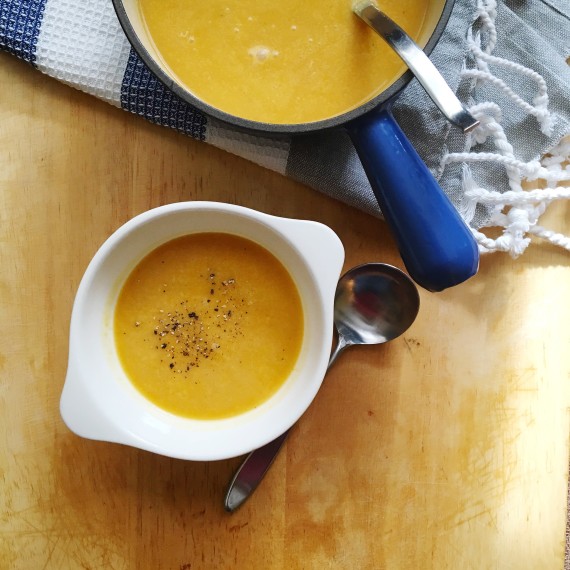 Our apartment officially has officially been hit with the sniffles. We've walking around snorting and blowing our noses, and chasing our toddler with wet wash clothes to wipe his runny nose, which has become a whole messy face situation. There are a few soups that I like to make to zap the nasties out, and this one – chock full of fresh ginger, garlic and onions – is one of them. You can make this with any orange vegetable you have on hand, or a combination of them. Today's version has one butternut squash, but I've made it with only carrots, or only sweet potatoes, and it always turns out delicious. I like to puree the soup, since I drink it throughout the day in small bowls or big mugs and it sips easier that way, but you can serve it chunky if you'd like.
From a Chinese Medicine perspective, the spiciness of the onions, garlic and ginger help clear the nose, while the sweet orange root veggies and coconut milk support the body's energy, helping you stay strong as you heal. Make a big batch – it freezes really well, and it's a great kitchen prescription to keep in the freezer for the next time you or your family gets the sniffles.
Orange Vegetable Soup
2 onions, chopped
4 cloves garlic
1 thai chili pepper, seeded (or anything spicy, or nothing at all)
2-3 T fresh grated ginger root
3-4 cups peeled and chopped carrots, sweet potatoes, or winter squash.
1 cup coconut milk
Olive oil or coconut oil
Salt and freshly cracked pepper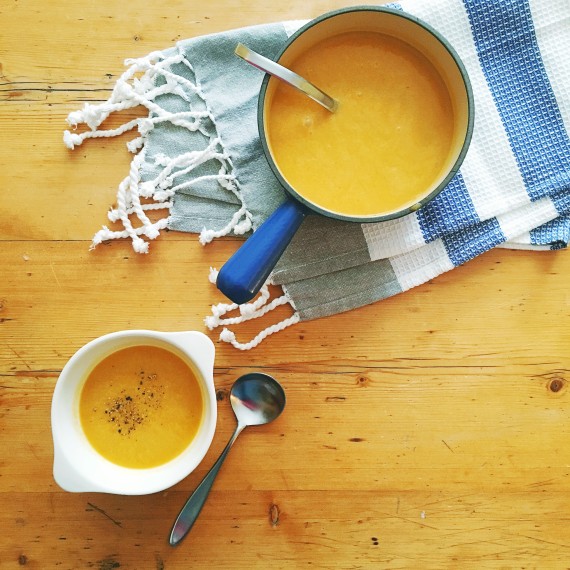 Put up a kettle of water (at least 6 cups) up to boil
Heat a large soup pot over medium high heat. Add oil, and the onion, garlic and chili pepper (if using).
Add the orange vegetables, ginger, coconut milk, salt and pepper to taste and boiling water to cover.
Turn the heat down to low, cover and simmer for 40 minutes.
When vegetables are soft and cooked, puree the soup either with an immersion blender or in a standard blender (if using a blender, take care to cool soup first!).
Taste and season with salt and pepper.
Similar Posts: