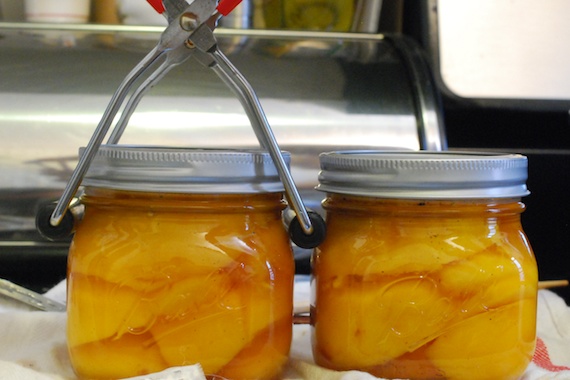 L'shana Tova to all of you! A sweet and healthy new year!
For this month's Tigress Can Jam ingredient, The Peach, I opted for something simple, yet delicious. A few things led me to go this route:
With the holidays over the past week, I've been busy and spent a few evenings away from my apartment, limiting the amount of time I had to work on my canning.
We received 4 peaches from our fruit share this week, and all but one of them was eaten before I had a chance to can!
We had a TORNADO in Queens last night! I was driving back from Long Island when I started being pummeled with rain and lightning and thunder lit up the sky. I am lucky that I have an Aunt and Uncle en route, and so I stopped there to wait out the traffic and watch coverage of the storm on TV… My Thursday evening canning plans were foiled! We're definitely fortunate that neither us nor our car was in Forest Hills during the height of the storm. While we did have damage inside our apartment (screens blew out of our windows, dirt was spattered on the ceiling and walls of our bathroom, there were leaves in the bedroom, rugs strewn about, etc) we were lucky compared to many people in the area. I've posted some pictures below that Matthew took over the past day… Pretty scary stuff!
Sooooo back to canning — In order to make the 9/17 deadline, I had to do something QUICK today before we leave for Yom Kippur this afternoon. In light of how CRAZY the situation is with the tornado in Queens, and inspired by the Jewish Holidays, I decided to do a simple peaches in syrup recipe. During the Jewish New Year it is traditional to eat sweet foods to symbolize the sweetness to come in the new year. Therefore I opted for heavy syrup, and added a bit of extra flavor with a vanilla bean.
L'Shana Tova Vanilla Peaches
Recipe adapted from Ball Complete Book of Home Preserving; yield: 2 wide-mouth pint jars
5 peaches
1 cup sugar
1 cup water
1/2 vanilla bean, split and cut in half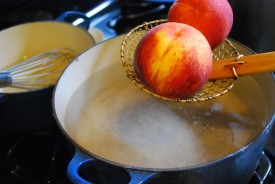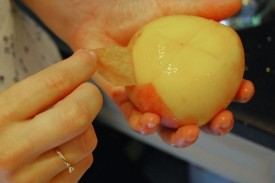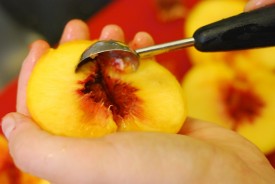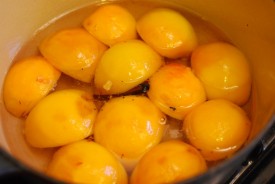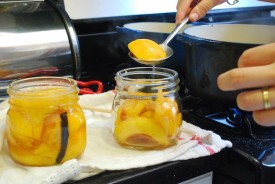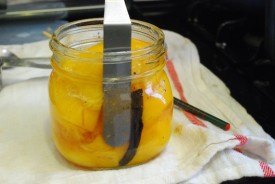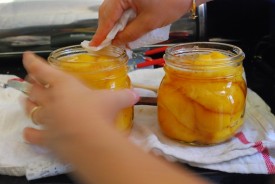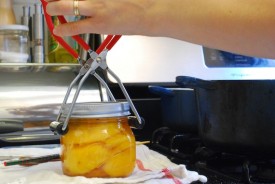 Prepare canning jars, lids and boiling water canner. Read HERE for more info.
To peel peaches, put large pot of water on to boil, and score the non-stem end of the peach with a sharp pairing knife. Prepare a large bowl of ice water. When the water boils, put in the peaches, 2 at a time, for 60-90 seconds, then remove and place immediately in the ice water. The skin should slip right off.
Cut peaches in half, remove pit and scoop out core. Quarter and set aside. (Toss with lemon to prevent browning if you will not be proceeding with recipe immediately.)
Heat up water and sugar over medium heat, stirring to dissolve sugar. Take care to not boil this mixture. Add split vanilla bean.
Add peaches cut side down, and heat on high for 1 minute until heat through.
Using a slotted spoon, pack hot peaches, cut side down, overlapping them, leaving 1/2 inch headspace. Ladle hot syrup into jars, tucking in the vanilla bean in each jar.
Remove air bubbles, adjust headspace, and add more syrup if necessary.
Wipe rim, center lid, and screw on band until fingertip tight.
Process for 20 minutes in boiling water canner.
The Aftermath: Forest Hills Storm Pictures: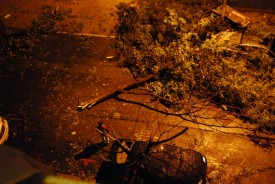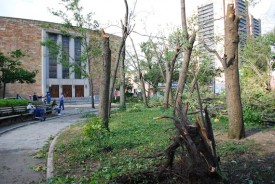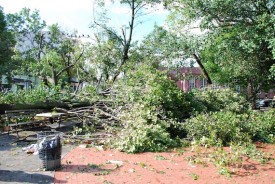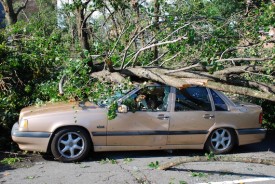 Similar Posts: