I tried Mark Bittman's remake of the best bread recipe ever.  This new version uses all whole grain flour.  It's not as good as the white flour original, but it's real easy to make, very hearty, great for people with high cholesterol, and has plenty of fiber.
No-Knead Whole Grain Bread
2 cups whole wheat flour
1/2 cup rye flour
1/2 cup coarse cornmeal
1 tsp instant yeast
2 tsp kosher salt
1 1/2 cups water
mix up the dry ingredients, add the water and mix it until it's a wet shag.  Then let it sit covered at room temp for 4-5 hours.
Shape it into a rectangle and put it in an oiled loaf pan.  Oil the top.  Let it sit for another hour, and then bake it at 350 for 45 minutes.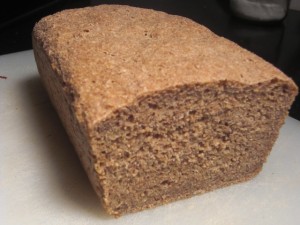 This bread is great cut into thick slices, toasted, with cream cheese or jam.  A fantastic way to start the day (I did it this morning).
Similar Posts: