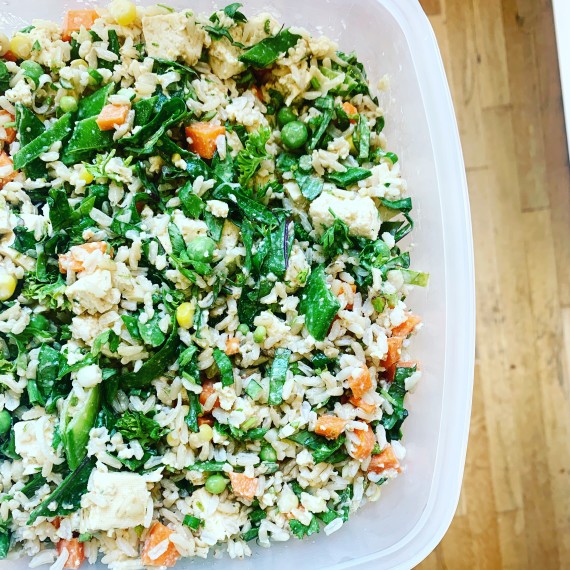 I posted this on Instagram right after I made it but I figured I would do a belated write up with recipe since it's such an easy, crowd-pleaser and it's still BBQ season! I make versions of this salad year-round, but it's particularly useful in the summer since it's filling and won't wilt in the summer heat, even when standing out on a picnic table or in your beach bag for hours. Its also hearty enough to satisfy vegan or vegetarian guests who don't have anything to eat at carnivorous BBQs. My friend Rosie reminded me I call this kind of dish a kitchen sink salad since you really can throw anything in it and it will be just as delicious with any grain and any vegetables you have, including CSA veggies you're not super-familiar with. The trick it to make a strong, punchy dressing since the veggies will release some moisture as they sit, diluting the flavor of the dressing. So believe me and don't balk at the amounts of garlic in the dressing!
Vegan Grain Salad with Tofu
Cooked and cooled grain (~2 cups)
1 package tofu, cubed and set out to drain on a clean kitchen towel
Vegetables, diced 3 cups total (I used a lot of my CSA share's contents including garlic scapes, green onions, shelled and blanched peas, snow peas, corn cut off the cob, kale and basil, plus non-CSA carrots and parsley)
1T miso paste
1T sesame oil
5 cloves garlic, minced
1T ginger, peeled and grated
1 Lime, zest & juice
1T rice wine vinegar
2T tahini
Mix lime zest & juice with 1 clove garlic and sesame oil. Toss cubed tofu and set aside.
In a large bowl mix together tahini, miso paste, sesame oil, rice wine vinegar, 3-4 cloves garlic, grated ginger. Adjust taste by adding more tahini, rice vinegar or sesame oil as desired. Toss dressing with grain and veggies. Add marinated tofu plus any extra marinade.
Season with salt and pepper. Garnish with more freshly chopped herbs or roasted sesame seeds.