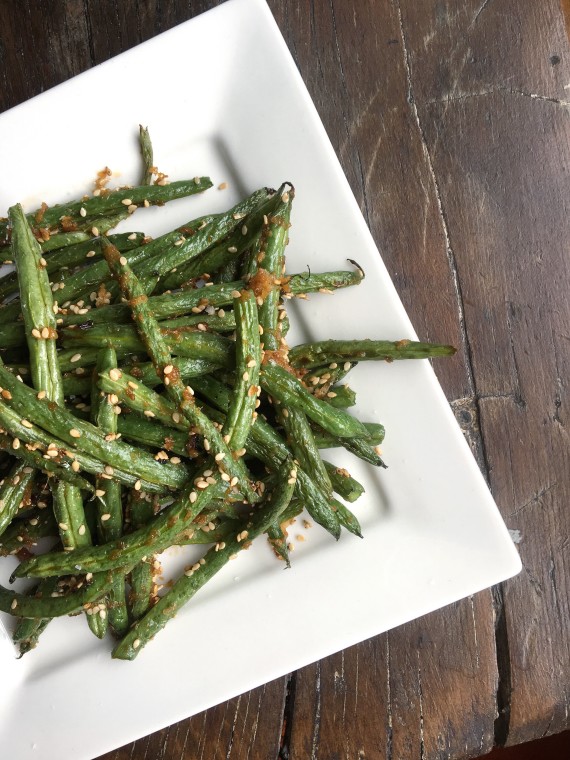 You know those addictive sweet, sesame Chinese restaurant "dried green beans"? Well, these are them but better, not fried and so, so easy.
This season's Golden Earthworm CSA has delivered week after week of tender, organic green beans. Honestly, I've mostly been snacking on them raw but last week we received 2 bags of them and I decided to branch out and try my hand at re-creating those addictive, Chinese green beans at home. Well, let me tell you they were so easy and the final result was very true to the beans I was craving.
Sesame Green Beans
Green beans, washed and trimmed
Freshly grated ginger
Minced garlic
Tamari
Mirin
Sesame oil
Sesame seeds
EVOO
Preheat oven to 400F
Toss green beans with EVOO and place on a parchment-lined sheet pan; season with salt. Roast.
Meanwhile, mix ginger, garlic, tamari, mirin, sesame oil. I used about 1T grated ginger, 2 small garlic cloves, 1T tamari, 2t mirin and 1t sesame oil, but you may want it less gingery or sweeter (up mirin for sweetness).
When green beans are bright green and slightly wrinkled, pull the pan out and toss the green beans in the bowl with the sesame mixture. Place green beans back on the sheet pan, sprinkle with sesame seeds and roast for another 10 minutes or until they look caramelized.
Try not to eat them all at once.