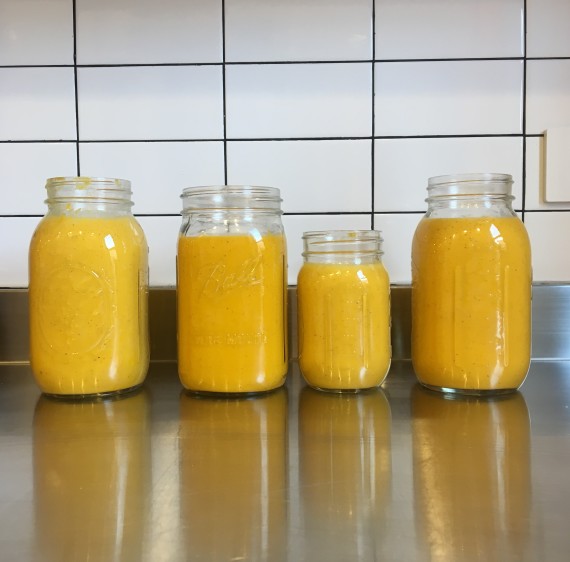 Would ya look at this gorgeous soup?! It's versatile, filling, nutrient-dense, freezes well and is orange AF. I call it any orange vegetable soup not because it has oranges in it (it does not), but because you can use any orange vegetable like carrots, sweet potatoes, squash or any combination of them. It comes together quickly on the stove top, but if you have an Instantpot you can make this soup in no time. I've posted a version of this soup before, but have since updated it and figured it was worth posting again. The update? A couple scoops of almond butter added while blending, which creates a satisfying creaminess that holds up well when paired with a hearty salad for a complete meal.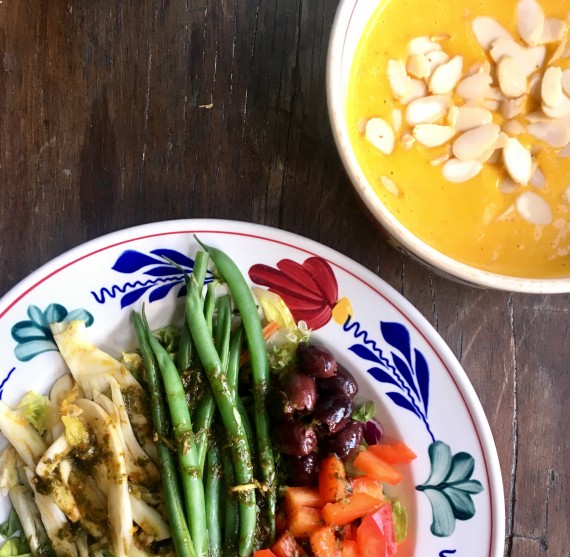 What's also convenient about this soup is that it can be easily transformed into other meal elements.  Here it evolved into a sauce for grilled chicken after I re-blended it with olive oil, tahini and preserved lemon.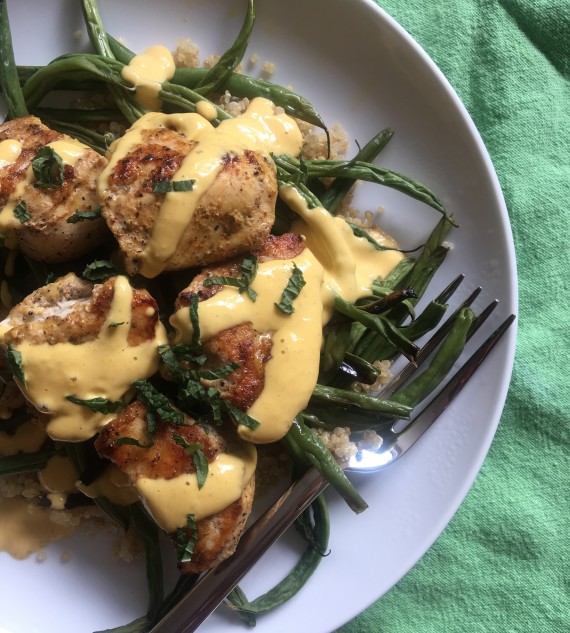 And below you can see when I used this magic soup as a base for roasted salmon and asparagus. When I wear my traditional Chinese medicine (TCM) hat, I recommend this soup to people suffering from fatigue, muscle aches or sluggish digestion since the orangey-yellow color and sweet flavor correspond to The Spleen, which in TCM is the center of the body's metabolism.  You can also up the garlic, onions and ginger and it's wonderful at shaking that lingering head-cold out. It's a great soup to keep on hand in the freezer for those times that you need a simple, nourishing meal. Orange you glad I told you about it?!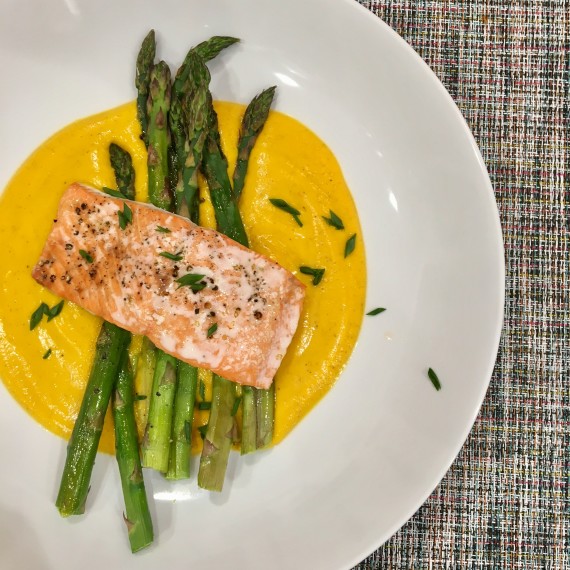 Orange Vegetable Soup
2 onions, chopped

4 cloves garlic

2-3 T fresh

grated

ginger root

3-4 cups peeled and roughly chopped carrots, sweet potatoes or winter squash.

1 can full fat coconut milk

Olive oil

or coconut oil

Salt and freshly cracked pepper

2-3 heaping T almond butter
Heat a large heavy-bottomed pot over medium high heat. Add

1 T oil then

 

the onion and garlic. Sauté until softened. 

Add the

orange vegetables

, ginger, coconut milk

, salt and pepper

 

and add enough 

boiling

water to cover

.

Turn the heat dow

n to low, cover and simmer for 3

0(ish) minutes.

When the 

vegetables are soft and

cooked, puree the soup with the almond butter. Taste and season accordingly. Please take care when pureeing the hot soup!
Instantpot users: put all ingredients except the almond butter in the pot (you can omit the oil). Top with enough water to cover. Close and set to high pressure for 4 minutes, natural release (you can manual release after 5 or so minutes). Continue with step 4 above.