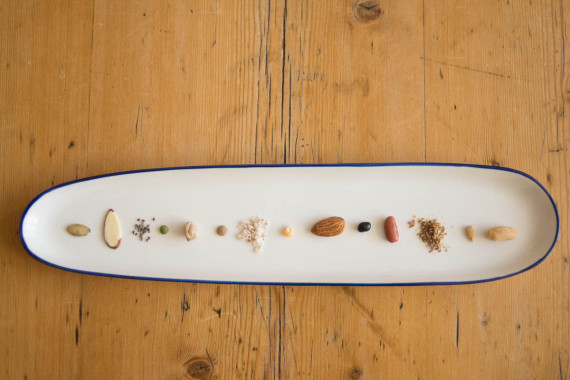 I actually thought I would have a lot more beans and nuts than I do! This past CSA season I ordered a double batch of beans, but I've gone through almost all of them since  I "borrowed" a pressure cooker from a friend (borrowed is in quotes since it was months ago, and I have yet to give it back; she is so nice and says I can keep it as long as I'd like, but I really have to give it back). I used to be scared of pressure cookers, I had heard horror stories of exploding pots and dirty ceilings. Alas, this one is an electric counter-top version that plugs in and is virtually foolproof. It also eliminates the need for presoaking beans, which is really the best thing in the world. Dried beans can go from the bag/jar to the plate in 10-30 minutes! Here's a closer look at what I'll be cooking my way through come February.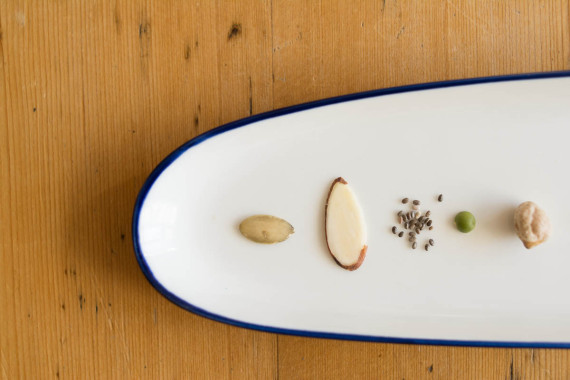 1.5 cups raw pepitas, Trader Joe's
1 cup raw sliced almonds, TJs
1.5 cups chia seeds, TJ
1 lb organic green split peas, Purcell Mountail Farms
1.5 cups garbanzo beans, Goya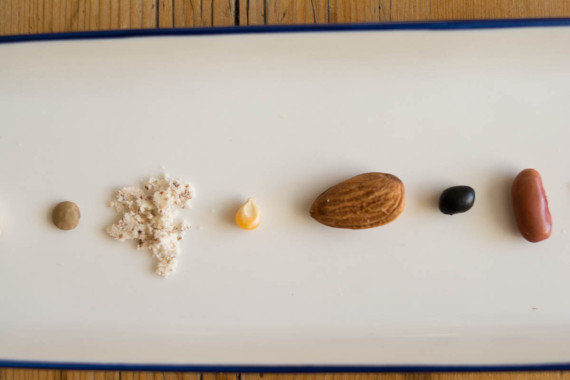 3 cups organic green lentils, Fairway bulk
.5 lbs raw ground almonds, TJs
1.5 lbs organic popping corn, TJs
1 cup whole raw almonds, Walgreens (!!)
2 cups organic black beans, Fairway bulk
.5 lbs red kidney beans, Goya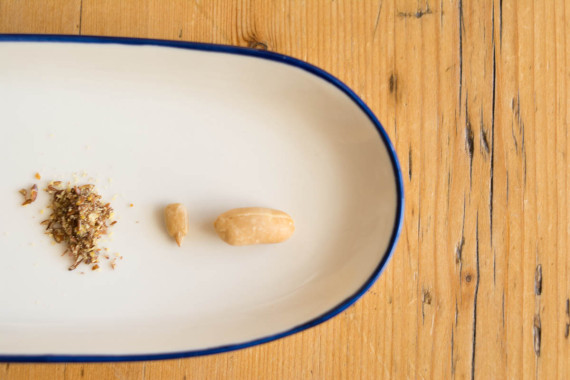 1 lb organic whole ground flaxseed meal, Bob's Red Mill
2 cups roasted unsalted sunflower seeds, TJs
1.75 lbs roasted unsalted peanuts, TJs
Addendum: After I took these pictures, and as I was putting everything back, I found 1/2 lb of raw cashews from Fairway, oops.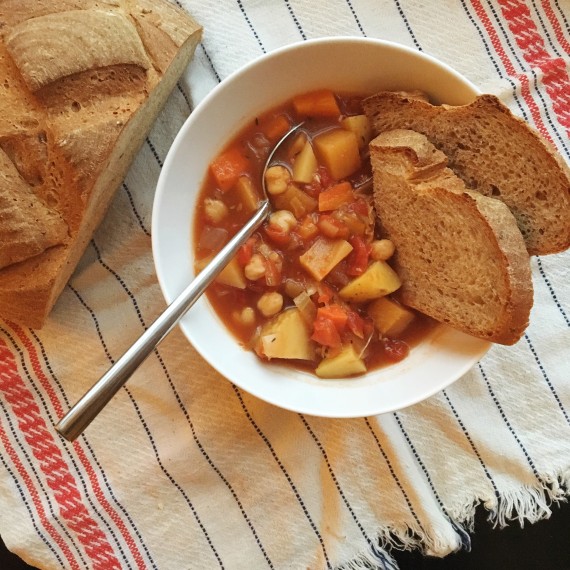 And although it wasn't #fromthepantryfebruary yet, with this weekend's historic snow storm, we sure cooked like it was! I made a big ole pot of [non-traditional] minestrone with the last pound of my Purcell Mountain garbanzo beans, plus a couple of straggling CSA veggies from the crisper (rutabaga, I'm looking at you), roasted CSA tomatoes from the freezer, and some cabbage, carrots and onion from Fairway. And what goes best with a hot bowl of soup on a cold winter day? Fresh bread! Matthew made two loaves this weekend: one 1/2 whole wheat boule (above) and one whole wheat sandwich loaf with cooked buckwheat, polenta, and rolled oats. Booyah! Getting through that million pounds of polenta one tablespoon at a time!
Similar Posts: