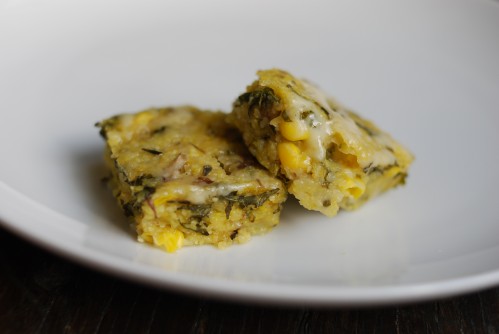 I love polenta.   It is one of the quicker cooking whole grains (done in under 20 minutes), and it is extremely versatile.  It can be cooked into a layered casserole, made smooth and creamy, or it can be baked and cut into squares, which is what I did tonight.
I made this dish with kale, and shitake and maitake (hen of the woods) mushrooms.  Mushrooms go so well with polenta, and they also boost immunity which makes them a great choice for this time of the year.
Mushroom and Polenta Squares
1 cup coarse ground cornmeal
2 garlic cloves, minced
1/2 cup corn kernels (fresh or frozen)
2 cups sliced mushrooms (I used shitake and maitake)
1 cup kale, washed and chopped
1/2 cup grated Parmigiano-Reggiano (or other dry, aged cheese)
2-3 cups water
1/2 teaspoon dried thyme
Salt, freshly ground pepper, olive oil
Preheat oven to 350F.
Bring 2 cups of water to a boil. Once boiling, add the cornmeal, whisking every few minutes. Add corn, thyme, and salt and pepper. Turn heat to low and continue to cook for about 10-15 minutes. If the polenta becomes too stiff, add a little more water. (You might have to add up to a cup more water–add 1/4 cup at a time.)

Meanwhile, heat a large saute pan over medium heat. When hot, add olive oil and garlic. Cook for a few minutes until garlic is golden. Add mushrooms and a little salt, and continue to cook for about 4-6 minutes; the mushrooms should be giving off some liquid.

Add kale and about 2 tablespoons of water to the mushrooms, then cover the pot for about a minute, until the kale softens up.
Add the mushrooms and kale to the polenta. Be sure to add all the liquid from the mushrooms. Mix the cheese into the polenta, and spread the mixture into a Pyrex dish.

Bake for 10-15 minutes. The dish can be eaten right away, or cooled completely (and refrigerated), cut into squares, and served at room temperature.

Similar Posts: