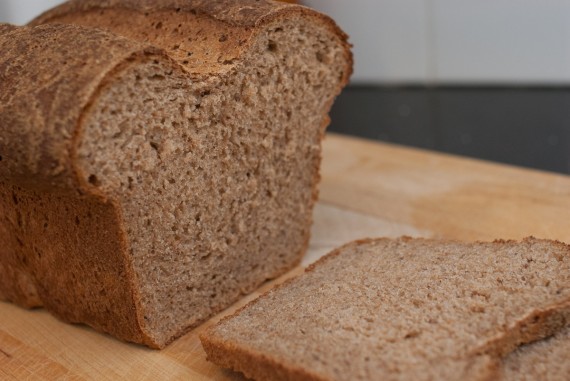 Making bread and pizza at home is all about planning. Once you've got the timing right, it requires very little active work.  I hadn't made bread at home in over a month since we had been out of town, and well ya know,  summer… but when I saw artisanal multigrain loaves in the store selling for close to $5, I had a sudden burst of inspiration (funny how that works huh?).
Sunday is our day to prep our week's food, and my contribution was one loaf of multigrain whole wheat bread, and dough for two large pizza pies to be eaten at a later date.  Sounds like a lot of work, but all this took roughly 15 minutes of actual work and about two and a half hours of listening for timers to ring and making decisions.   The only semi-technical part is feeling for when the dough is right, but the following two recipes should give you dough that is easy to handle and elastic, not wet and tacky .
Sunday Morning: Soaked the (Multi)Grains
When I woke up, I started soaking some grains that would be added to both the bread and pizza dough.  Uncooked grains add wonderful texture to bread, but they need to soak for a while, so it's important to get that started early.  The grains I used were a small handful each of:
Millet
Oats
Flaxseed Meal
Coarse Cornmeal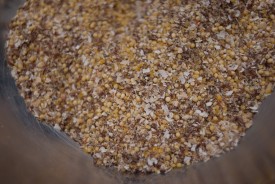 I put those in a small bowl and added enough water to go about an inch over the grains, then I covered the bowl with a plate.    Ideally you want to soak the grains overnight, but I forgot.  We went out for about five hours, and when I got home and started on the dough the millet was still a little on the crunchy side but I used  it anyway and I ended up really liking the extra texture.
Sunday Late Afternoon: Started the Multigrain Whole Wheat Loaf
6 ounces white flour (about 1.5 cups)
10 ounces whole wheat flour (about 2 cups)
1.5 cups grain mixture (see above)
1 tsp kosher salt
1 tsp active yeast
2 Tbsp extra virgin olive oil
3/4-1 1/2 cups of water
In a food processor fitted with the blade attachment (a la Bittman), add all the dry ingredients and mix for about 30 seconds.  Add the grain mixture and the olive oil, and with the food processor running, start pouring in the water.  Because there is a lot of water in the grains, the amount of water you need to add will vary, so add it slowly until a dough ball forms and starts moving around in the chamber.  I added about 3/4 cup
Turn the dough out on a floured surface and knead for just a few seconds.  Form it into a bowl, and let it rise in an oiled bowl covered with plastic wrap until it doubles (1-2 hours).  Our kitchen was HOT, so after about 45 minutes it had risen plenty.
Preheat the oven to 400 F.
Turn the dough out onto a floured surface again and let it sit covered with plastic wrap for about 20 minutes.
Dusting with flour as needed, shape the dough into a flat rectangle the width of your loaf pan.   Roll up the dough and place it in the oiled pan seam side down.  Dust with flour and cover with plastic wrap and let it double again (1-2 hours).  (This is a great time to put about 5-7 minutes of work into making the pizza dough.  See below.)

If you want seeded bread: scramble an egg and brush it on the top of the loaf, sprinkle on the seed mixture of your choice (try sesame seeds or rolled oats).
Slash with a sharp knife or lame, and put it in the center rack of your oven.  After about 20 minutes rotate the pan for even cooking.  It should cook for about 40 minutes or until it has a nice golden brown crust that gives a good thud when knocked with the back of a chef's knife.  Remove from pan and cool on a cooling rack.
We've been having this as toast for breakfast, I made an egg and cheese with it this morning, and it was also a great accompaniment to Tuesday's ratatouille (see previous post).  Not bad considering the ingredients used cost about $0.40.
Sunday After the Bread Was Shaped: Made The Multigrain Whole Wheat Pizza Dough (enough for 2 large pies)
Equipment note: Pizza does require some special equipment, most importantly a pizza stone, followed closely by a pizza peel (the huge wooden pizza spatula that is oh so fun to use) and finally a pizza slicer (also fun).  I strongly suggest you invest in at least the stone and peel, especially if you're interested in making artisanal bread (not in a loaf pan) as the hot preheated stone is what gives you a super crust, and you can't really get that without it.   You can find this equipment and more on our amazon store (CLICK HERE), and yes, your purchases do help us keep our site running, so thank you.
10 ounces of white flour
12 ounces of whole wheat flour
1/2 cup soaked uncooked grains (see above)
3 Tbsp dried oregano
2 tsp yeast
2 tsp salt
3 Tbsp extra virgin olive oil
1-1 1/2 cups water
Follow the exact same procedure as for the sandwich loaf above.  After the dough has risen the first time, split it into as many pies as you'd like to make, and either start flattening them out into a pie, or do what I did and wrap each dough ball with plastic wrap, put it in a freezer bag, and throw it in the freezer until you're ready to use it.  The morning that you'll be making the pizza, just take the dough out of the freezer and put it in the fridge.
Wednesday after work: Made a Delicious Pizza
Making the actual pizza is a snap:  Preheat the oven to 500 F with the pizza stone in the center of the oven.  On a cornmeal (or flour) dusted pizza peel, pat, roll or toss the dough until you've worked it into a pie as thick or as thin as you'd like.  Add your toppings, and slide it onto a pizza stone that has been heating in a 500 degree oven.  Cook for about 10 minutes, or until the crust is just browning.  Let it rest for a couple of minutes before slicing.

We turned one of the frozen dough balls into a fantastic pizza with leftover tomato sauce from the ratatouille, slow roasted red onions, Bulgarian feta and anchovies, drizzled with a balsamic reduction.  It was super supper.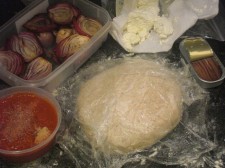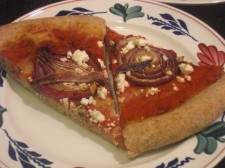 Similar Posts: