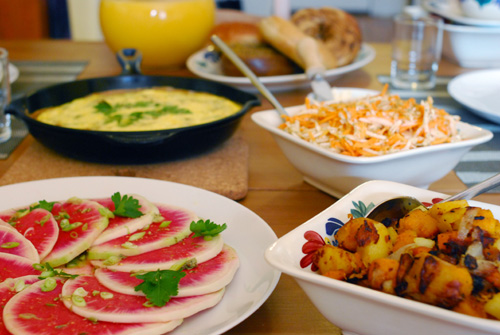 Inspiration comes easy when you get the kinds of vegetables that were in this week's box from Golden Earthworm's CSA.  We put together a beautiful and simple brunch to highlight the fresh flavors, (and unexpected colors) of this season's root vegetables.
Sliced Watermelon Radish Salad:
This was my first time working with watermelon radishes, and how thrilled I was to open them up and see that gorgeous color inside! The taste is very similar to other radishes, but it has a hint of sweetness.  Remove the tough green and white skin and serve them raw in salads, or mash them like you would turnips.  I prepared them using a mandoline to get very thin almost translucent slices, and dressed it with a light vinaigrette, sliced scallions and parsley.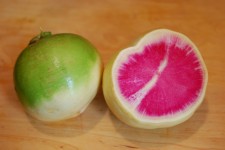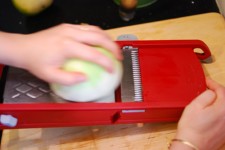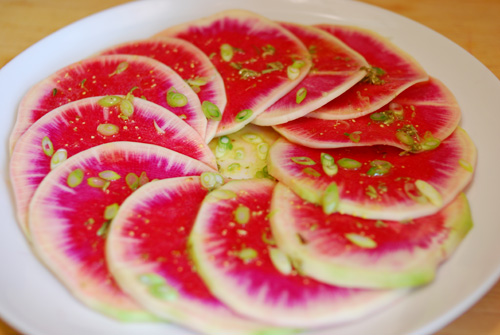 Home Fried Potatoes:
Great home fried potatoes are crispy on the outside, and cooked through and fluffy on the inside. There are a few tricks to keep in mind when making home fries. First, steam the potatoes before they are fried. Second, use a heavy cast iron pot that can withstand high heat, and don't be shy with the oil. Finally: once the potatoes are in the pan, don't touch them until the crust develops.
Peel and cut potatoes into 1-2 inch cubes, and steam for 5 minutes, until just tender.
Heat a heavy skillet over high heat, and add about 3 tablespoons high heat (safflower, sunflower, canola) oil to the pan. Add 1 chopped onion, and sauté for about a minute, until softened, then add steamed potatoes; add more oil if necessary–there should be a layer of oil under the potatoes.
Don't touch the potatoes for about 3-4 minutes–allow the crust to develop.
When a crust has formed, flip the potatoes and cook again until crusty. Add more oil as necessary. Flip again if necessary.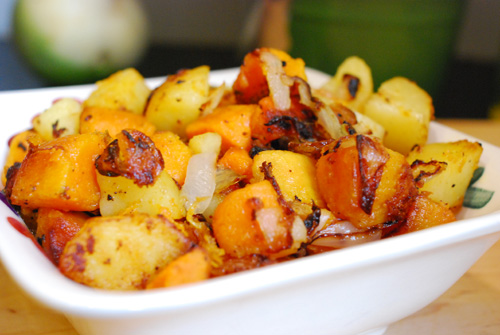 Leek and Feta Frittata:
Preheat oven to 350F
Chop 2 washed leeks, and sauté over medium heat in olive oil until soft; season with salt and pepper.
Whisk together 8 eggs with 1/2 cup milk and 1/2 cup crumbled feta cheese.
Pour egg mixture into pan. Cook on stove top for 1 minute, before transferring into oven for 8-10 minutes.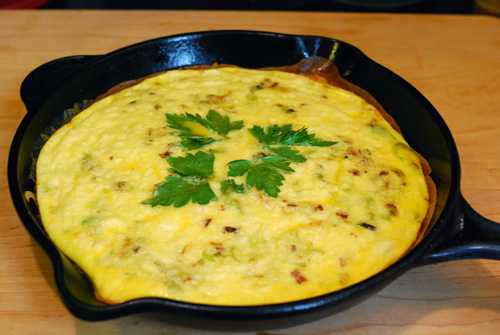 Root Vegetable Slaw:
Peel celery root and carrots.
Using the grating attachment on a Cuisinart (or a box grater), grate all ingredients.
Toss with olive oil, white wine vinegar, salt, pepper and dried dill.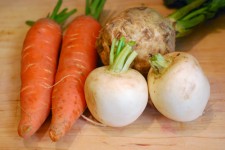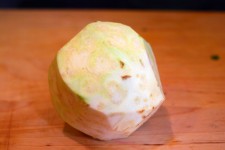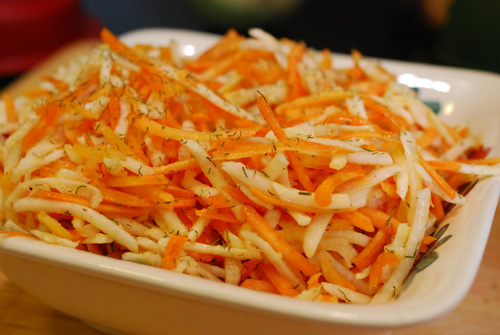 Similar Posts: