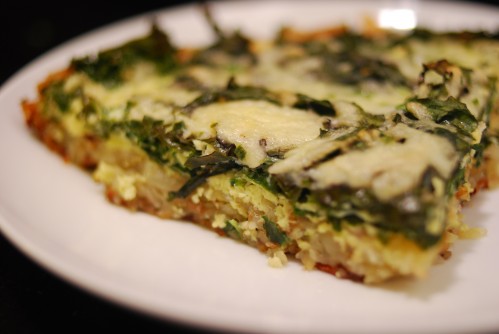 With Winter here in full force, you'd think that that fresh vegetables from a local NY farm would be something we'd have to live without for a few months.  Well Golden Earthworm doesn't think so, and they're continuing to deliver CSA shares full of fresh vegetables from their farm all Winter long! Last week we got our first box and it had a whopping 4 pounds of kale.  I guess I had latkes on my mind still from Chanukah, and I came up with a delicious kale creation that's half lakte and half kale frittata.  I first made a pan-sized latke, and then layered the frittata ingredients on top.  It has the best of both worlds: Crunch potato crust topped with cheesy, eggy, kale-y goodness.
Layered Potato Kale and Cheese Pancake
1 lb potatoes, shredded in the Cuisinart (keep the skin on for texture added and nutrients, just be sure to wash them)
1 white onion, shredded in the Cuisinart
1 lb kale, washed, chopped, and steamed
6 eggs
1 cup grated cheese (I used asiago, but parmagiano regianno or another hard aged cheese would work great)
High heat oil, salt and pepper
Preheat oven to 350F. Heat a large heavy bottomed oven proof pan with 2-3 T of oil over medium high heat. Mix the shredded potatoes and onions, and season with salt and pepper. When the pan is hot, add the potatoes and spread the mixture around the bottom of the pan to create an even layer.  Cook for 8-10 minutes until the bottom is golden brown.  Then flip, which is best executed by sliding the pancake out of the pan onto a large plate, then covering the plate with another plate, flipping the plates, then sliding it back in the pan (watch this vintage silent Sustainable Pantry movie about flipping HERE.)
Beat the eggs in a bowl and add the cheese, salt and pepper.  Layer the Kale on top of the flipped potato, and pour the cheese/egg mixture on top.   Put the pan in the oven.
Cook for 10 minutes, until the egg is cooked to your liking.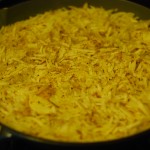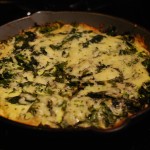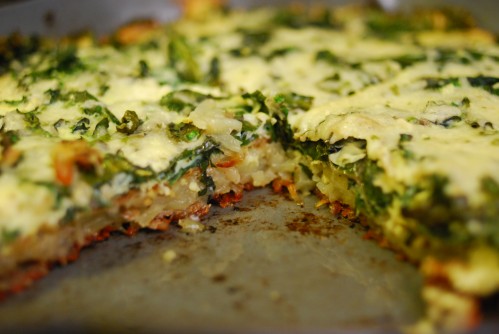 Similar Posts: