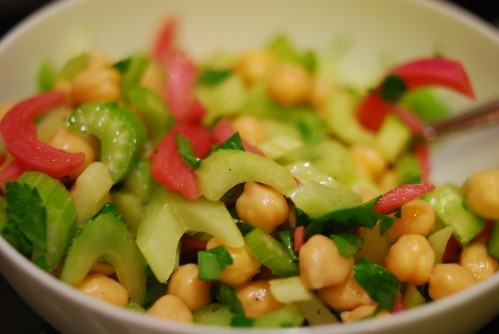 I was so excited that my cousin dropped by after work tonight, and I wanted to make us a nice dinner.  Our last CSA share was almost three weeks ago, and I haven't been shopping since we returned from a long weekend away, so our kitchen stocks are sadly low (CSA share comes tomorrow, yay!).  This was an evening where I needed to rely on my pantry and the pantry really delivered.  I had a few of the right things and was able to create something delicious from nothing.
Revived Celery Salad
I didn't have any fresh greens except for a bit of soggy celery and a some parsley leftover from New Year's Eve.  To firm up the soggy celery, I just soaked it in cold water for 10 minutes (I use this trick for limp salad as well).   Then, I tossed the chopped celery with a can of chickpeas, some pickled red onions* (also leftover from New Year's Eve), chopped parsley, extra virgin olive oil, red wine vinegar, salt and pepper.
Garlicky Green Orzo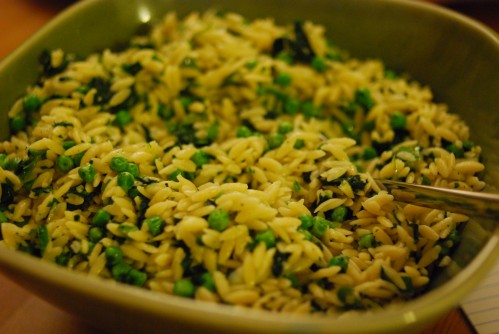 This is simply my type of pasta: garlic, olive oil and Parmigiano, with some frozen vegetables that I always have on hand thrown in for good measure.
Orzo (any pasta will do)
Frozen peas
Frozen spinach
Garlic
Parmigiano Reggiano
Extra Virgin Olive Oil
Cook pasta according to the package.
Sauté garlic in oil in a large pan, after a few minutes, add cooked orzo, peas, spinach and toss. Season with salt and pepper. Toss with cheese.
*Pickled red onions from Thomas Keller, Ad Hoc at Home. Boil 1.5 cups red wine vinegar, 3/4 cup sugar. Pour over 2 sliced red onions in a quart jar. Cover for at least 24 hours, and up to a month.

Similar Posts: