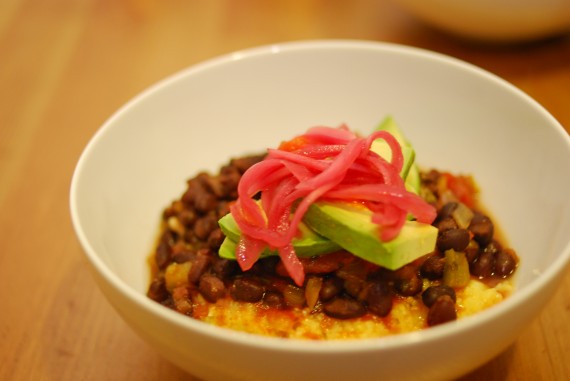 There really was nothing in the kitchen. Nothing that I could cook quickly, anyway. So it was either order in (which we do every couple of weeks) or starve (perhaps I'm being dramatic here…) By the time I got home from a busy clinic day, it was 9pm, and honestly I wanted to order in. I really did. But I was famished and I thought even ordering in would take too long. So I whipped together this filling, spicy, bowl of polenta and beans. (I really do cook a lot of polenta, right?) It definitely helped that I had a ripe avocado and pickled red onions to inspire me! And even though this epitomizes a throw-it-together-pantry dinner, I will definitely make it again. The whole thing took 15 minutes from start to finish!
Polenta and Bean Bowl
1 cup coarse corn meal
1 can black beans, drained
Jarred salsa (we usually buy Green Mountain Gringo Hot or Medium)
1/2 avocado
2 garlic cloves
Olive oil
Bring 2 cups of water to a boil, and add 1 cup cornmeal, turn down heat, and stir for a few minutes until cornmeal magically turns into polenta. When thickened, stir in 1 T olive oil, and 1-2 cloves chopped garlic.
Meanwhile, heat beans with the salsa until heated through.
Serve the polenta topped with the bean mixture and garnished with sliced avocado and pickled red onions.
A note about canned beans: There has been A LOT of press about the safety of the Bisphenol-A (BPA) content of canned products lately. While I do tend to use BPA-free tomatoes in cartons (Pomi is my favorite), I do keep canned beans in my pantry for nights like this, and I probably will continue to do so. However, as part of our CSA this summer, in addition to our veggies, tomato, herb and garlic shares from Golden Earthworm, and a fruit share from Briermere, we signed up for a grain, bean and flour share from Cayuga Pure Organics. Actually, we were so excited that we signed up for 2 shares of each–we'll be getting 2 pounds of beans, 2 pounds of grain, and 4 pounds of flour per month. So I will be experimenting with cooking many more dried beans over the next 6 months. I am super stoked to have virtually ALL of our food needs met by local, organic, sustainable producers. Go Tuv Ha'Aretz CSA!

Similar Posts: