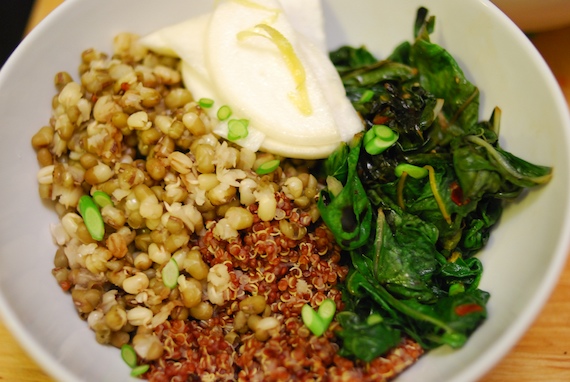 Let the dinners of fresh, local, organic vegetables begin! The Forest Hills Tuv Ha'aretz CSA kicked off a couple of weeks ago, and we have been really enjoying all the early summer vegetables. When the vegetables start rolling in, it really puts the "you-don't-have-to-do-much-to-fresh-ingredients" principle into use, 'cause it's true! With veggies this fresh, it just takes a brief steam, a squeeze of lemon, a pinch of salt, or a drizzle of good quality olive oil to transform an ingredient to a meal. Last Tuesday night, we enjoyed red quinoa, mung bean sprouts, sauteed garlicy spinach and quick 'pickled' japanese salad turnips. A sprinkle of garlic scapes (immature flower stalks), balsamic vinegar and olive oil is all the dressing it needs.
Building a Farm Fresh Bowl: A Story in Pictures
(with some words for clarity)
Wash greens well. My favorite way to wash greens: Rinse in a colander, then spin wet dirty greens. The dirt separates from the greens due to centripetal force; I call this kitchen physics. Keep greens wet–the water will help the greens cook.
Heat some olive oil, and add chopped garlic or garlic scapes. Add wet greens and cover, with the heat on low, for 5 minutes. Uncover, and drizzle balsamic, and sprinkle with salt and pepper.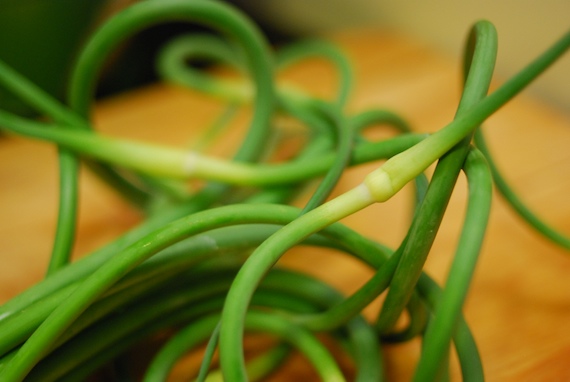 These are garlic scapes. They are a delicious spring delicacy.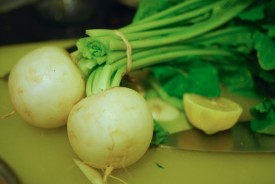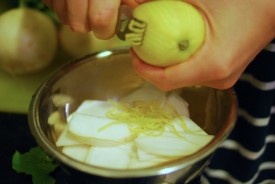 Since I tried them for the first time last year, I have been waiting to eat Japanese salad turnips again. They are a sweet, delicately pungent vegetable that takes very well to light pickling. To add some crunch and acidity to the vegetable bowl I made this lemony turnip 'pickle'. Slice turnips, add zest of lemon, lemon juice, olive oil and salt and pepper. Toss and let sit for a few minutes before serving. (When zesting use organic citrus whenever possible since the pesticides reside in the peel.)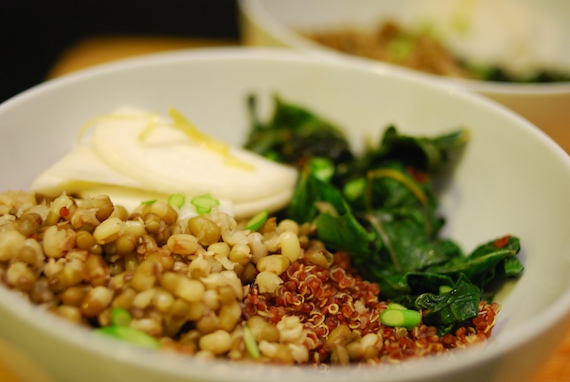 Round out the meal with bean and whole grain of choice (we've been on a millet kick lately, but ran out hence the red quinoa), and dress with oil and vinegar… Bon appetite!

Similar Posts: