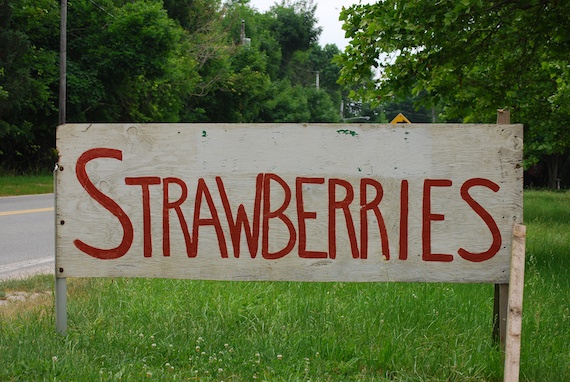 We live in Forest Hill, Queens. It's pretty urban here — while not as industrial as Western Queens (like Long Island City), or as suburban as Eastern Queens (like Douglaston), we straddle the line between the city and the suburbs, and there's nothing that resembles a farmer's market nearby. So it has been pretty unbelievable to join up with the Forest Hills Tuv Ha'aretz CSA, and get delicious, fresh, organic vegetables 6-months out of the year straight from Golden Earthworm Organic Farm. This is our second year with the CSA, but last year, due to a couple of rain-outs, we never made it out to the farm. This year, we were determined and we made the trek out to Jamesport on an early June weekend to go Strawberry picking. How fortuitous when I found out that this month's Can Jam ingredient was ____berries! It didn't take long for me to fill in that blank. I mean, when does anyone in central queens have the opportunity to PICK then PRESERVE anything? Umm….never.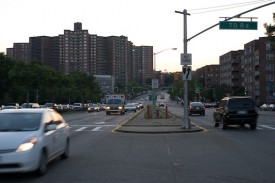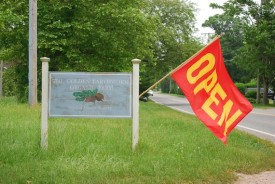 The farm is incredible. Located on a windy road just past Riverhead, on the North Fork of Long Island, it is picturesque. Hence the below pictures. In addition to the fields, and green houses, Golden Earthworm also keeps heritage breed sheep, pigs and goats. We actually ran into one of the farmers, Matthew, as we walked around the farm. What a privilege to have the opportunity to thank the farmer that grows one's food!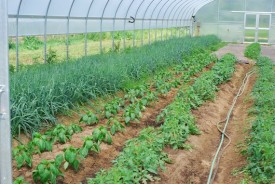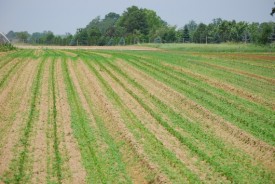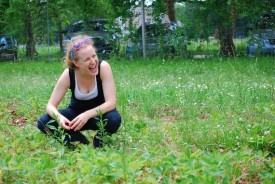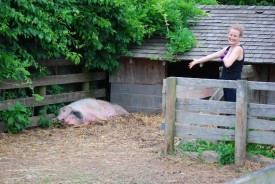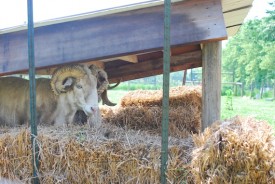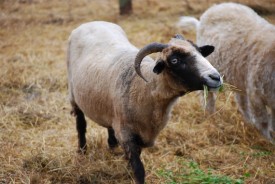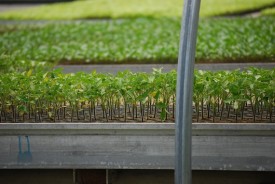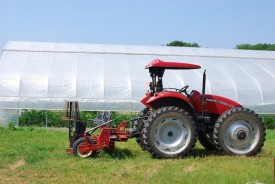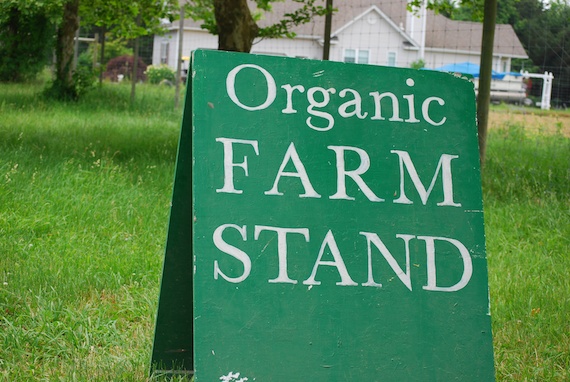 With strawberries this good looking (and good tasting), I really didn't want to do that much to them, so I decided to just can them in a simple syrup. The recipe was adapted (for batch size) from Ball's Complete Book of Home Preserving.
Strawberries in Syrup
Recipe makes one 12 oz jelly jar with a few generous tablespoons left over to eat directly from the pot
4 cups hulled strawberries, large ones halved
3/4 cup granulated sugar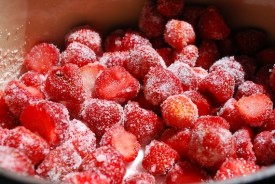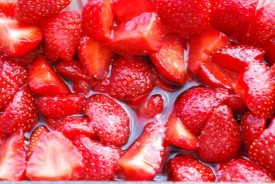 In a large pot, combine strawberries and sugar and toss to coat. Cover and set aside in a cool place for 5 – 6 hours.
Prepare canner, jars and lids. If you are new to canning, read THIS.
Transfer pot with strawberries to stove, and heat over medium low until berries are heated through.
Ladle hot strawberries into jar with 1/2 inch headspace. Wipe rim, center lid on jar, and twist screw band on.
Process in boiling water bath canner for 10 minutes.
My jar boiled over during processing (I guess I didn't have the full 1/2 inch headspace), and didn't have time to re-process. I ended up just wiping the lid, re-closing, cooling, and putting it in the fridge. Canning experts — is it still OK? Do I need to boil again before I eat, safety-wise?

Similar Posts: