With the plethora of delicious, fresh zucchini we have been getting from Golden Earthworm over the past few weeks, we've been coming up with some nifty ways to use 'em. This is something I whipped up for lunch. (Yes, often lunch is our biggest meal of the day and–since we both work close to home–a meal we're lucky to eat together!) What have you been doing with your July zucchini shares?
Stuffed Zucchini
2 of any combination of zucchinis and yellow squash, cut the long way with the seeds scooped out
1/4 cup ground flax seeds
1/4 cup ground almonds
1 T tamari
1-2 gloves garlic, minced
1/2 grated zucchini
2 kale leaves, julienned
Handful of basil, julienned
Extra vigin olive oil
Pinch (or more) red pepper flakes
This is an easy one: Preheat oven to 350F. Mix everything. Stuff into zucchini. Cook for 15-20 minutes or until zucchini browns slightly.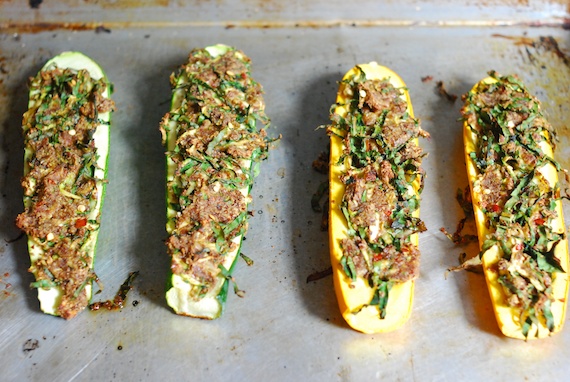 Similar Posts: