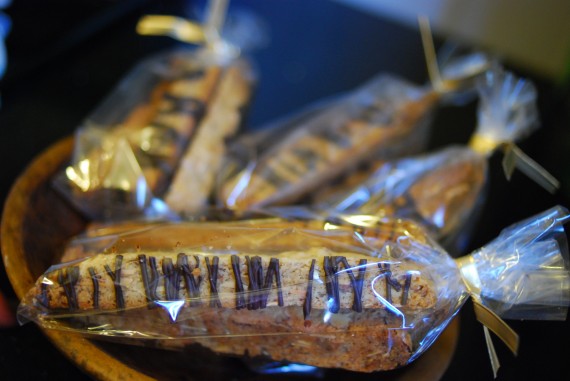 Happy (belated) mother's day! For most holidays, I like to get my creativity on and make things as gifts. This year, I made the mothers in my life these crunchy, nutty vegan almond anise biscotti. In an ideal world would have I posted this recipe before mother's day… but I didn't, however there are always occasions to bake, right?! I modified the recipe from Veganomicon, which is a wonderful comprehensive book and a great rescource for desserts. I changed the oil to walnut oil, substituted almond meal for some of the flour, and the biscotti in the book didn't have chocolate on them, but I thought, hey–what ISN'T better with chocolate?!
Almond Anise Biscotti
1/3 cup almond milk
2 tablespoons ground flax seeds
3/4 cup sugar
1/2 cup walnut oil
1/2 teaspoon vanilla extract
1/2 teaspoon almond extract
1 1/2 cup all purpose flour
1/3 cup ground almonds (almond meal)
2 tablespoons arrowroot powder
2 teaspoons baking powder
1 tablespoon anise seeds (or less, but I love the flavor)
1/2 teaspoon salt
1 cup slivered raw almonds
Preaheat oven to 350F. Line a cookie sheet with parchment.
In a bowl, mix together flour, almond meal, salt, anise seeds, arrowroot and baking powder. Set aside.
In a large bowl, whisk together the almond milk and flax seeds for a few seconds. Then whisk in sugar, oil, and extracts until smooth. Add dry ingredients little by little until a dough forms. If it's too sticky, add a little more flour. Then, add almonds.
Split the dough into 2 halves, and form each piece into a rectangle on the baking sheet. Try to squish the sides in so it isn't flat. They will expand when cooking, so try to not have them touch. Bake for 30-35 minutes, until puffy on top and golden on the edges.
Remove and put on cooling rack for a few minutes. Then slice with a long serrated knife, cut in one fell swoop, and be careful that the pieces don't crumble. I cut them on the bias, which leaves long, elegant biscotti.
Arrange cut biscotti in a single layer on the baking sheet. Cook again (biscotti means "twice cooked") for 10-15 minutes, until brown and crisp. If you prefer, cook for 5 minutes, then turn off the oven with biscotti inside for 30 minutes.
Transfer to a cooling rack and cool completely. Store in airtight container.
Chocolate drizzle: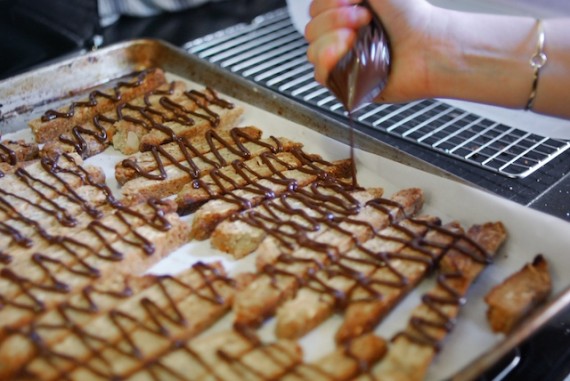 Melt about 1/2 – 3/4 cup of dark chocolate in the microwave or in a double boiler. Put melted chocolate in a small ziploc bag, and cut off a tiny piece of the corner. Squeeze bag as you zig-zag the chocolate drizzle on the biscotti. You don't have to do one at a time–you can see in the pic above, I did 2 or 3 at a time. Once drizzled with desired amount of chocolate, put sheet pan into freezer to set chocolate. To gift, wrap 3-4 biscotti in a plastic treat bag, or reuse a nice tall glass jar.

Similar Posts: