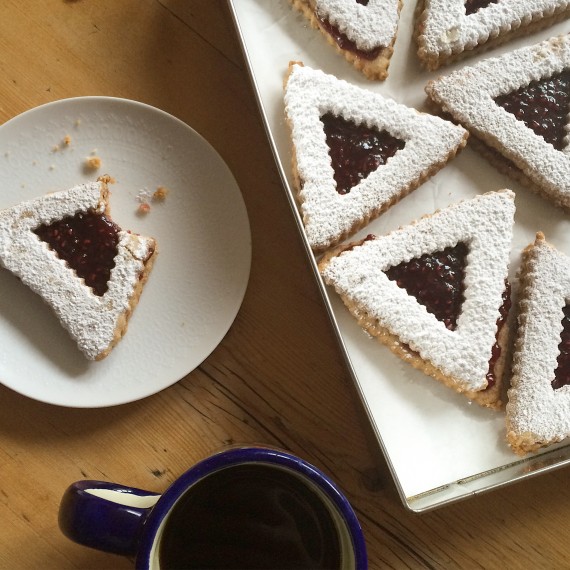 Purim 2015 (5775) – the year of the LinzerTashen! This year I thought outside of the triangle-shaped box. I forwent the 'folded-up sides' part of the traditional hamantashen, and made linzer cookies into linzertashen!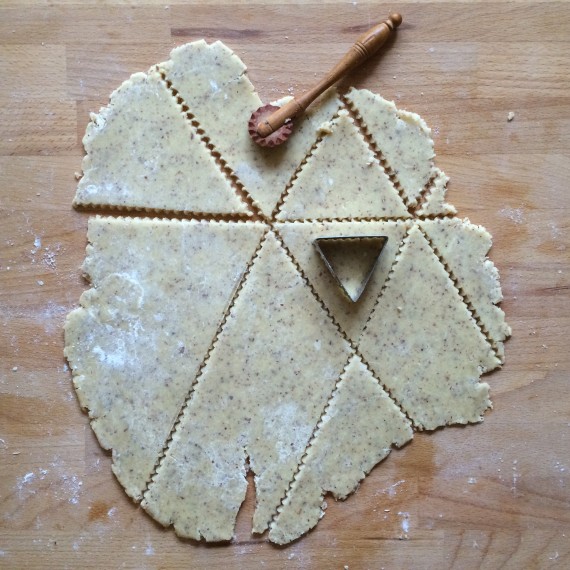 I started with a favorite Martha Stewart recipe for linzer tarts and went from there. I didn't have two sizes of a triangle cookie cutter, so I used my smaller cookie cutter as a guide and rolled a rolling pastry crimper/cutter to make the larger triangles. They did end up pretty large, but delicious – so more of a good thing, right? Happy Purim, y'all!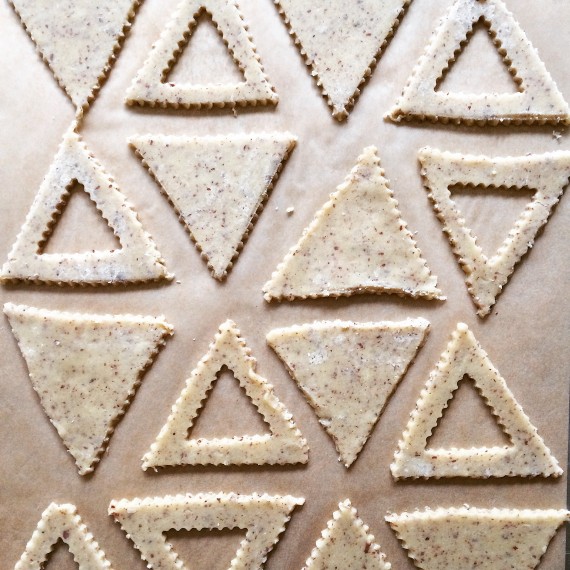 LinzerTashen
Adapted from Martha Stewart – Makes about 15 3-inch cookies
1.5 cups AP flour
1 t baking powder
1/4 teaspoon salt
1.5 cups ground almonds
2 sticks butter, room temperature
2/3 cups sugar
2 eggs
1/2 teaspoon vanilla extract
1/4 teaspoon almond extract
Raspberry jam for filling
Confectioners sugar for dusting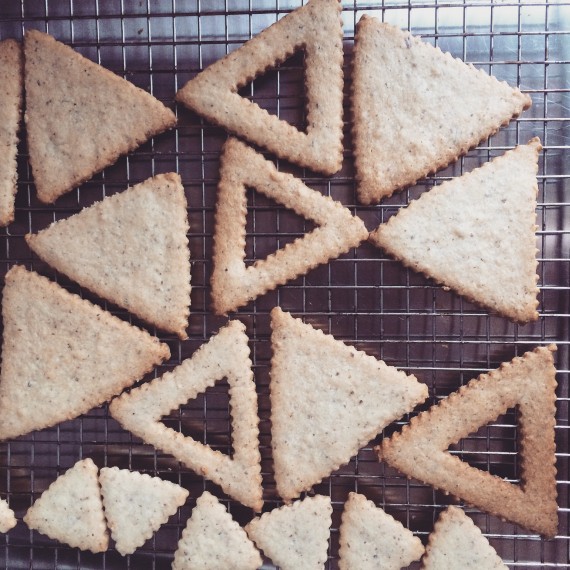 Mix together flour, almonds, salt, baking powder in a large bowl.
Cream together butter and sugar.  When light and fluffy, add eggs and vanilla & almond extracts.
When mixed, add the flour mixture to the butter and mix until blended and smooth.
Turn out dough onto floured surface and shape into 2 flat discs, wrap in plastic, and put in the fridge for at least 30 minutes.
Preheat oven to 325F/300F convection. Take out 1 disk 15 minutes before you're ready to roll out the cookies so the dough softens slightly. Roll on a floured surface until 1/8 inch thick. Be sure to flip over periodically so the dough doesn't stick.
Using a 3″ triangle or a rolling cookie cutter, cut rolled dough into triangles. If you have a 2-inch triangle cookie cutter, use this as a guide – cut with 1/2 inch around the 2-inch cutter. Transfer cookies to a parchment-lined sheetpan with 1 inch between the cookies. Continue with the other disk of dough.
When all the cookies are cut out, use the 2-inch cookie cutter to cut out small triangles from half of the cookies. (Transfer the cut middles to a separate sheetpan since they will bake faster than the larger cookies.)
Bake cookies for 12-15 minutes until lightly browned on the edges. Transfer to a cooling rack and allow to cool completely. (If making ahead, freeze at this step).
To assemble, transfer open cookies to a parchment-lined surface and top with ample powdered sugar. (This is easiest by filling a small metal tea strainer with powdered sugar and shaking over the cookies.)
Spread the closed cookies with raspberry jam, and gently top with sugared open cookies.
Store in a airtight container for 1 day (they become soft if already assembled and allowed to sit for much longer, as I found out… However they were still great as breakfast with black coffee!)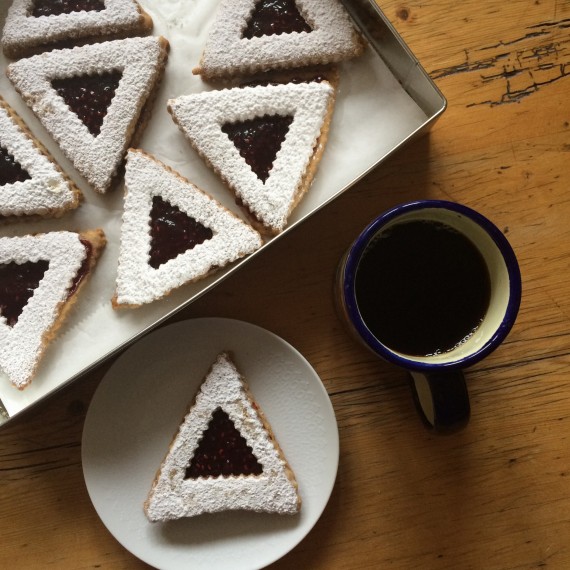 Similar Posts: