Queens, NYC is known for it's diversity. According to Wikipedia, no one ethnic group holds a majority — I love that! Not only because I like to live in a melting pot, but also because I have access to tons of different authentic ethnic cuisines. We don't eat out often, but when we do, we explore these unique enclaves. We enjoy Bukharian (Uzbek) kebobs in Forest Hills, vegetarian Bombay street-food in Floral Park, and a Hunanese outpost in Flushing. One of the best known ethnic areas in Queens is Greek Astoria. I have spent fair amount of time in Astoria over the past few months, and much of that time has been spent in Artopolis, an incredible Greek pastry shop. Anytime I'm remotely in the neighborhood (read: I drive out of my way), I swing by to get a handful (read: bagful) of these delicious honey-dipped biscuits. Since I was developing quite a melamakarona habit, I decided it was high time I learned how to make them at home. So I turned to my trusty copy of Vefa's Kitchen (which also inspired this Gigante Bean post), and started baking.
Making the cookie is the same as making any other biscuit: mix dry ingredients, mix wet ingredients, mix wet and dry ingredients… But the fun part comes after the cookies are baked. You pour beautiful amber syrup over the just-out-of-the-oven cookies! It's incredible how much of the syrup gets absorbed by the cookies. The cookies themselves only have 1/2 cup of sugar in them, so they're mild (and firm) enough to withstand the onslaught of sweet syrup. Once the cookies cool and soak up the syrup, it's time to top with a fragrant chopped walnut garnish.
I tweaked the Vefa's Kitchen recipe slightly.  Vefa's version used both olive oil and butter in the biscuit recipe, and I used only olive oil. I also modified the shape of the cookie to emulate the one from Artopolis, and added some spices to the dough recipe. The cookie that I fell in love with at Artopolis has a sign that specifies the cookie is vegan (although it is doused in honey, which means that to 95% of vegans it's not), so I knew that it was possible to use olive oil instead of butter. For vegans out there that don't eat honey though, I'm not that well-versed in the particulars of alternative honey to recommend a substitution; I am conflicted about agave nectar, since it is a highly processed high-fructose syrup, so does anyone have any suggestions?
Melamakarona: Honey-Dipped Biscuits
Modified from Vefa's Kitchen
For the biscuit:
4 cups all purpose flour
1/2 teaspoon baking soda
1 teaspoon baking powder
1/2 teaspoon cloves
1 teaspoon cinnamon
1 cup olive oil
1/2 cup sugar
1/2 cup freshly squeezed orange juice
2 tablespoons brandy or Cointreau or triple sec
1 tablespoon grated orange zest
For the syrup:
1 cup honey
1 cup sugar
1 cup water
For the topping:
1 cup chopped walnuts
1 teaspoon ground cinnamon
1/4 teaspoon ground cloves
Preheat oven to 350F
Sift together the flour, baking soda, baking powder, cloves and cinnamon and make a well in the center
Blend the oil, sugar, OJ, liquor and zest with a food processor (I used an immersion blender and it worked well)
Pour the blended wet ingredients into the well, and slowly incorporate into the dry, without over-blending
Make 1T round balls and place a few inches apart on a parchment-lined baking sheet. I use this OXO mini-scooper to make the biscuits – it's one of my favorite baking tools.
Bake cookies for about 30 minutes until golden brown, but start checking at 25 minutes, as they tend to get dark very quickly.
Meanwhile, make syrup: Mix honey, sugar and water in a small sauce-pan. Bring to a boil and stir until sugar is disolved, skimming any white foam that appears. Turn off heat.
Mix the topping ingredients together.
Transfer baked biscuits to a pyrex or other baking dish immediately when they're out of the oven, and pour over the syrup. You may notice the syrup coming up the sides of the biscuits – but they will soak all the syrup up eventually. Top with walnuts. Cover with wrap and store at room temperature for 3-5 days.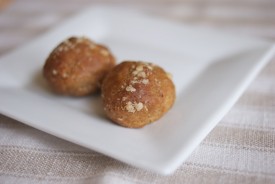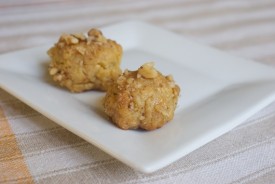 Above is the Artopolis version (left), and my version (right).
Similar Posts: