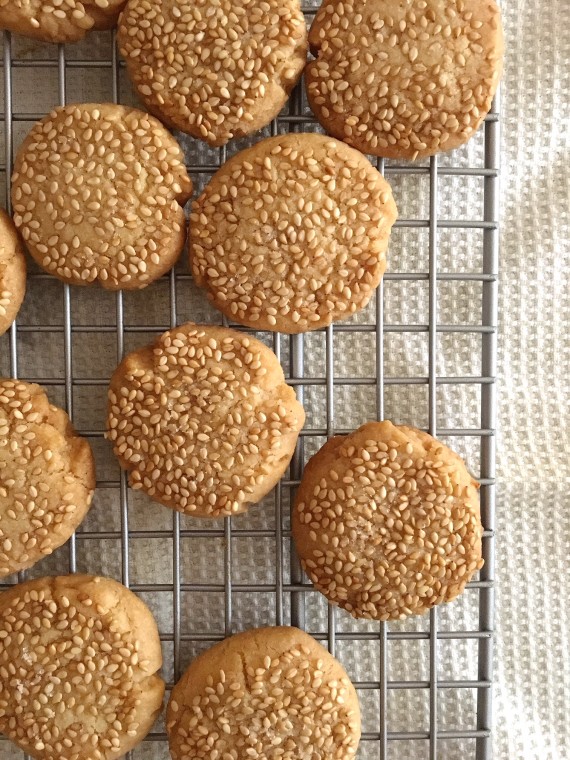 A few weeks ago I made killer tahini cookies; these are not them. This is what happened: When I made the cookies a few weeks ago, I didn't print out or bookmark the recipe, so when I wanted to make them again, I looked through my browser history & searched all sorts of keyword combinations, but didn't come up with the ones I was looking for. But, I did find this recipe which while it wasn't what I was looking for, looked good enough to try. So I did; this is them. It was only when these cookies were in the oven that I realized what happened: The first cookies were HALVA cookies, and I was searching under tahini — d'oh! These are those cookies, which I am definitely going to make again STAT.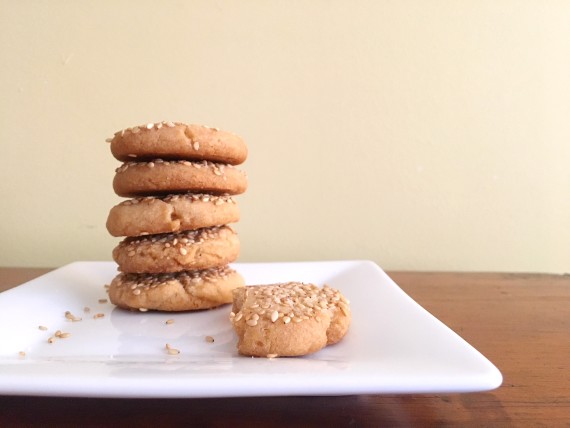 The recipe used butter, but since I'm serving these after a Rosh Hashanah (meat) meal, I adapted by using Earth Balance vegan butter.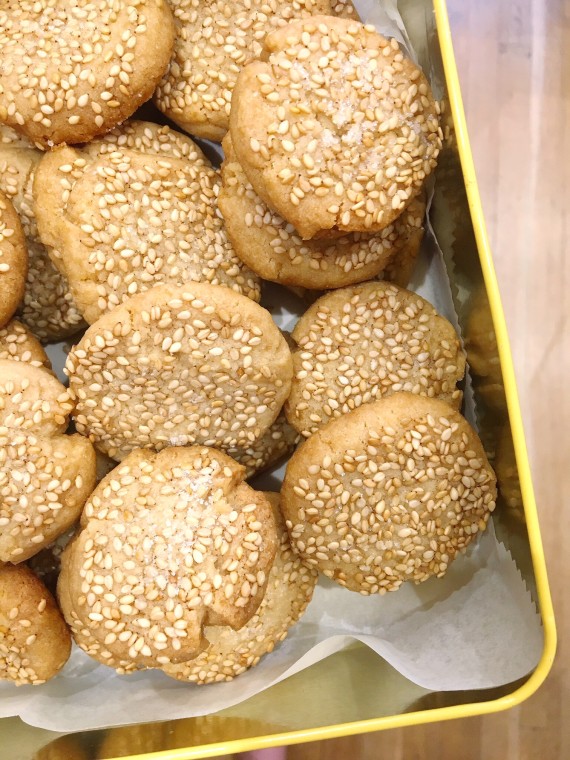 INGREDIENTS
2 cups all-purpose flour
1 teaspoon baking powder
1/2 teaspoon kosher salt
3/4 cup (1 1/2 sticks) unsalted (vegan or regular) butter, room temperature
3/4 cup sugar
3 tablespoons honey (can sub maple syrup if you don't eat honey)
3/4 cup tahini
1/4 cup toasted sesame seeds
PREPARATION
Place racks in upper and lower thirds of oven and preheat to 350°F. Whisk flour, baking powder, and salt in a medium bowl. Using an electric mixer on medium speed, beat butter, sugar, and honey in a large bowl until light and fluffy, about 3 minutes. Beat in tahini, then add dry ingredients in 2 batches, beating after each addition until fully combined. Dough will be slightly sticky.
Place sesame seeds in a small bowl. Scoop out heaping tablespoons of dough (about 1 oz.) and roll into balls. Dip tops of balls in sesame seeds, pressing to adhere, and place, sesame side up, on 2 parchment-lined baking sheets, spacing about 2″ apart. Bake cookies, rotating baking sheets halfway through, until golden brown, 13–15 minutes. Let cool on baking sheets (cookies will firm as they cool).
After cooled, these can be frozen in a tin/container for up to a few months.

Similar Posts: