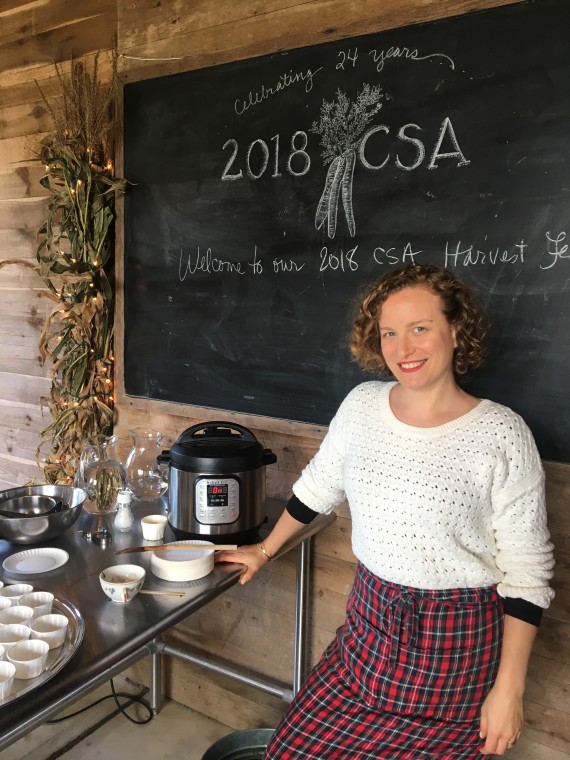 Every October the farm that grows our CSA's veggies, Golden Earthworm Organic Farm, opens their gates to CSA members for a day of field tours, cooking & farm demonstrations, games and playing. One of the many reasons I love our CSA is because I feel a closeness to not only where the food is grown, but to who is growing the food. That we can visit the farm, which is a bit under 2 hours away on the North Fork of Long Island, and say thank you in person to farmer Matt and his wife Maggie makes the veggies taste that much sweeter. For the past 8 years, I've been humbled to be asked to lead a cooking demonstration at their Harvest Fest.  This year I made an Instant Pot lentil soup with tons of Golden Earthworm veggies (a great soup to use during winter CSA season!) and a creamy sesame kale salad. The added bonus is that I got to hold the demo in a converted barn (this years demo was standing room only!) and was only one of the fun events in the midst of a beautiful, bustling fall day that includes hay rides, face painting, farm tours and delicious food and treats. Thank you Golden Earthworm for including me in this amazing day!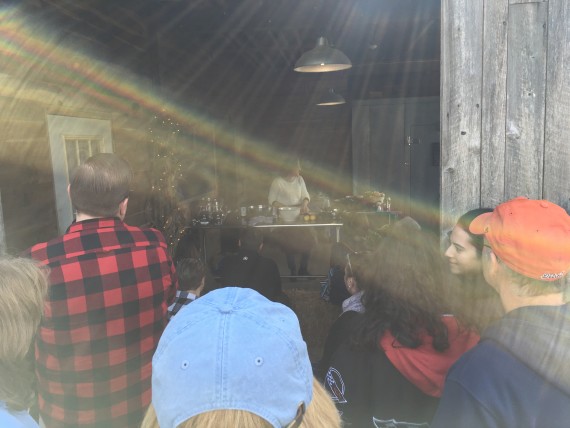 Creamy Sesame Kale Salad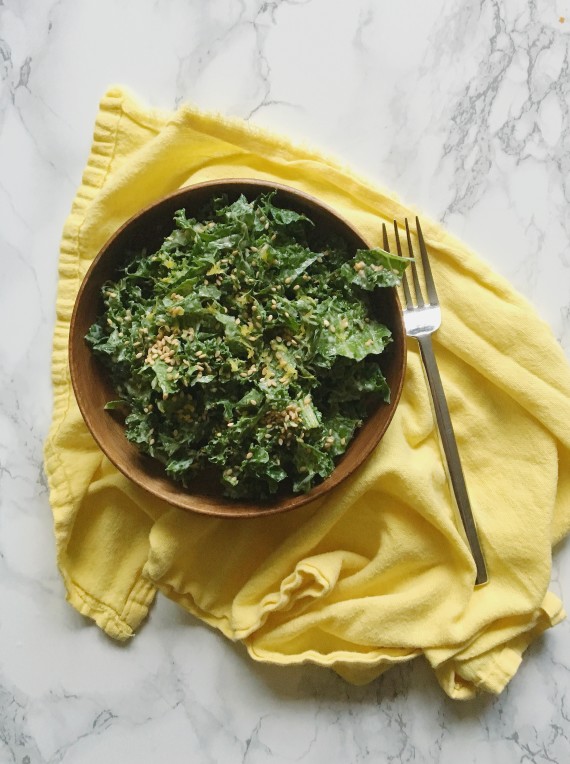 This delicious, hearty salad is sturdy enough that you can make it in advance and it will keep in the fridge for a few days. Feel free to use any type of kale or even collard greens. Play around with the ratios to make the tahini more garlicky or lemony. If you happen to have preserved lemon, throw some in!
1 bunch kale, stemmed, washed, dried and chopped

2-3 Tablespoons tahini paste

1 Lemon (organic if possible) zest and juice

1 Tablespoon toasted sesame oil

1 Tablespoon rice wine or apple cider vinegar

1-2 garlic cloves, minced

1 Tablespoon olive oil

¼ cup sesame seeds

Water as needed

Salt to taste
In a large bowl whisk together the tahini, lemon zest and juice, sesame oil, vinegar, garlic, olive oil, salt and 1 T water. Whisk until smooth, adding more water by the tablespoon until you get the right consistency.

Heat a skillet over medium-high heat. When hot, add the sesame seeds, taking care to keep tossing them so they don't burn. Once they start to pop, remove from heat to a plate.

Transfer kale to a large mixing bowl and add tahini mixture and ¾ of the sesame seeds. I find this salad mixes easiest with my (clean!) hands — mix well until the sauce coats all the kale. Taste and season with salt and/or more lemon juice or zest. Serve in a bowl garnished with the remainder of the sesame seeds.
8 Minute Instant Pot Lentil Soup
If you have an Instant Pot or pressure cooker and haven't yet mastered how to work it or what it can do, this soup is for you! Lentils (even unsoaked lentils) cook up well in the Instant Pot in under 10 minutes, and this soup is a great way to use up many of the CSA share's veggies creating a healthy, hearty soup. The trick is to cut all the veggies into medium-small uniform-sized pieces so everything cooks (but doesn't overcook!) in the 8 minutes under pressure. Play around with the seasonings if you want more or less curry flavor, or leave it out completely – it'll still be delicious!
2 cups small dry lentils, rinsed and soaking while you chop the rest of the ingredients

2 Leeks or onions, chopped

2-3 cloves garlic, chopped

2-3 carrots, peeled and chopped

2-3 stalks celery, chopped

1-2 sweet potatoes, washed and chopped

(Any other veggie like kohlrabi, radish, turnip, etc)

1 Tablespoon curry powder

(If you'd like some heat, feel free to add a poblano/spicy pepper or red pepper flakes)

Other spices like cumin seed, turmeric, etc can be added to taste

Salt, pepper

Olive oil

Water
Set Instant Pot to sauté function and when hot, add olive oil and onions/leeks, sautéeing until translucent. Then add garlic, carrots and celery (and other all veggies except sweet potatoes) and continue sautéeing, tossing with a spoon so the garlic doesn't burn. Season with salt and pepper.

Add curry powder, toasting for 20 seconds. Add drained lentils, sweet potato and add water water to cover by 2 inches.

Cover, switch release valve to pressure, and set to cook on high for 8 minutes. After naturally releasing steam for 3-5 minutes, manually release the steam and taste the lentils. If they're not done, cover and set to pressure for 0-1 more minutes.

Reseason with salt and pepper before serving and top with chopped cilantro or parsley.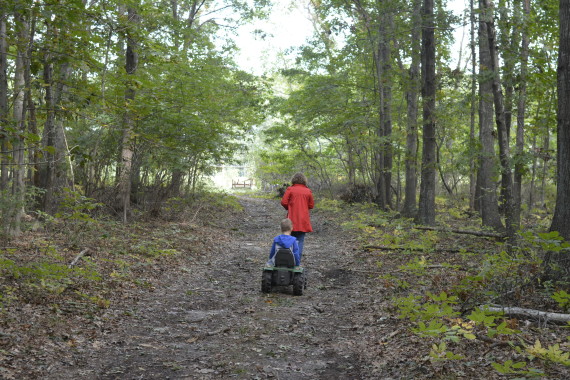 Similar Posts: