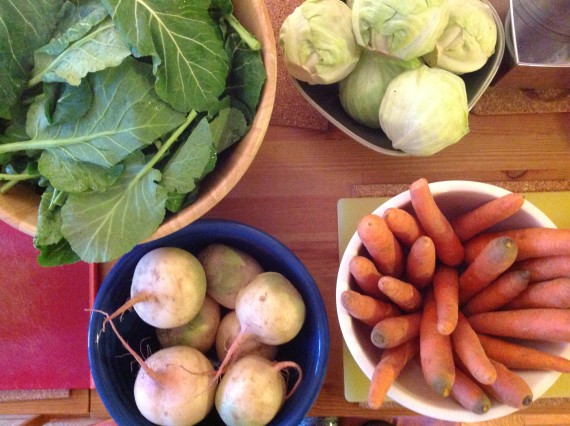 "What am I going to do with these millions of knobby root vegetables?" you may find yourself muttering as you schlepp 15 plus pounds of them home on CSA pickup nights. The truth is, there is so much to be done! When stored well, the vegetables keep for weeks and they're versatile enough to be transformed into breakfast, lunch and dinner. All it takes is a little kitchen rearranging, a well-stocked pantry, a few key tools and some basic cooking techniques.
With the right conditions, a cool, dark corner of your kitchen for potatoes and winter squash and your refrigerator for the other veggies, you can keep the share fresh for weeks. It's a good idea to take some time to create the space in advance before you get home on share nights, that way you won't be scrambling. Clear out a lower cabinet or drawer in an area of your kitchen that isn't likely to get warm and place a bin there to store potatoes and squash. No need to buy anything new, just salvage a cardboard box leftover from holiday shopping. Use the monthly opportunity to go through your fridge and discard items that are spoiled. If you can, clear out a crisper drawer completely to unpack and store carrots, turnips, beets and leeks.
In order to get the most use of your winter share, it's a good idea to stock your kitchen with some pantry essentials so you can easily turn those hard spheres of roots into a delicious and healthy meals for your family, even on a weeknight and short on time. Make sure you have some cans or jars of chopped tomatoes & coconut milk to easily make soups and stews and to bulk up the soup into a hearty winter meal, have some small, dried lentils or split peas on hand which will cook at the same time that you're simmering the winter veggies, even if you forget to soak them in advance. As always, stock your pantry with onions and a head or two of garlic and buy a nice size knob of fresh ginger for your crisper drawer. Make sure you have olive oil that's not rancid (check the date and give it a sniff) — olive oil should be stored in a dark bottle and will keep for 12-18 months. If you eat cheese, buy a good quality (not pre-shredded) hard rind cheese like Parmigiano Reggiano or pecorino since they're great grated over the top of stews and work double duty as you can throw in the rind into your pot to flavor a batch of soup. Kosher salt and fresh peppercorns in a peppermill go a loooong way, if you've been using ground pepper until now, I suggest you upgrade.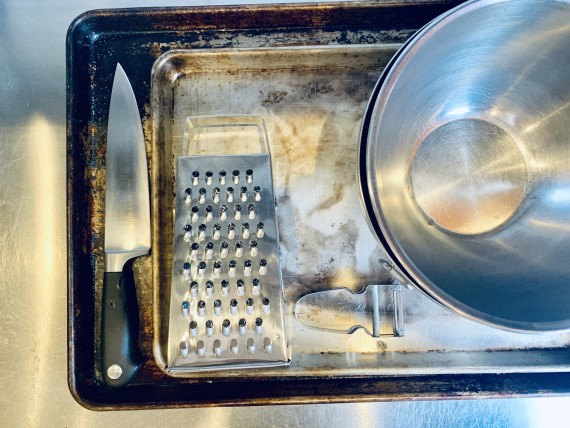 So, what are you going to cook all this IN? Any good, heavy-bottomed pot will do and if you have an Instant Pot (or counter top pressure cooker of any brand), you can really cut cooking time down. Make sure you have a large, sharp knife to break down the hard veggies; if you've never had your knives sharpened, do it now before you have pounds of huge tubers on your cutting board! Industrial aluminum sheet pans are the best way to roast veggies in your oven. Get the largest one that can fit in your oven so that the veggies don't crowd  and make sure you have parchment paper or a silicone baking sheet to line the pan. A sturdy U-shaped vegetable peeler will make quick work of the thick skin of the winter veggies, and a box grater (or shredding attachment for a food processor) will shred veggies to use in slaws, muffins or fritters. Finally, make sure you have a couple of large bowls to evenly toss chopped veggies with oil before roasting.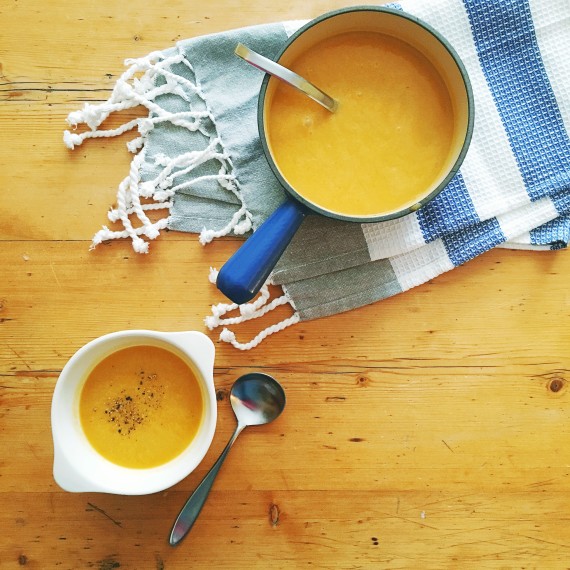 In terms of how to turn the pounds of veggies into easy meals, I like to think in terms of techniques instead of actual recipes. There are a few methods that work well with almost anything on the root-vegetable spectrum from sweet potato to watermelon radish to rutabaga. 
Winter share veggies lend themselves to pureed soups, but you can also use them as a base for a chunky stew. For a smooth soup, start with any peeled and chopped root vegetables together with onion, garlic, salt & pepper in a pot, cover with water or stock and cook until the veggies soften up. Yes, you can add a can of coconut milk, fresh ginger and/or a spoonful of curry powder/paste, and yes you can add any dried (or fresh) herbs that you have on hand, but the process remains the same. Once the veggies are cooked through, puree in a blender, re-season with salt and pepper and voila: Winter Veggie CSA soup. This soup can be served warm or, since it freezes well throw a container of it in the freezer and you'll have a chilled summer soup on hand for a balmy night next summer. To make a heartier stew, throw chopped veggies, a can of chopped tomatoes, onions, garlic, salt, pepper, any dried herb and a hand full or two of dried lentils into a pot with water to cover. Cook until everything is soft, throw in some washed and chopped kale or other green, top with freshly grated Parmigiano Reggiano and eat with a slice of crusty bread.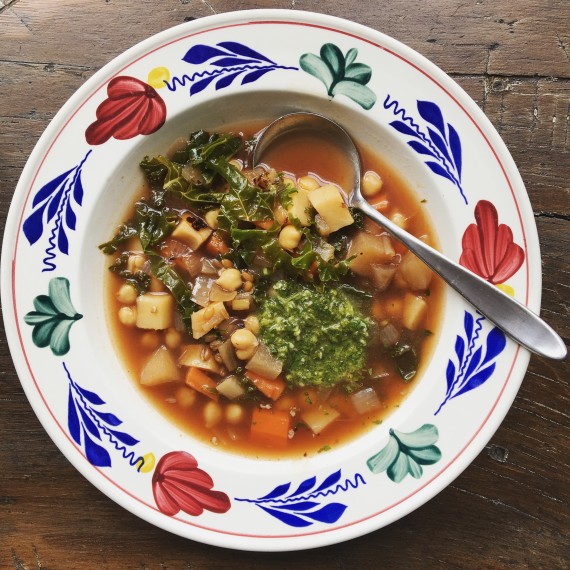 For roasted vegetables, toss peeled and diced vegetables with oil, put on a sheet pan and season with salt and pepper and roast at 400F until done. You can mix different vegetables together, just make sure they're roughly the same size — they can be diced or sliced, if you haven't yet, try roasting carrots whole.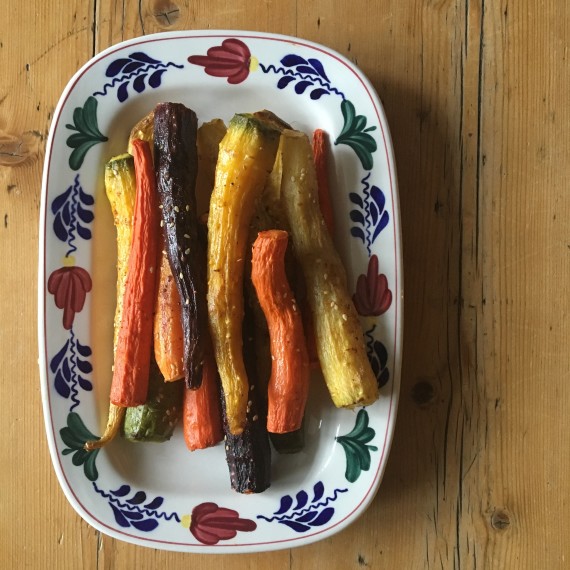 And finally, shredding breaks down root vegetables to make slaws, to muffins or fritters. I like to use shredded carrots to make a cumin-y carrot slaw. It's pungent with a hearty dose of garlic, fresh lemon juice and toasted whole cumin seed. Root vegetables are hearty, and these slaws keep for a few days in the fridge without wilting. For muffins and fritters, you can substitute any shredded root vegetable for zucchini in any muffin or fritter recipe. We make a large batch of muffins for the freezer every few weeks for an easy breakfast on busy weekday mornings. 
So next share pickup night, don't despair! If you store the veggies well, you'll have weeks to create a huge variety of vegetable-forward meals. What's your favorite way to cook the winter vegetables? Any other tips to share?
This article was written as my volunteer requirement for my winter Golden Earthworm Organic Farm CSA, Forest Hills CSA and will also run on their site. My usual CSA didn't meet our minimum for a winter CSA, but I'm lucky to have 2 Golden Earthworm options locally!

Similar Posts: