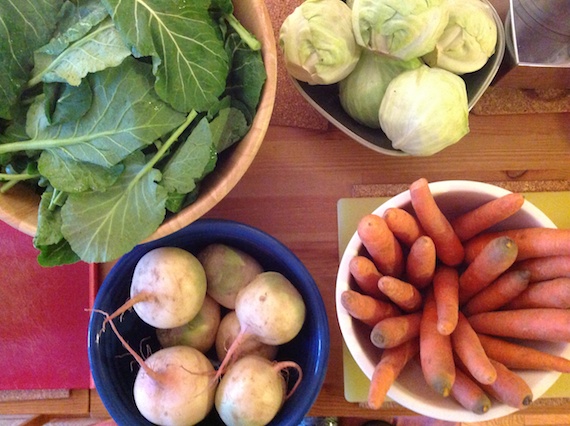 Tonight was not just any Wednesday night… Tonight my apartment was filled with 6 incredible women, and we chopped, chiffonaded and chatted our way through a bunch of root vegetables, creating a fantastic dinner. This was the first of what I hope will be a series of cooking classes that I am offering to members of the Tuv Ha'aretz Forest Hills CSA. Golden Earthworm Organic Farm, our CSA's vegetable farm, supplied the awesome produce including a heaping bunch of collard greens, carrots, cabbage, watermelon radishes, and sweet potatoes – THANK YOU GOLDEN EARTHWORM! My intention with the evening was not so much cooking from recipes, but rather to review broad techniques which can be applied to a variety of the winter share vegetables. Last night was the last winter share pickup (sniff, sniff), and it was a HUGE haul including 8 pounds of carrots, 8 pounds of potatoes, 3.5 pounds of watermelon radishes, 3.5 pounds of beets, and more. Since Matthew and I get 2 winter shares, we have learned and improvised many uses for the bounty of root vegetables (HELLO 16 pounds of carrots!), and I wanted to share some of the tried and true techniques I use, as well as learn techniques from other members of our CSA. Here are the concepts: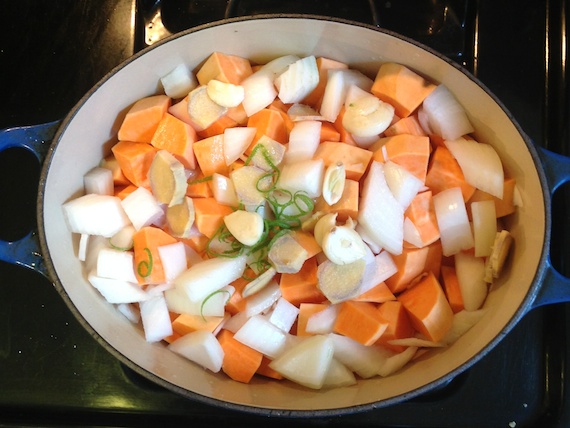 Anything can be made into a soup. This is particularly true with root vegetables. Tonight's soup was a coconut, sweet potato, ginger soup. It's so simple, and no secret really – coincidentally Melissa Clark shared this concept with readers a few days ago. I made this soup earlier in the day because there's only so much we could get done in a few hours, right?! Especially when mostly everyone brought red wine! (Did I tell you these ladies are awesome?!) What I did: peeled and cubed sweet potatoes, 1/2 large onion, 4 cloves of garlic, a few slices of fresh ginger, 1 can of coconut milk, zest and juice of 1 lime, covered with water, brought to a boil, then simmered until soft, then pureed. Served garnished with chopped cilantro. This soup will freeze really well, and making and freezing a batch now means an easy no-cook dinner on a balmy July night. This soup – and many pureed soups – are delicious chilled.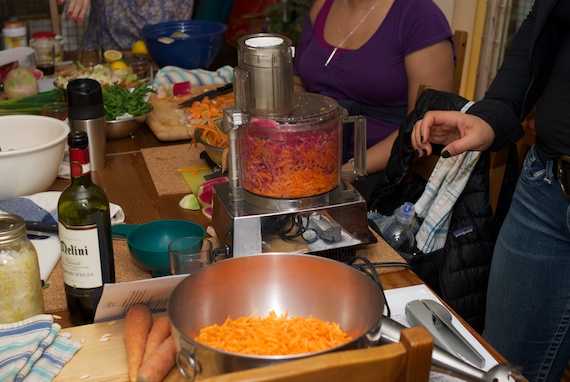 Any root vegetable can be shredded. This is one of my favorite uses of carrots, beets, watermelon radishes, kohlrabi, anything! I have been making shredded salads lately with hella pungent dressings (think: tahini, whole grain mustard, lemon juice, sriracha, rice wine vinegar, sesame oil all mixed together –  trust me, it works!) which I toss with puffed grain and chopped herbs. Its an easy preparation that makes quick work of the veggies, and the salad keeps well in the fridge for a few days. Toss with puffed grain right before serving.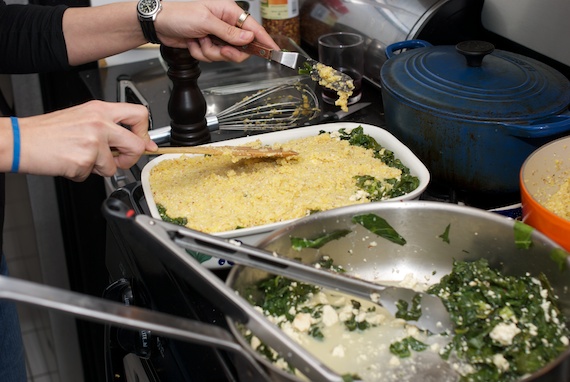 Anything can be layered between 2 sheets of polenta. Since we receive polenta from Cayuga Pure Organics through our CSA, we've found some fun uses for the staple grain, and one of the ones I like the best is using polenta as a "crust" for a "pie". There are a lot of quotes in that sentence because it's more like a casserole, but I've made it in a pie plate and cut it up like a pie, and it's really cute! Tonight we built it in a Pyrex with a filling of garlicky collard greens (that's where the chiffonade comes in) and crumbled tofu. We added some freshly grated parmigiano reggiano to the polenta, which gave it a nice creaminess. Since the whole dish is cooked on the stove top, and all the ingredients are cooked when the pie is assembled, so it's not even necessary to cook in the oven if you're in a time pinch, but tonight we threw it in a 350F oven for about 20 minutes. Other things that can be used to round out the filling are beans, lentils, tempeh or any sautéed vegetable.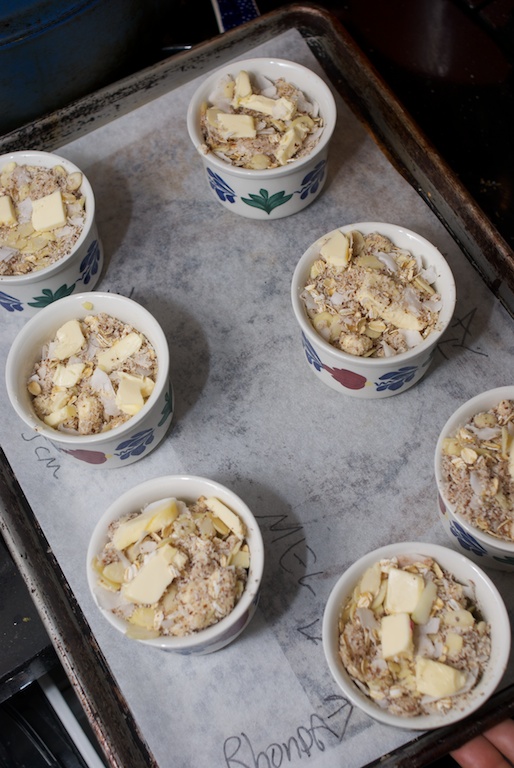 Everything is better when it's cute and individualized. In the summer CSA season, we receive a variety of fruit in the fruit share, but being that we're in the Northeast, winter season's fruit share is apples. When I think of an easy apple dessert, I think individualized apple crisp. It's always fun to make little, individualized anythings, and I love that everyone had the chance to participate in making their version. After we all peeled and cubed the apples and put them in the bottom of a ramekin, we topped with a mixture of rolled oats, shredded and flaked coconut, ground and sliced almonds, coconut oil, cinnamon and sugar. I planned on running a vegan class tonight (the late addition of the parm to the polenta was ad lib) so we used Earth Balance, but I typically use butter. The trick to this dish, which I learned from my father and I think was the first dish I actually learned to make, is to be sure to put a few extra cubes of butter on the top, so it melts and oozes down through the topping and into the apples below. The butter is what makes it crisp.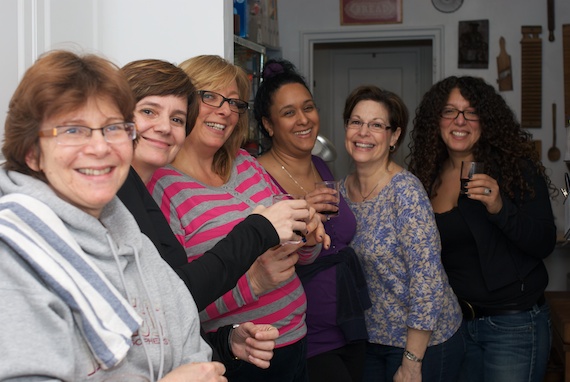 Tonight was a bit of an experiment, and I think it went great! Everyone went home with leftovers of good food, new knife skills, tips and tricks to tackle their refrigerators full of root vegetables. There is nothing I love more than standing around a table, cooking, chatting and drinking with old and new friends, and on a Wednesday no less – success! – thank you to the great women that came out!
For Queens Peeps: Registration is open for the 2013 Spring/Summer/Fall season! We are filling up quickly, so if you're interested in participating, please sign up soon! Click HERE for the online registration, and click HERE for more information about our CSA.

Similar Posts: