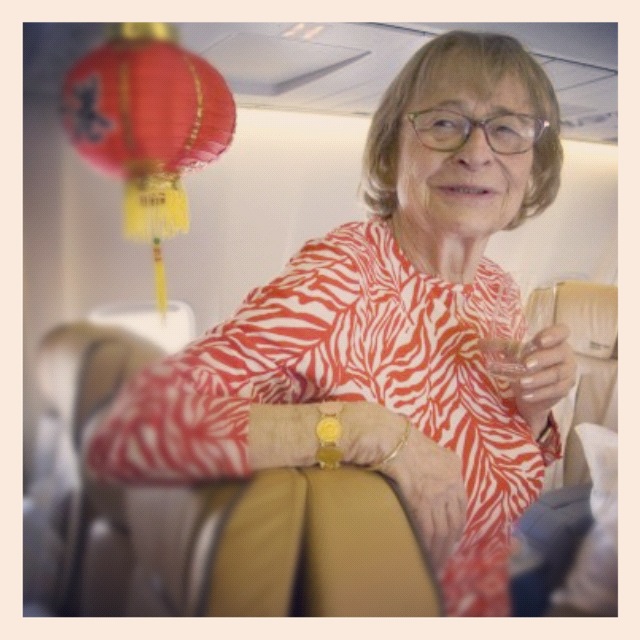 It is with great sadness that I write this post, dedicated to the memory of my beloved grandmother, Lisa Meyers, who passed away peacefully on the morning of November 30th, 2012.  Grandma turned 90 in October, and up until a year or so ago, she travelled the world, went on daily walks, baked cookies, and emailed. I loved to brag about her: "my grandmother is 83 and is still cross-country skiing", "my grandmother is 86 and just got back from Fiji or Croatia or Australia or Africa or Antarctica"…   Among the many things that Grandma was, (world traveler, home-ec teacher, family matriarch) she was a chef extraordinaire.  She had her standard dishes, which included Jewish classics like stuffed cabbage, brisket, sour cherry soup and German apple pancakes, but she wasn't afraid of experimenting and incorporating new ingredients (she recently made biscotti with pumpkin seeds!).  While her cooking was incredible, her baking was out of this world. She made delicate flat iced cookies, crumbly powdered-sugar-coated nut crescents, apple cake, passover chocolate-walnut cake, crumb cake, and these jam bars that she called "sweet pizza".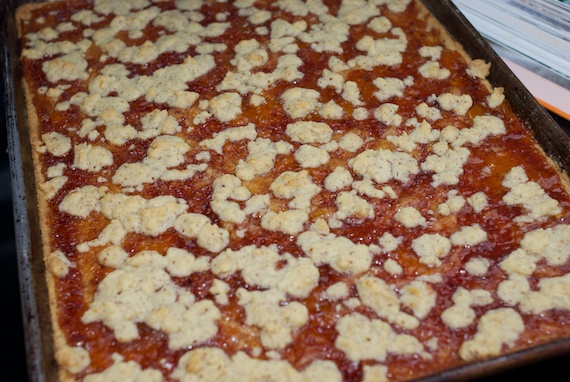 I started cooking her sweet pizza a few years ago, and when I asked her how she got her perfect crumb topping she replied "Oh, you just do like this", as she rubbed her palms together, "it makes crumbs". So that's what I tried … no dice.  My topping was more clumpy, not crumby. When Grandma passed, I thought of these cookies. I knew that I would be comforted by making them, and I knew our family would be comforted by eating them, despite the fact that I knew my version would never come close to hers.  So for the first five days after her passing, I made a batch of these cookies every day, and not surprisingly, they were gone by the end of shiva each night.  So the next morning when I woke up, the first thing I did was put the butter on the counter top to let it soften.  It became my mourning ritual, and I felt a deep closeness to her as I went through each step of the recipe.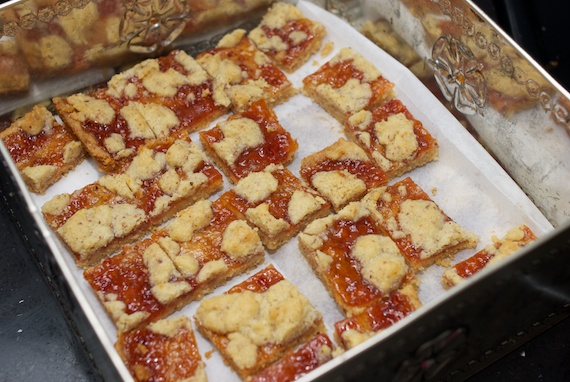 Grandma's recipe is so simple: 3 sticks of butter, 3 cups of flour, 3/4 cups sugar and the rind of one lemon. She didn't even list what to do with the ingredients, and she clearly omitted one essential ingredient: THE JAM!  I've stuck with her basic recipe, but added some chopped nuts (my theory is her version included nuts, but she omitted them when she wrote down the recipe), and I fiddled with the ratios. It's still a work in progress, and one I'm happy to toil away on.
Grandma's Sweet Pizza
3 sticks plus 3 tablespoons butter, softened
2 cups all purpose flour
1 cup total roasted and ground almonds and/or hazelnuts
1/2 teaspoon almond extract
1/2 teaspoon vanilla extract
3/4 cups sugar
1/2 teaspoon salt
Zest of one lemon
1 cup each apricot and raspberry preserves (or any other flavor)
Preheat the oven to 350F. In a large bowl, mix together flour, ground nuts and salt, set aside. Then, cream the butter with the sugar in a standing mixer on medium speed. When light and creamy, add extracts and lemon zest on low speed. Keeping the mixture on low, add the dry mixture little by little until well incorporated. Once mixed, reserve about 2 cups of the cookie dough, wrapped in plastic wrap, and place in freezer.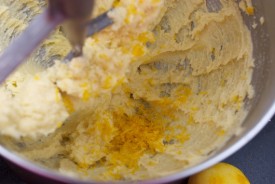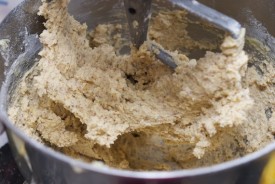 Spread the rest of the dough on an un-greased jellyroll pan with an offset spatula. I love this step – so meditative.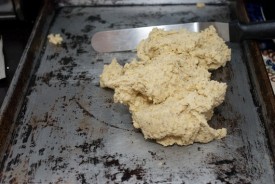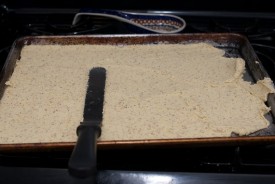 Bake (turning half-way through) for 18-20 minutes, until it's golden brown. Cool completely.
Let's talk jam: I tend to like raspberry jam for my cookies, unless the cookies in question are hamentashen, in which case I prefer apricot. Grandma made her's with apricot, but since I like raspberry so much better, the first batch of sweet pizza I made that week was with raspberry. When my aunt Janet tried the cookies, she told me that when she has made the cookies, she likes to mix apricot preserves with raspberry preserves, which is what I did for the second batch, and I must say, my mind was blown. It was delicious, and it is what I would recommend.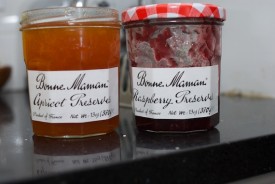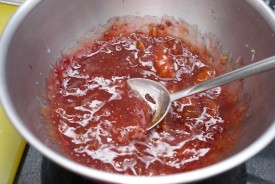 Spread out the jam on the cooled baked dough — this is where you really see where the "sweet pizza" name comes from. Take out the frozen dough and cut into small cubes, then crumble the cubes on top of the jam. The pieces should not be uniform – big pieces, little pieces, it's all good.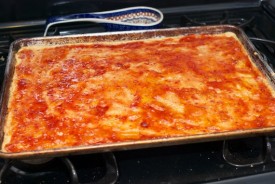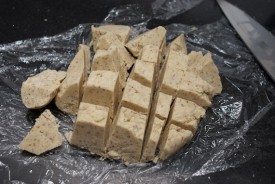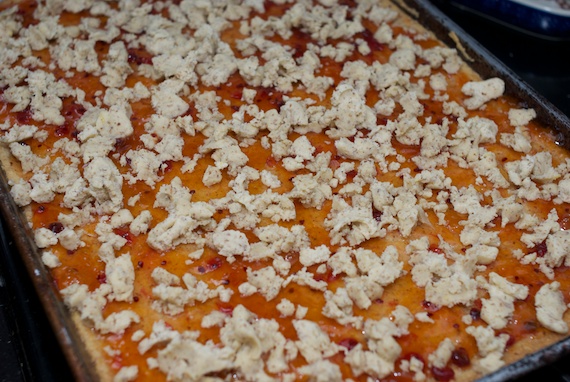 Bake, again rotating pan half-way through, for 15-20 minutes, until the crumbs are golden. Cool completely, then cut into cookies, large or small, and store in a cookie tin (this is one of her old cookie tins) for as long as it takes to eat them all, probably less than 24-hours if you have your family around.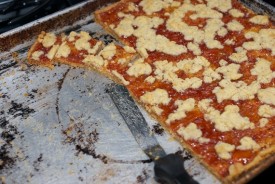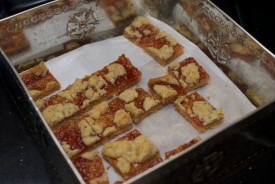 I can't believe I'll never be able to ask Grandma to clarify what exactly she did so that she could merely rub her hands together and produce the most perfect, almost steusel-like topping, but I'm also fine with mine taking a permanent runner-up to her blue ribbon sweet pizza. May her memory be a blessing.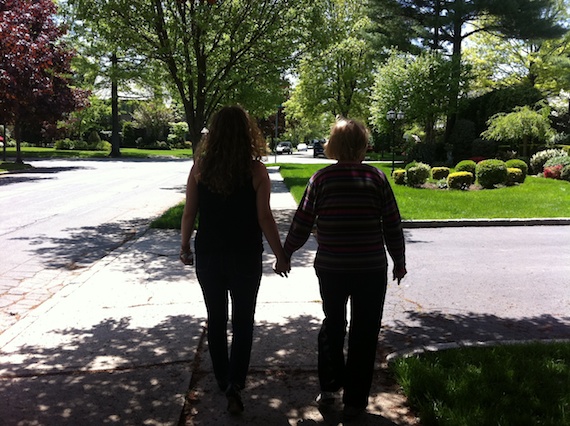 Similar Posts: