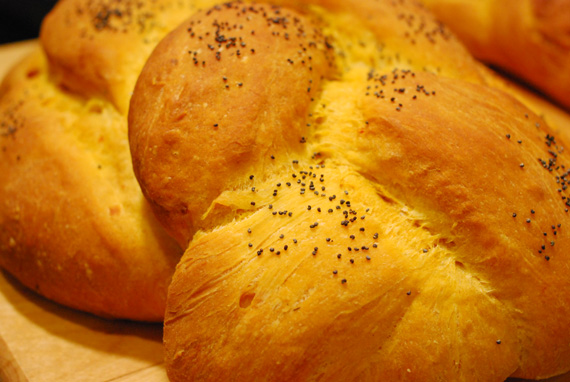 Challah, the braided bread served on Shabbat and most holidays, is delicious, and typically made with many eggs.  We had vegan guests over for Shabbat last weekend, so eggs were out.   I had to learn how to make an eggless challah, and fast, so I turned to Joan Nathan, the Guru of Jewish cooking, and modified a recipe she had for berches.  I had never heard of berches before, so I asked my German grandmother about it.  She explained that berches is just the German word for challah.  Joan Nathan's recipe is made with potatoes, but according to my grandma, berches can be made with or without potatoes.  How about sweet potatoes?  Well that's what I had from our CSA, so that's what was going into my challah.  The sweet potatoes lent a nice sweetness and a beautiful orange hue to the final challah, and everyone loved it… it also made for some killer paninis (see previous post).   Does anyone else have any experience with berches?  Feel free to share in the comments below.
Sweet Potato Berches
Modified from Joan Nathan's The Jewish Holiday Kitchen. This recipe makes 2 large loaves.

2 pounds bread or unbleached all-purpose flour (8 cups)
2 packages dry yeast
1/2 cup lukewarm water
About 3 cups cooked, mashed sweet potatoes (still lukewarm)
1.5 teaspoons salt
Poppy or sesame seeds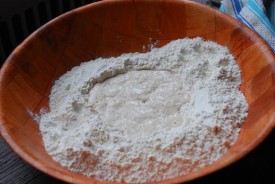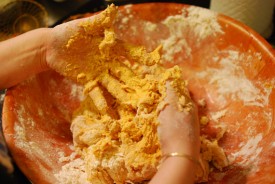 Place the flour in a large bowl, making a well in the middle. Stir in the yeast and 1/2 cup water. Add to the well a small amount of the flour, about 3 tablespoons. Cover and place in a lukewarm place until doubled in size, about 30 minutes.
Add the potatoes, salt, and more lukewarm water if needed [I didn't need any]. Knead the dough about 10-12 minutes, until it is as firm as possible. [I had to add more flour–about 1/4 cup–since the dough was mad sticky.] Put the dough in an oiled bowl and cover with a cloth. Place in a medium-warm, draft-free spot, and let stand until the dough has doubled in size (about 3-5 hours). [Joan notes that if you are serving on Friday, you can start the dough Thursday night at 8 O'Clock, and it can rise slowly overnight.]
When the dough is ready, place it on a floured wooden board and split it into 4 parts. Make a long loaf of one of the parts [mine was more of an oblong round…], and divide one other part into 3 pieces. Roll the 3 peices into long ropes and braid them. Place the braid on top of the long loaf, pinching on the edges to attach. Repeat with the other 2 parts. Cover the challah and let rise once more for about 1 hour.
Preheat oven to 350F with a pizza stone inside, if you have one.
When ready to bake, brush with olive oil and sprinkle with poppy or sesame seeds.
Bake 45 minutes to an hour or until the challah is nicely browned and sounds hollow when tapped.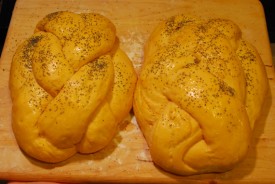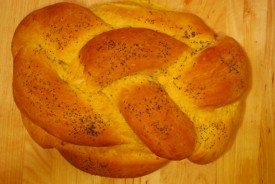 Similar Posts: