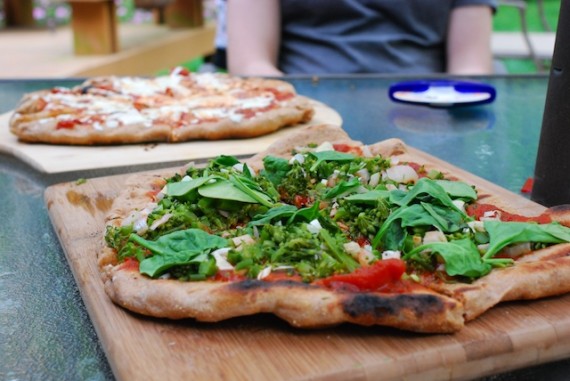 Well, it's that time of year again–BBQ TIME! But what do you do if you're vegetarian or vegan and you're going to a barbecue or if you aren't but you're hosting a vegetarian or vegan at your barbecue? Grilled pizzas, of course! This is a really easy recipe that is definitely a crowd pleaser. You can buy already-made pizza dough at most supermarkets, but it's very easy to make yourself (see this previous post for Matthew's pizza dough recipe).
Grilled Pizza
Chopped vegetables for toppings (pre-roasted vegetables are my favorite; on this pie I used a combo of grilled onion, steamed brocollini, baby spinach, and spring garlic)
Tomato sauce (reasonable use for canned sauce here–doesn't have to be "pizza sauce", any tomato sauce will do)
Cheese (Mozzarella and feta work well, optional)
Cornmeal (you can use flour if you don't have cornmeal),
Olive oil
Heat grill on high.
Dust a large wooden cutting board or a pizza peel with cornmeal.  Push down dough into pizza-shaped pies of any size.
Brush the top with olive oil, and flip pizza onto grill, olive oil side down.
Close grill and cook for 3-5 minutes, until crisp and browned on bottom. Brush top with olive oil and flip pizza.
Top with tomato sauce and toppings of choice.  Cook another 3 minutes, until the bottom is crunchy and the toppings are heated through or melted.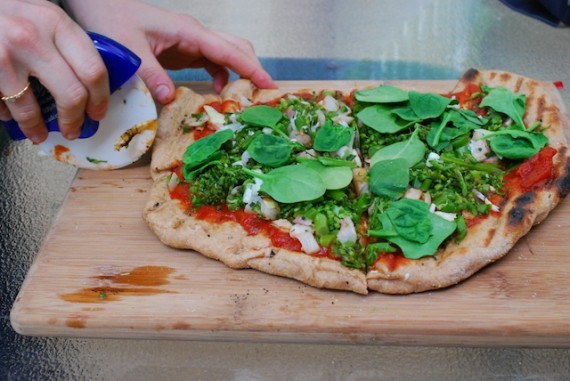 The pizza was a success–with even the non-vegetarians enjoying the cheese-less pizza! Happy grilling everyone!

Similar Posts: