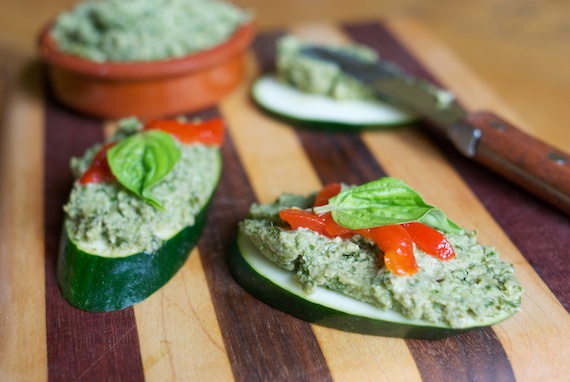 Whether it's wafting over from your garden (oh I wish I had a garden!), or from your CSA box (in my case…), or even from your grocery store (when all else fails!) – I'm sure we can all agree that the sweet scent of fresh basil is THE smell of summer. Although basil can be used in so many ways, from topping off a summer sandwich, to muddling it into a favorite cocktail, to kicking up a simple stir-fry, pesto sauce is really basil's time to shine. Classic pesto is made from just five ingredients: basil, garlic, extra virgin olive oil, pine nuts and parmigiano reggiano cheese (often seasoned with 2 extra ingredients, The S&P500, as Matthew calls salt and freshly cracked black pepper).  And while pesto classico is definitely delicious, I've found that this vegan version, which relies of soaked cashews in lieu of the parmigiano cheese is a great alternative if you are avoiding dairy. I've used this spread on grilled pizza, on sandwiches, and when I'm feeling particularly fancy, on slices of zucchini crostini for a gluten-free hors d'oeuvres.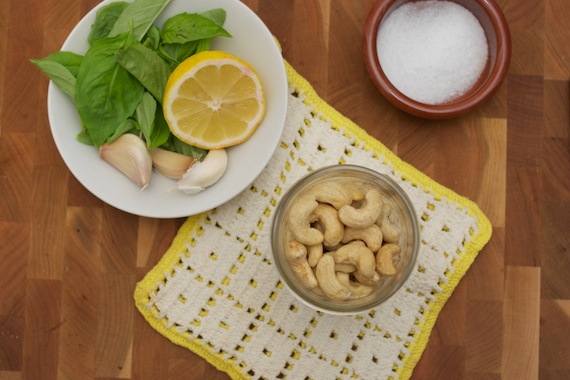 This cashew pesto is such an easy spread, which can be whipped up in no time and modified to be more creamy or garlicky or basil-y depending on your mood (or what's stocked in your kitchen). I add a squeeze of lemon for a touch of acid and a dab of miso to round it out with umami richness. If you don't have miso in your fridge, feel free to add a dash of tamari or soy sauce – it won't be exactly the same, but you will get a similar umami-ness.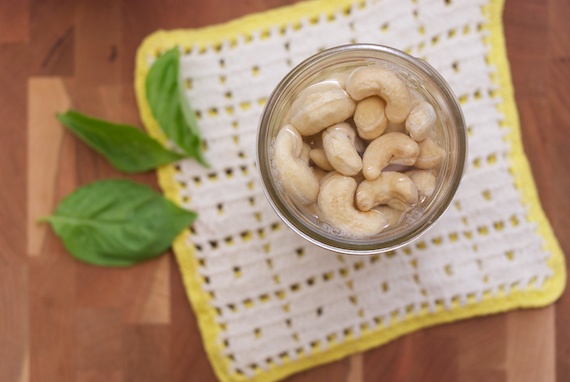 To begin, soak the cashews. I never measure anything, I just fill a small jar or bowl with raw cashews and cover with just boiled water. I soak them for as long as I have time – sometimes it's only 10 minutes, and sometimes it's overnight. Yes, the resultant pesto is creamier when you soak them longer, but it's still super-tasty when you do a quick soak. In other words, don't be held back from making this recipe if you only have a few minutes to soak.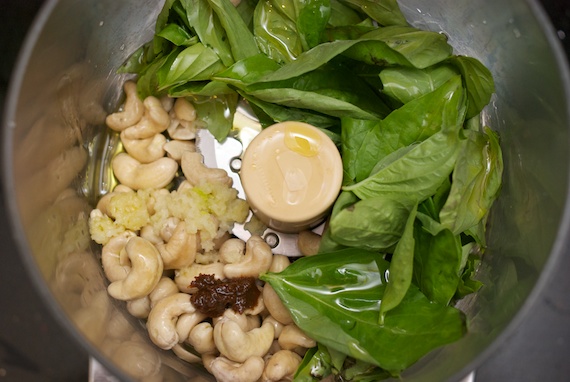 Once the soaking time is up, drain and add the cashews, a handful of fresh basil, a clove of garlic, a scant teaspoon of miso paste, the juice of half a lemon and blend in a food processor until coarsely chopped. Scrape down the sides of the food processor, and start blending again, adding olive oil in a stream while blending to create an emulsion. Once the sauce has become the consistency you'd like, taste and season with salt and pepper. The spread keeps well in the fridge for up to a week.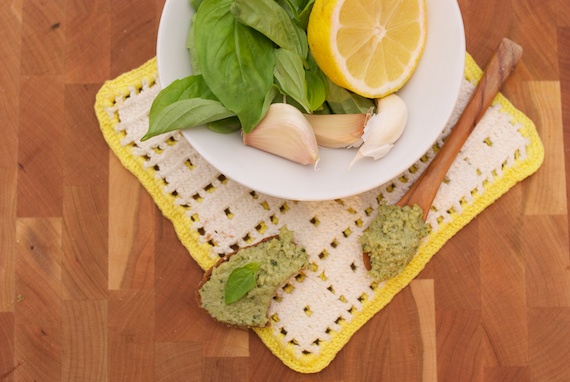 Similar Posts: