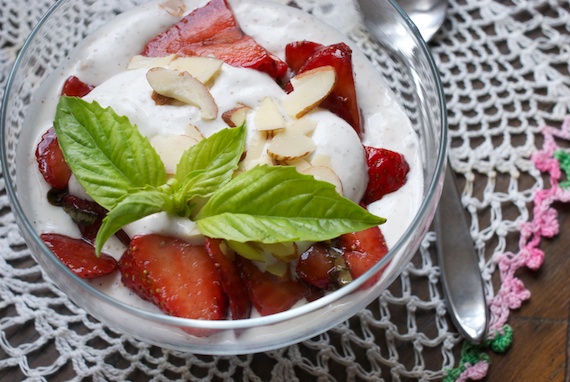 You have to go get a can of coconut cream. Like, right now. Seriously. Go buy it, put it in the refrigerator, and then you can sit and finish reading this post, because there will already be a can of coconut cream in your fridge. I mean, who doesn't like strawberries and cream, right?! Well, yes, except there are a whole bunch of people that don't eat dairy, so what about that? Well, last summer the vegan blogosphere was bustling with chit-chat of whipped coconut cream. Pins started pinning, instagrams starting 'gramming, and people started talking – "Did you know?! Coconut cream can be whipped into whipped cream," they'd say. Well, I didn't believe it. I didn't believe it one bit, so I sat that one out. Until… I came across a can of coconut cream a few weeks ago, and remembered all the people that swore it could happen. And since it was the beginning of strawberry season and I had just received my first quart of berries from our CSA, and I just had to know: was whipped coconut cream really possible?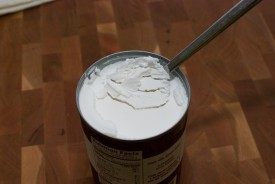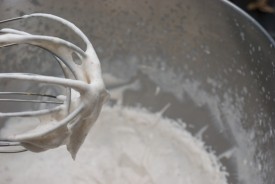 The answer is not only yes, but yes AND it's freaking delicious! Sure it takes some planning to have a can of coconut cream lurking in the back of your fridge, but you've already taken care of that part. (And if not, GO!  Just buy one and throw it back there, and you won't notice it until that day that your vegan friend or lactose intolerant cousin or paleo co-worker comes by for dinner. You'll have an "ah-ha" moment, find that can, and rock this dessert. They will love you for it.)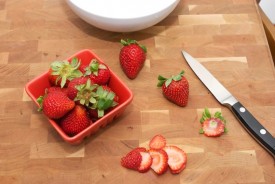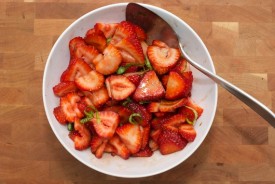 All you need to make this magic happen is a sturdy stand-mixer or hand-mixer. When you open the can of coconut cream, you'll notice it hardened up quite a bit, scape it all our into your stand mixer's bowl, and start to whip up on high speed. You can't use light coconut milk here for same reason that you can't whip skim milk into whipped cream. The fat is what helps the cream thicken up. I like to add a touch of ground vanilla and ground almonds while it's mixing because coconut and almonds are one of my favorite combos, but you don't have to add the nuts. If you don't have ground vanilla, vanilla extract works too. If you whip the cream and transfer to the refrigerator, it will re-thicken to a mousse-like consistency. I haven't tried yet, but I feel like this might work well as a cream layer in a layer cake. I've eaten both versions with strawberries, and I think I prefer the just-whipped-up consistency better, but yogi's choice.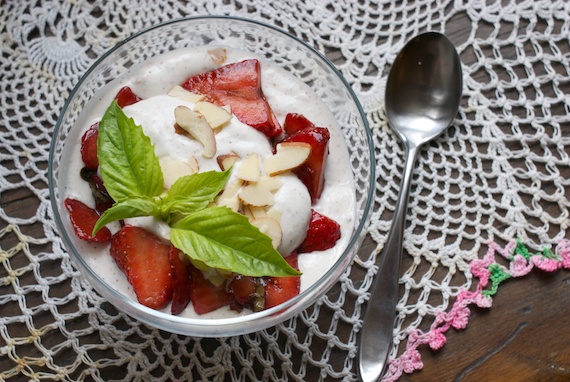 I've been enjoying this bowl of pillowy coconut with strawberries macerated for a few hours with a drizzle of super-quality balsamic vinegar and some chopped basil. Then, to serve, I like to get all fancy-like and layer the berries, the cream, some sliced almonds and top with a basil garnish. Dairy-free summery summerness.

Similar Posts: