Aye dios mio! It's been a sprint of a month–and sadly, another without a post!! I've been busy: working on my CSA's membership drive, helping to organize the Queens Green Alliance's Earth Day Fair, and building up my acupuncture practice. But don't think that just because I'm busy, I haven't been cooking! To the contrary, I have been cooking up a storm (easy with my stocked pantry) but have yet to get back in the groove of posting my kitchen creations. In the next few weeks I'd like to retroactively post some recipes I've been eating a lot lately (hello red quinoa/black bean and feta salad, I love you), but for now, I am reporting on my April Tigress Can Jam creation.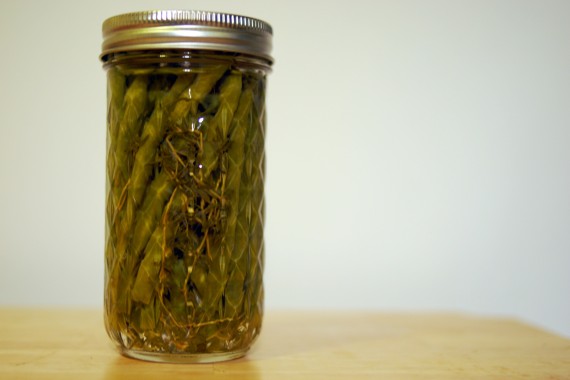 I was very excited to find out that this month's theme was herbs. Herbs are a great way to celebrate Spring, as their delicate, green, aromatic essence wakes up the palate, reflecting all the blooming that is happening outside.  I love the earthiness of thyme, which I often use when roasting vegetables.  So this was my experiment to see how thyme would work with fresh pickled green beans.  I modified the Ball Complete Book of Home Preserving recipe for Dilled Beans, and came up with this simple, pretty jar. If you are new to canning, I recommend only using recipes from published books.
Thyme for Pickled Beans
Recipe yields one 12 oz jar
String beans – enough to fit into 1 jar – washed and trimmed
3/4 cup white distilled vinegar
3/4 cup water
1 T pickling/canning salt
3 whole black peppercorns
1 clove garlic, sliced
3-6 sprigs of fresh thyme
Prepare canner, jars and lids. If you are new to canning, read THIS primer from Tigress.
Bring vinegar, water and salt to a boil over medium heat; add beans, garlic and thyme. When boiling again, turn off heat.
Pack beans and thyme vertically in jar. Ladle in hot pickling liquid, leaving 1/2 inch headspace. Remove air bubbles, and adjust liquid levels as needed.
Wipe rim, center lids, screw on band, and process in boiling water for 10 minutes.
As I only have one jar, I'm going to wait to open it for a special occasion–maybe an upcoming picnic, and I'll report back to let you know how they came out. Until then, they will sit in my pantry until the thyme is right…
5/2: We ate the beans at a barbecue with friends, and they were delicious! The thyme flavor really came through, and they were a great snack while the grill was heating.

Similar Posts: