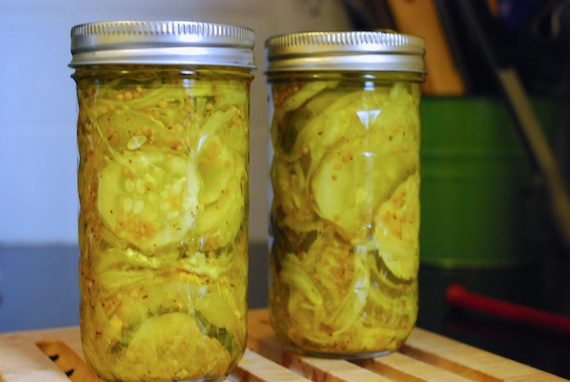 This classic pickle couldn't be easier or more delicious, especially since I made it not only with Golden Earthworm's organic cucumbers from this week's CSA share, but with some from a Square Foot Garden that I've been working on with a friend. Since I'm down to the wire with this July Can Jam entry, this isn't going to be the post about Square Foot Gardening in general, but needless to say, it has been an incredibly doable way to grow a wide-range of produce.
Bread and Butter Pickles
Adapted from the Ball Complete Book of Home Preserving
Recipe makes two 15-oz jars
5 cups sliced trimmed pickling cucumbers
2 medium onions, thinly sliced
1/4 cup canning salt (I used kosher salt)
1.5 cups white vinegar
1 cup granulated sugar
1 T mustard seeds
1/2 tespooon celery seed
1/2 teaspoon ground turmeric
1/2 teaspoon grated fresh ginger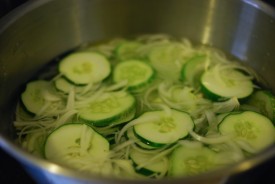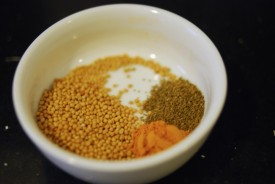 In a stainless steel bowl, combine cucumbers, onions and salt. Mix well, cover with cold water, and let stand at room temperature for 2 hours. Drain, rinse, and drain again.
In the mean time, prepare canner, jars and lids. (See this post for more info.)
In a large saucepan, combine vinegar, sugar, mustard seed, turmeric, and celery seeds. Bring to a boil, stirring to dissolve sugar. Stir in cucumbers and onions, bring back to a boil
Put grated ginger in one jar. Pack cucumbers/onions into jars, leaving 1/2 inch of headspace. Remove air bubbles, and adjust headspace as needed. Wipe rim, center and place lid (the one with ginger marked with a "G"), screw on bands to fingertip-tight.
Place jars in canner. Process for 10 minutes. Remove, cool and store.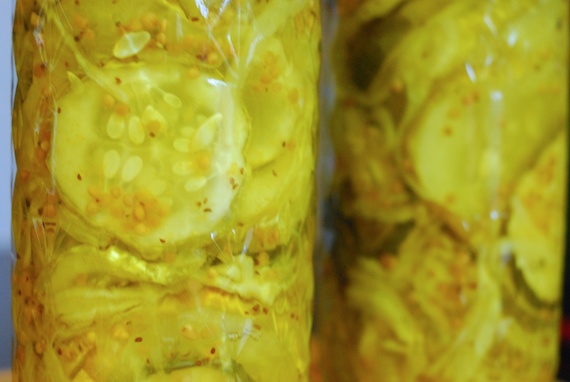 There were some pickles which didn't make it in the jars, which I ended up eating HAPPILY. They were delicious! I'm excited to taste the gingery one. I'll let you know how it comes out.

Similar Posts: