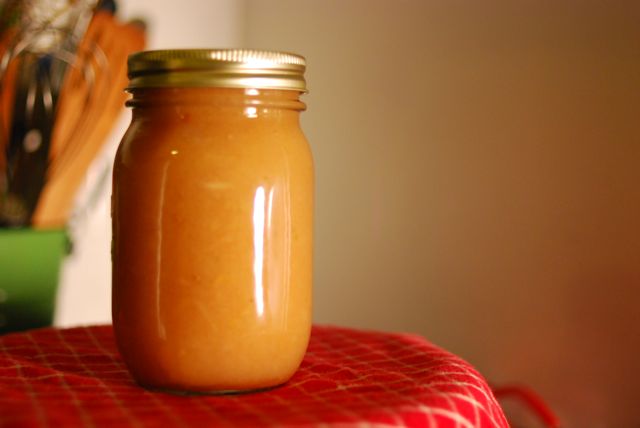 I'm a little tardy with my November Can Jam entry, but better late then never, ey? November's ingredient was apples, and there is only one thing I do with apples, and that's make applesauce.
Applesauce
Modified from Ball Complete Book of Home Preserving; Yield: 1 quart, with enough warm applesauce leftover for snacking on.
3 pounds apples, cut into 8ths (no need to core or peel)
1/4 – 1/2 cup sugar
1/2 – 1 teaspoon ground cinnamon
1.5 tablespoon lemon juice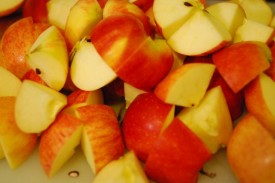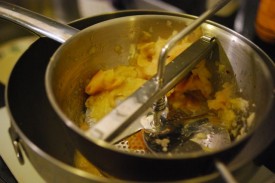 Prepare canner, jars, and lids. Read THIS post if you have no idea what I'm talking about.
Place cut apples into a heavy-bottomed pot with about an inch of water. Cover and cook over medium-low until apples are soft.
In batches, transfer apples into a food mill. Push through into a bowl.
When all apples are pushed through, transfer sauce back into the pot.  Add lemon juice, sugar and cinnamon. Sugar and cinnamon can be modified to taste, but the lemon juice cannot. If you don't know how serious I am in terms of botulism prevention, and how much I DON'T f*ck around with acidity levels, read THIS.
Fill jar, leaving 1/2 inch of headspace. Remove bubbles, adjust headspace as needed, place lid, and screw on band just past fingertip tight.
Process for 20 minutes in a boiling water canner.
Eat straight out of the jar when you need comforting. Note: the title of this blog entry was lifted from Ruth Reichl's memoir of the same name. Read it if you haven't yet.
Similar Posts: