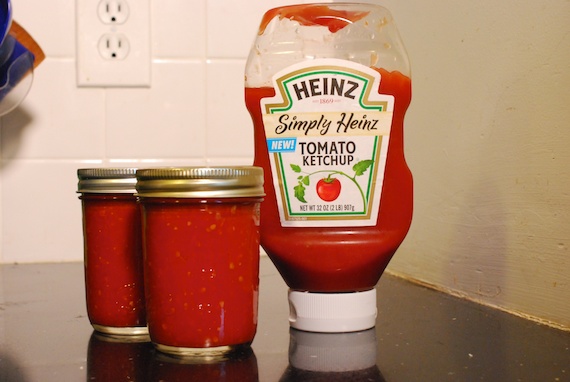 It's not August until the tomato crop comes in, so it's no surprise that this month's Tigress Can Jam ingredient is the tomato. Fittingly, Golden Earthworm delivered 5 pounds of globe tomatoes with our regular vegetable share this week. Since I'm already getting a large share of plum tomatoes in a couple of weeks that will be devoted to "regular" canned crushed tomatoes, I wanted to have fun with these and try something I've been wanting to make for a while.  I have to admit, I was always a little reluctant to make homemade ketchup since it seemed quite labor intensive. But then I thought about how AWESOME it would be to top my NY State BOG burgers with NY State ketchup, and all hesitancy went out the window. In the recipe below, the tomatoes, onions and garlic are all from Golden Earthworm. In the end, it wasn't that labor intensive. Sure there's a food mill involved, and you steep spices in the vinegar before you use it, but these steps are worth it!
Homemade Tomato Ketchup
Yield: Two 1/2 Pint Jars. Adapted from

Ball Complete Book of Home Preserving
1.5 teaspoons celery seeds
4 whole cloves
1 whole allspice
2/3 cup apple cider vinegar
4 pounds tomatoes, cored and chopped roughly
1/2 cup chopped onions
3 cloves garlic, halved
Pinch cayenne pepper
1/4 cup sugar
2 teaspoons salt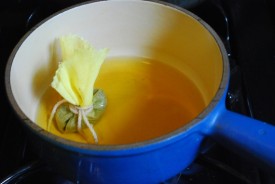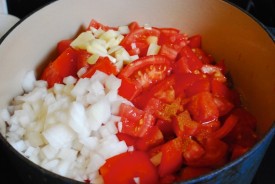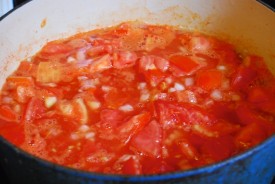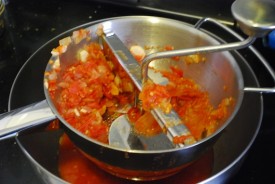 Tie celery seeds, cloves and allspice in cheesecloth, creating a spice bag
Combine vinegar and spice bag, bring to a boil over high heat. When boiling, turn off heat, and let stand for 25 minutes. Discard spice bag.
Meanwhile in a large saucepan, combine tomatoes, onion, garlic and cayenne. Bring to a boil over high heat, stirring frequently. Reduce heat and boil gently for 20 minutes. Add vinegar and cook for 30 minutes.
Transfer mixture, little by little, to a food mill, cranking to extract all liquid. Continue until all the tomatoes have been through the food mill. Discard solids.
Return liquid to saucepan, and add sugar and salt. Bring to a boil, then reduce heat and and boil gently until volume is reduced by half, and the ketchup thickens up. This will take around 45 minutes.
Prepare canner, jars, lids. Read THIS if you don't know what I'm talking about.
Ladle hot ketchup into 1/2 pint jars, leaving 1/2 inch of headspace. Remove air bubbles, adjusting headspace if necessary. Wipe rim, center lid, and twist on screw band.
Process in boiling water canner for 15 minutes. Remove and cool.
It really tasted like ketchup! I expected it to be more runny, or more tomato-y, but it was very savory, a little sweet, and actually tasted exactly like Heinz (in a good way). However, which would you prefer?! I'm so excited to be able to stock my pantry with this version!

Similar Posts: