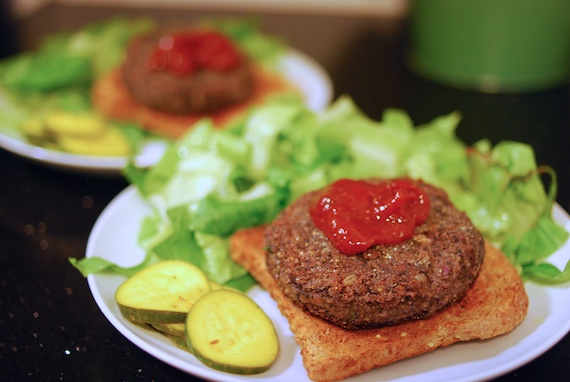 As many of you know, we are members of a CSA, through which we get our glorious, local, organic produce from Golden Earthworm Organic Farm. What you might not know is that we are also members of 2 other CSAs. We get our weekly fruit deliveries from a North fork Fruit farm, Briermere Farms, as well as monthly grain, bean, and flour shipments from Cayuga Pure Organics (CPO). We found that last year during the vegetable and fruit seasons we still bought a lot of those items so we committed to 3 shares of bean, and 2 each of flour and grain.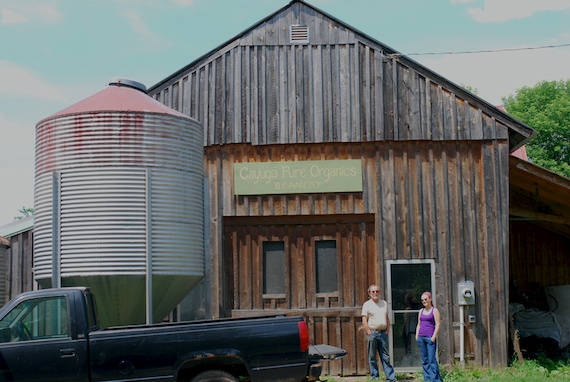 In June, before our shipments from CPO even started, we took a week-long road trip through the Finger Lakes of Central New York State. When we stopped–unannounced–at CPO's doorstep, we were welcomed in and lucky enough to get a guided tour of the whole operation from Erick Smith, one of the original founders of CPO. The awesomeness of their Rube Goldberg-esque bean sorting machines deserves its own post, but needless to say, we were so grateful to meet Erick, and thank him personally for the bounty we were expecting to receive. What we did not expect is how exciting it has been to try interesting grains that we never would think to buy, like the oat groats used in this recipe. I concocted this dish to showcase June's bean (black bean) and July's grain (oat groats) and flour (cornmeal). I've been wanting to try a vegan "burger" for a while now, and this version was delicious. In addition to the CPO ingredients, I used red onion, garlic, parsley and summer savory–all from this week's Golden Earthworm share. Pretty special that EVERYTHING in the burger (save the spices: salt, pepper, cumin, and homemade chili powder) was grown by a farmer that I have PERSONALLY thanked for growing my food. Pretty special indeed.
BOG (Bean Oat Groat) Burger
2 cups cooked black beans
1 cup cooked oat groats (you can probably use steel cut oats)
1 red onion
1 clove garlic
1/2 cup chopped parsley
1 T fresh summer savory (substitute 1 T fresh or 1 t dried oregano, or any other fresh or dried herb for hard-to-find savory; thyme might also work well)
1 T chili powder (we make Mark Bittman's from How to Cook Everything)
1 t cumin seeds
1/2 – 3/4 cup cornmeal
Salt, pepper
Puree in Cuisinart until well blended and soft: black beans, oats, onion, garlic, parsley, savory, chili powder and cumin seeds. Add 1 T at a time of cornmeal until consistency thickens up a bit. Season to taste with salt and pepper. It will still be quite sticky; don't worry.
Portion out onto a parchment lined plate. No need to make into patties yet – they first have to chill and firm up in the fridge for 30 minutes, so place plate in fridge.
After 30 minutes, remove from fridge. To press portions into patties, sprinkle each side with cornmeal and press down gently; make sure they are coated lightly with cornmeal on all sides.
Heat skillet over medium-high heat; add oil (canola, grape seed or safflower oil are great for pan frying). Fry patties on each side until golden. If you're not eating them right away, place in a 200F oven to keep warm.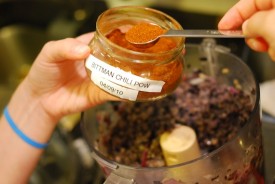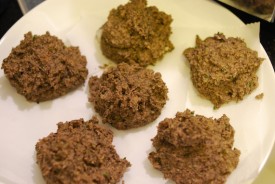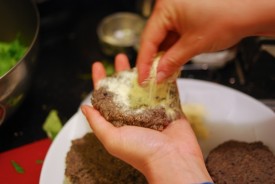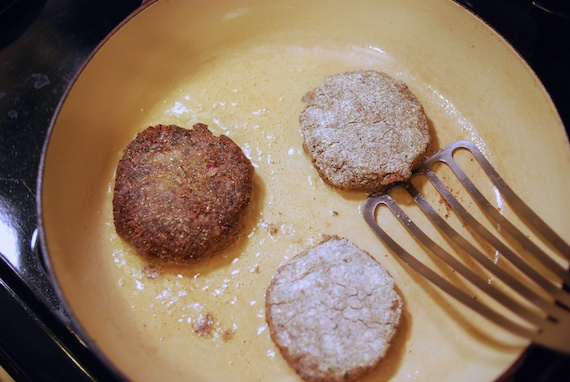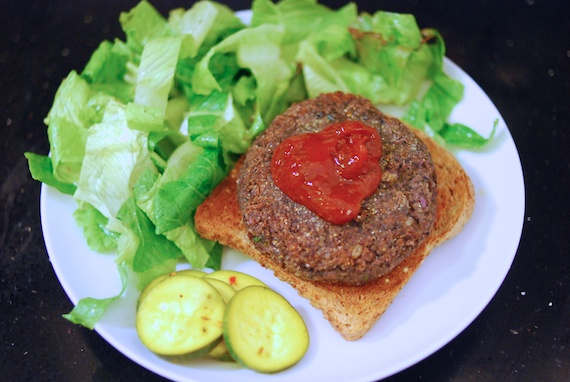 For the curious–did this really taste like a burger? In a word, no. While the outside of the burger firmed up quite nicely, and it held up while frying, the patty as whole wasn't the texture of a beef burger, but that wasn't really what I was going for. I wanted a hearty showcase for all the grains and beans, and this technique really came through for me. It was served open-face on a slice of whole wheat (Ezekiel) toast with chili powder ketchup, a side salad and quick zucchini bread and butter pickles.
Stay Tuned for our Finger Lakes Road Trip Post to learn more about Cayuga Pure Organics, the incredible hiking trails of Western New York, and how exactly we fit the 17 bottles of world class wine we bought back to Queens in our Fit.

Similar Posts: