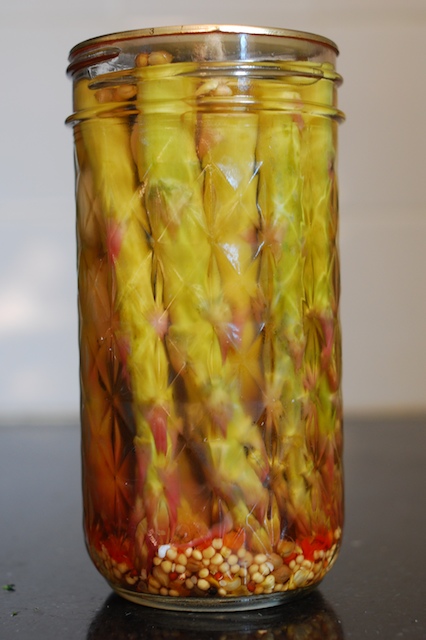 As some of you know, I have committed to [hot water bath] canning one seasonal ingredient per month for all 12 months of 2010 as part of The Tigress Can Jam. For the May Can Jam, we were given a choice between asparagus and rhubarb. I was STOKED to make rhubarb preserves, but since my CSA doesn't start until June 1st and the grocers around here are limited, I couldn't find any rhubarb. So, asparagus it is…. The asparagus I'm using is from Peru, though, so it's not that seasonal, and certainly not local. Lately I've been making super-small batches for my Can Jam entries, and it's for just that very reason–why preserve something that isn't really worth preserving? Once my CSA starts on June 1st, I'll be getting a bounty of fresh, local, organic produce weekly, and I hope to increase the yield of my recipes. The below recipe yields 1 tall jelly jar–what is that a 12-ouncer?
Recipe modified from Ball's Complete Book of Home Preserving. If you are new to canning, ONLY use recipes in published books and follow canning instructions rigorously.
Spicy Pickled Asparagus
Enough asparagus to fill 1 12-oz jar (trim off woody end)
1 cup white vinegar
1 teaspoon pickling salt
1/2 t red pepper flakes
1/2 teaspoon coriander seeds
1/2 teaspoon mustard seeds
2 cloves garlic, peeled and halved
Clean jar and lid; prepare canner. If you don't know what I'm talking about, read THIS post from Tigress.
Bring to a boil in a saucepan: vinegar, salt, pepper flakes, coriander seeds, mustard seeds and garlic. When boiling, add asparagus and simmer for 2 minutes.
Pack asparagus tip side down into jar (this way the pretty tips don't get damaged when removing them later–a Ball trick!). Ladle hot pickling liquid into jar leaving 1/2 inch headspace; remove air bubbles with a chopstick, and adjust headspace as needed. Clean rim, and place lid on center of jar. Screw on band until fingertip-tight.
Process for 10 minutes in a boiling water canner; then turn off heat. Wait 5 minutes, remove jar, cool and store.
In Chinese medicine, the Spring season corresponds to the sour flavor. I have really been craving sour, vinegary foods lately, and I'm hoping that with the super vinegary pickling brine and ample spices these will be a spicy-savory Spring time treat. I will report back when we eat them.

Similar Posts: