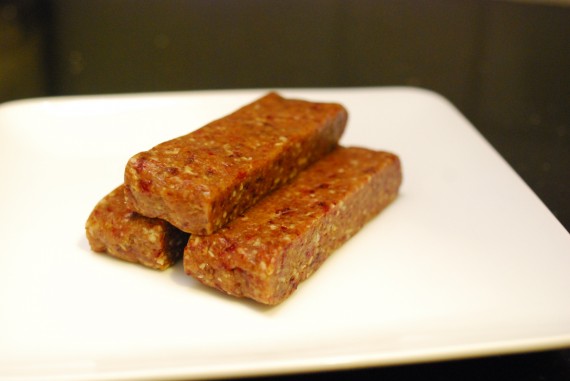 I was famished and running late for a meeting the other day, so I ducked into a health food store for a snack. My go-to on-the-go snacks are Laräbars since they are all natural, delicious and filling. I grabbed an "Apple Pie" Laräbar; the ingredients are dates, almonds, apples, walnuts, raisins, and cinnamon. That's it–no preservatives or flavorings! It was then I had an epiphany: Laräbars are really just Sephardic Charoset, the traditional apple and date spread eaten on Passover to symbolize mortar used to build the pyramids. And it was then I had my second epiphany: I can make this at home! The next day the experimentation began…
Homemade Alexäbars
15 dried, pitted dates
1/2 cup almond meal
1/2 cup dried cranberries
1/2 cup raw sunflower seeds
1/2 teaspoon ground cinnimon
Pinch of salt
Put all ingredients into the bowl of a sturdy food processor and pulse until blended well; the mixture should be able to stick together in a ball if you take a bit and roll in your hands.
Line a small baking sheet or pie tin with parchment and place date/nut mixture on it, with another piece of parchment on top. Smooth out the mixture with a rolling pin or the back of a large spoon. Place in refrigerator for 30 minutes.
Remove from refrigerator, and peel of the top layer of parchment. Cut into desired shape. Wrap individual bars in plastic wrap and store in fridge.
This was the first batch, and it was surprisingly easy, as long as you have a sturdy food processor. For my next batch, I plan to up the seasonings, maybe adding more cinnamon or cardamom. Now, the next time I'm running late for a meeting, I'll reach into my bag for an Alexäbar!

Similar Posts: