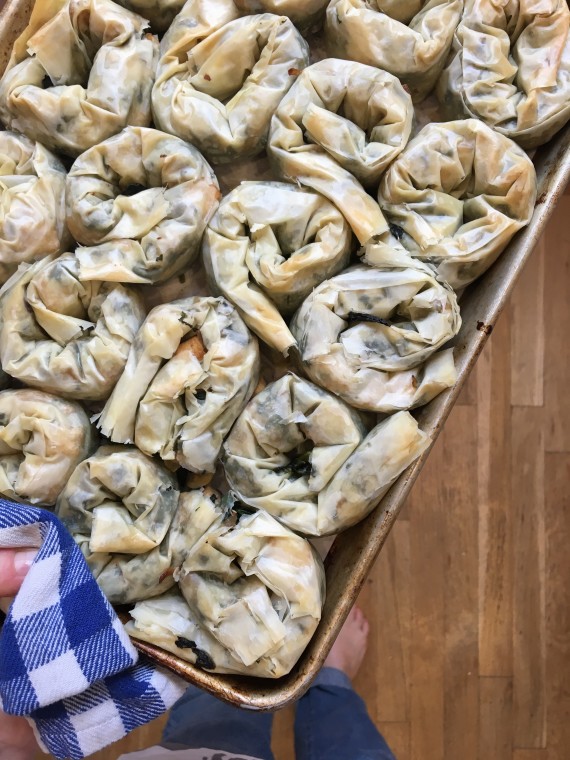 It's the most wonderful time of the year – Our CSA started a few weeks ago! This is our 10th season with Tuv Ha'aretz Forest Hills CSA, and every Tuesday through the end of November, we pick up veggies from Golden Earthworm Organic Farm at the Forest Hills Jewish Center. Over the past decade, we've gotten to know and absolutely love the farm, the farmers and have become accustomed to the arc of the local growing season. In the beginning of each season there are greens… TOOOOONS of greens! Everything from heads of buttery butter and red leaf lettuce to freshly-picked red kale to bags of mustard green salad mix to baby arugula to glorious small roots like turnips and French breakfast radishes with their tender leaves still attached. The challenge during this dawning of the season is finding recipes and uses for all those ample greens so they end up in your body and not in the compost.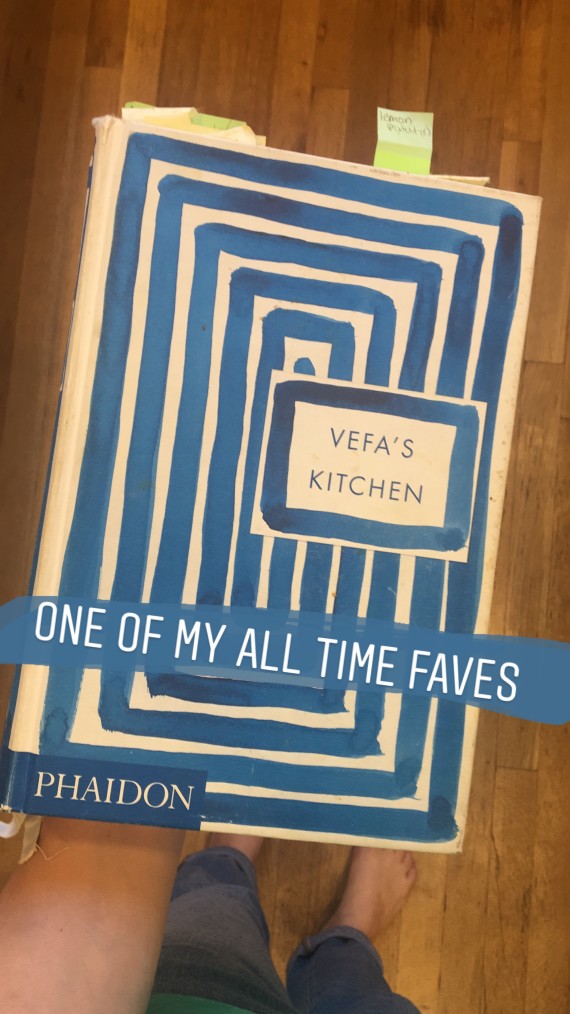 Enter Vefa's Kitchen. I've written before (warning: old blog post & bad pics!) about my love for this simple, vegggie-forward Greek cookbook and it's definitely one of my favorites to turn to in the beginning, green-heavy portion of our CSA season. Over the years I've made many versions of greens pies (it's not just for spinach anymore!) – sometimes with bulkier homemade crusts, sometimes with cornmeal crusts and this time I wanted to try this elegant spiral filo preparation. The recipe in the book was for eggplant pie, but I wanted to apply it to all the greens in the share (and some stragglers in my fridge from Trader Joe's). I also had the idea to take the whole thing in a veganized spanakopita direction by using tofu instead of feta cheese.
My son recently turned 4 and he has been taking on more and more responsibility in the kitchen. It's been amazing to witness him get more confident with his knife and with cracking eggs and stirring pots. Tofu is one of his favorite things to cut since it's soft enough that he can work on and improve his knife skills! Kids can be very detail-oriented and he likes to try to make the dice all the same size (and he also likes to snack on the chopped tofu). For the record, he keeps a very clean workstation.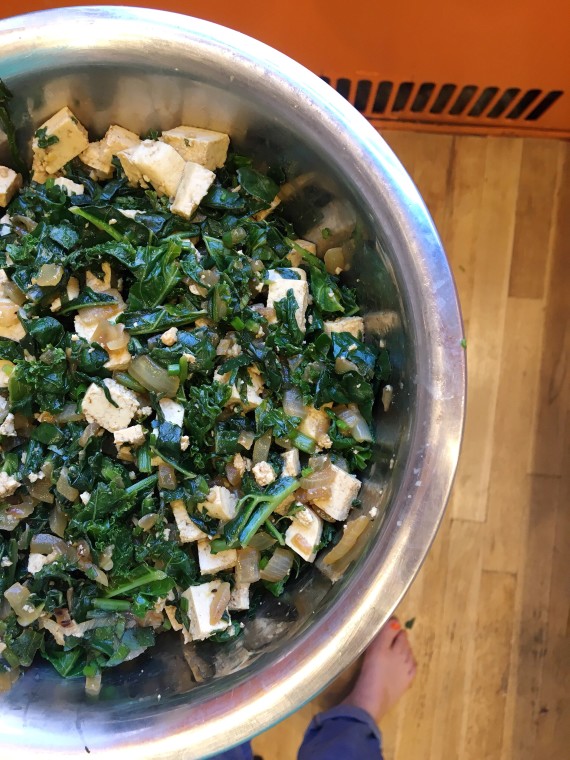 For the rest of the filling I sauteed onions and garlic and then added alllll the washed and chopped greens in the fridge.  I used organic Tuscan kale from Trader Joe's plus the Golden Earthworm FAR SUPERIOR kale and I also threw in the radish and turnip tops since I wasn't going to use them for much else. Once the greens wilted with the onions and garlic I added diced tofu, balsamic vinegar, lemon zest and lemon juice, salt, pepper, fresh mint and toasted sliced almonds. I kept the filling in the fridge overnight so it was cool enough to work with, and also to encourage the melding of flavors.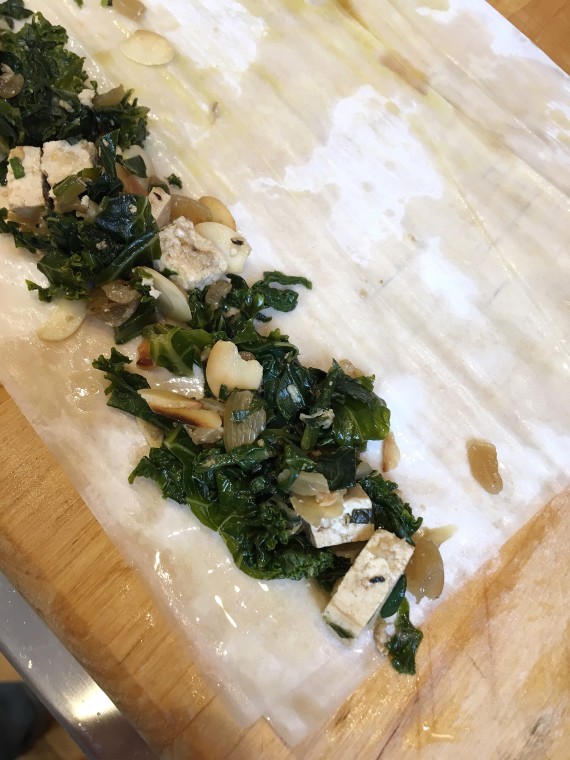 When ready to roll, I took out the filo dough from the freezer to thaw and preheated the oven to 350F. Filo is pretty forgiving (as far as paper-thin, delicate sheets of dough are concerned) and as long as you have olive oil (or melted butter if you want to go dairy), you can mend the cracks and tears in the dough as they happen when you roll up the pie.
For these cute little schneckens (German for little snails) I started with a vertical piece of filo, brushed with oil and folded down over itself. Then I added the filling towards the bottom, rolled up and then scrunched it into a spiral and placed onto a sheet pan. When they were all done and brushed with a bit more oil, I baked until slightly browned, which was 35ish minutes. We ended up eating this for a couple days and Matthew took for lunch one day and they held up to transport and reheating in an office microwave.
Do you think you'll make this with the greens your getting from CSA? If you do, please tag #sustainablepantry in your post!
Vegan Greens Pie
1 box filo dough
All the greens in your kitchen, washed and chopped including any fresh herbs you have
1 package firm tofu, drained and diced
Zest and juice from one lemon
Onion, chopped
Garlic, diced
Balsamic vinegar
Nuts of choice (can omit), toasted in a dry pan
Salt, pepper, olive oil
Saute onion and garlic in oil until soft, then add greens and saute until wilted.
Add in diced tofu, balsamic, lemon juice and zest, herbs and season with salt and pepper to taste. Filling can be made ahead of time and stored up to 4 days in the fridge.
When ready to proceed, thaw filo dough and preheat oven to 350F.
Prepare a work station with a small bowl of olive oil and a pastry brush. Line a sheetpan with parchment. When you take a piece of filo to work with, cover the remaining sheets with a barely moistened kitchen towel. Place a piece of filo vertically on your work surface, and brush liberally with oil, then fold down and brush again.
Taste the filling, as you might want to reseason with salt or lemon juice. Transfer some filling to the bottom edge of the filo dough and roll up from the bottom, brushing with oil as you roll. It might tear, but just brush with oil and keep on rolling.
Once it's rolled into a log, brush the top with oil and roll into a spiral. I found this easiest by holding the whole thing in my hands and encouraging the spiral shape off the board. When spiraled up, transfer to the sheet pan.
Continue with remaining filo and filling. Before baking, brush the top with oil again.
Bake for 30-40 minutes, or until golden brown.
Similar Posts: