I never thought I'd get to say this, but I have a recipe in Food & Wine Magazine! On page 94 and 95 of the March issue, to be exact, and my name is in the magazine not once, but TWICE! This issue, The Cooking School Issue, highlights six of the best new cooking schools in the country, and the beautiful Heirloom Kitchen, where I've been keeping busy the last few months teaching classes, is featured! I love being a part of the Heirloom Kitchen family – and it's no surprise that they were singled out amongst the top cooking schools. In addition to a breathtakingly beautiful space, top of the line equipment, and a thoughtfully curated inventory of kitchen goods and housewares, the owners Neilly and Judy are great people to work with. They've consistently encouraged me to think outside the box when it comes to class menus and because of their support, I've pushed myself to develop – and teach – a number of recipes that I'm extremely proud of. This is one of them.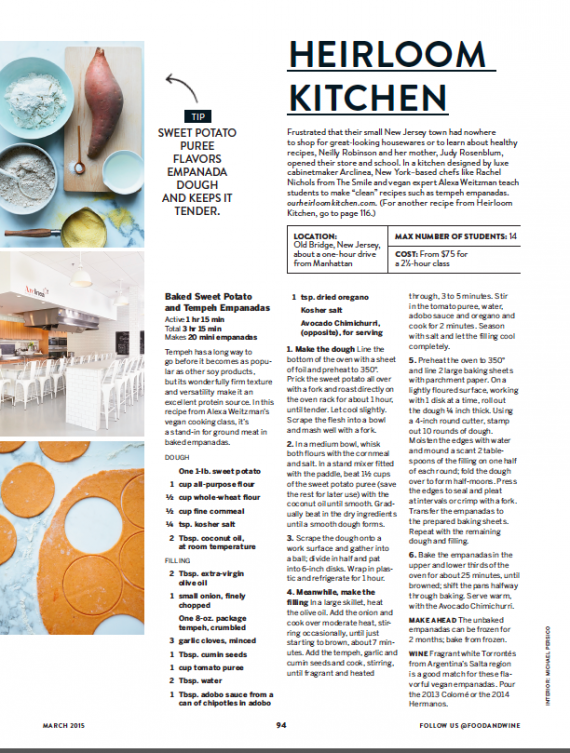 I remember when I was brainstorming menu ideas for a vegan class I led in February of 2014 (pre-baby!), and thinking that I wanted to do a whole-foods based empanada. But was it even possible to make an empanada dough (essentially a pie dough) without animal products, and without "fake" animal products like vegan "butter" or shortening? I thought back to my vegan sweet potato challah recipe and wondered if together with coconut oil, sweet potato might work. Well, I can't say I succeeded right away, but after a few attempts, (happily gobbled up by my trusty taster/husband), I got the combination just right to make a tender, but sturdy crust. For the filling, I wanted to go tempeh all the way. Tempeh is tofu's hippy uncle, who definitely doesn't get as much play. But when crumbled, it really has a satisfying "meaty" texture, and with the chipotle sauce and oregano, it becomes a savory and slightly spicy filling for the sweet dough.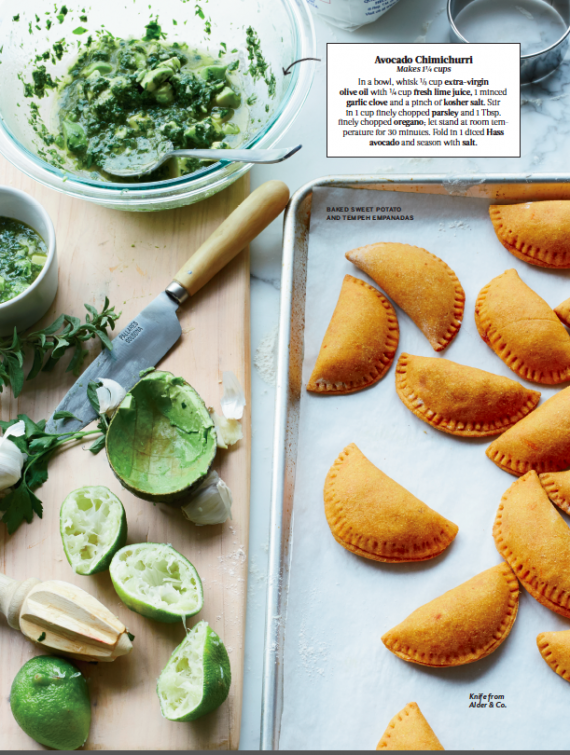 Sauce-wise, I thought it would be funny (and yummy) to serve these vegan empanadas with chimichurri, since chimichurri is typically served with grilled meat. This version adds chopped avocado, which lends an extra creaminess and sweetness that plays well with the tempeh filling.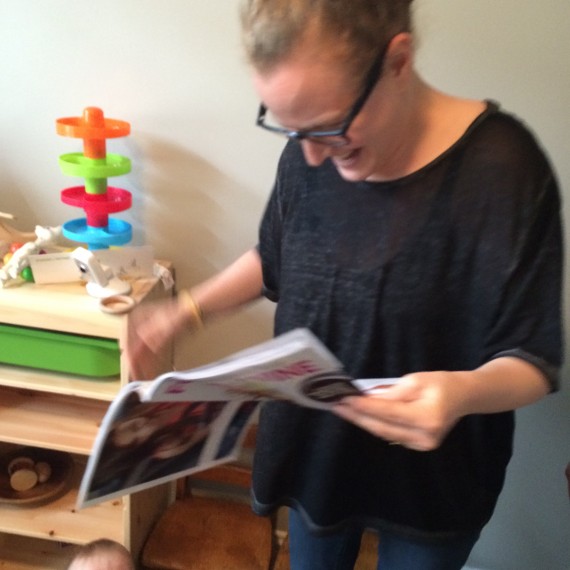 Even though I knew it was coming any day, when my husband walked in with a stack of advance copies sent from the offices of Food & Wine, and I finally saw my name in print, it was possibly the most exciting moment of my food life! My friend Tia (who also happens to be published in F&W, and therefore knows the thrill) was over and had the foresight to snap the above pic of me FLIPPING OUT (See the gesticulating blurry hand!? The pulsing forehead vein!? The maniacal smile?!) when reading the article for the first time.
It's been a whirlwind since it came out, and I'm so grateful to all the friends and family reaching out to congratulate me after seeing it. I'm so thrilled they chose my recipe, and that it got me posting here again! In the coming weeks and months, I hope to be posting more recipes that I have developed over the past year plus. I am definitely still cooking – I just have been doing some other things too (see below), which are taking precedence over the blog at the moment. I hope to be able to get more posts out, and also small short posts to just connect my kitchen to all of you a bit more often.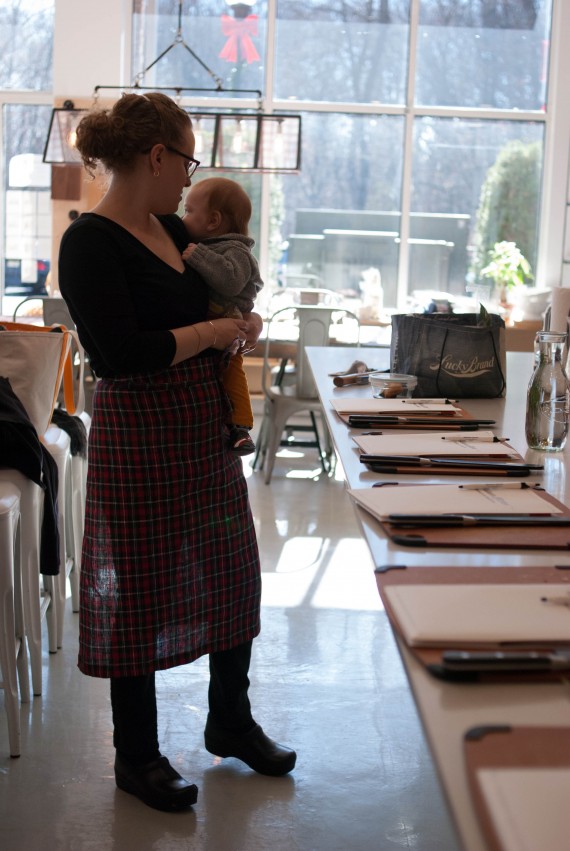 For those of you in NY and NJ, I want to invite you to take my next class on March 14th at Heirloom Kitchen. Featured in this month's Food & Wine 😉 I'm teaching "Vegan Weeknight Meals from a Well-Stocked Pantry", which will cover my basic list of what to stock in your pantry and fridge so you can come home from a long day and cook delicious, healthy meals – easily – with what you have on hand. After we tackle some of those recipes, we gather around Heirloom Kitchen's beautiful farm table and share in a meal…There might even be a guest appearance from you know who!

Similar Posts: