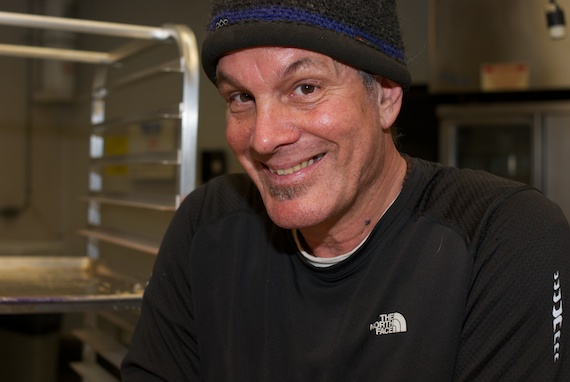 This is Barry. He makes tasty, organic tempeh together with his business partner, Gordon. Although the website for Barry's Tempeh is "growninbrooklyn.com", the tempeh is actually made in Queens at The E-Space, a communal industrial kitchen in Long Island City. (You can read more about other exciting things going on at the Queens E-space kitchen here and here.) Barry, Gordon and their assistant Bessie, make tempeh every few weeks at the E-Space for a long afternoon/evening and I was fortunate to tag along with them for one shift last month. Barry is an interesting dude, and I loved talking with him and the rest of the Tempeh Team throughout the night. The process – soak beans, grind beans, cook beans, drain beans, mix in culture, bag tempeh, label tempeh – was repeated with each of the 3 versions of the commercial tempeh they sell in stores and markets around the city,  as well with a couple of experimental flavors that Barry was working with. All of Barry's Tempeh flavors are vegan, two are gluten-free (soy/oat/barley has gluten), and the white bean/brown rice is both gluten- and soy-free, so there is something for everyone. Most importantly, all of their tempeh is delicious and made with the upmost respect for the ingredients.
And now, making tempeh: You start with beans.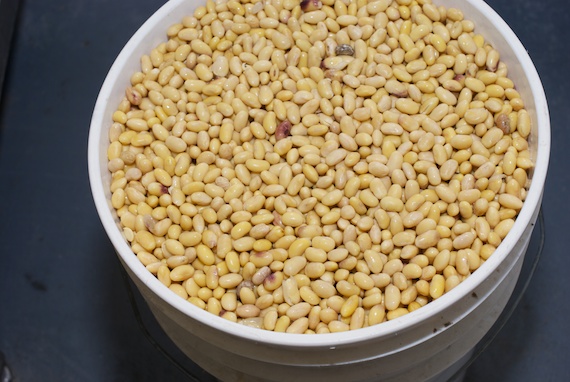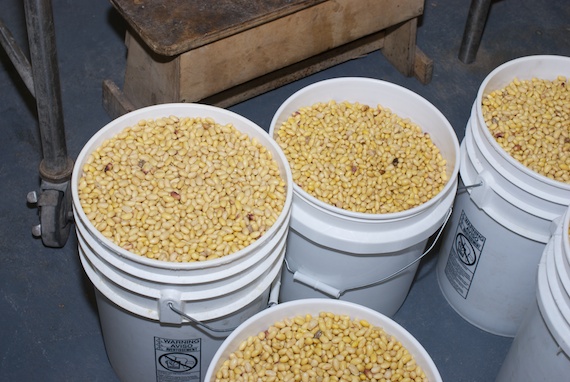 Lots and lots and lots of beans that have been soaked overnight. Barry's Tempeh uses both soy beans and white beans.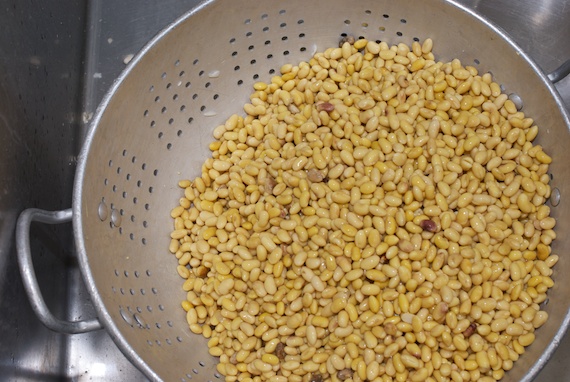 The beans are drained.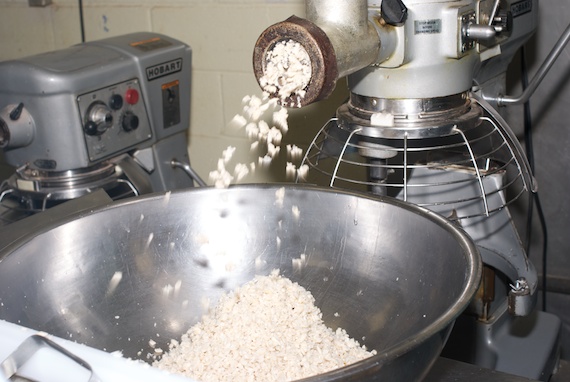 They they are ground with a huge meat grinder.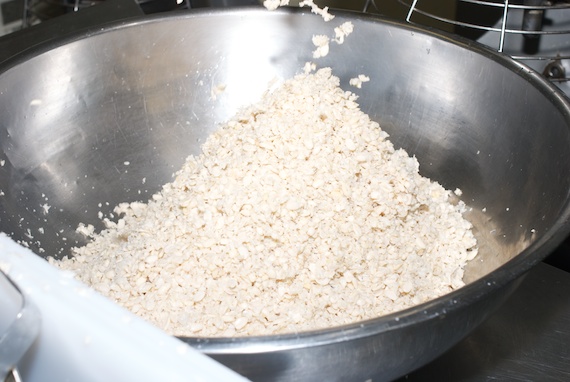 These are white beans.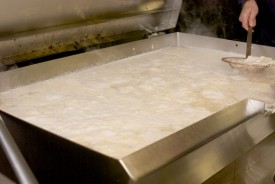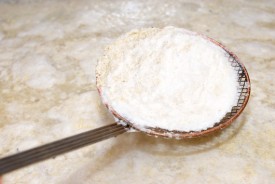 The beans are then cooked in the biggest braiser you've ever seen. While the beans are cooked, the foam is skimmed off the top. I've mentioned before how much I love the zen of skimming, so I was thrilled to contribute to the tempeh-making process by skimming. And skimming and skimming. Once the beans cook for about 20-40 minutes (soy beans take longer to cook than white beans), the cooked beans are drained and placed into custom-made mesh bags which make it easier to squeeze out all the excess cooking water.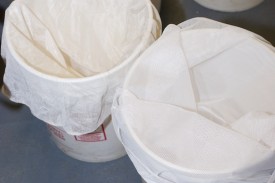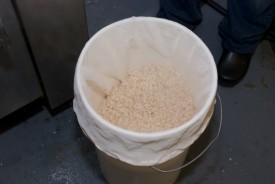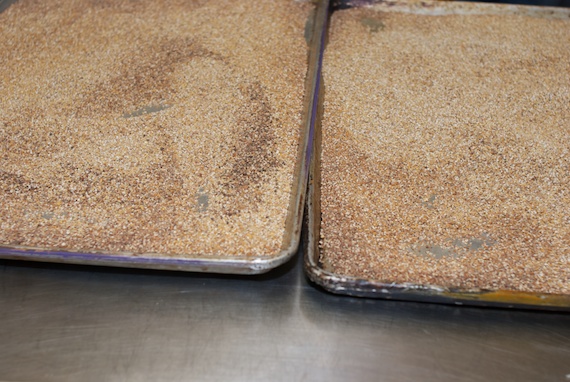 Meanwhile, oats, barley and brown rice are roasted. I wish this blog had smell-o-vision; the delicious roasting smell permeated the whole kitchen, even taking over the cookies being made in another part of the kitchen.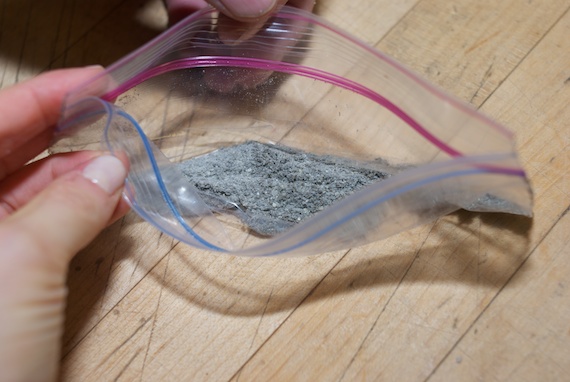 No, this is not a bag of ashes, it's the starter culture. The culture is added to each batch of drained beans and mixed in with a large stand mixer. Large is an understatement. Humongous is an understatement. Here is Gordon mixing up a batch. Gordon is not a small guy, it's that the mixer is HUGE.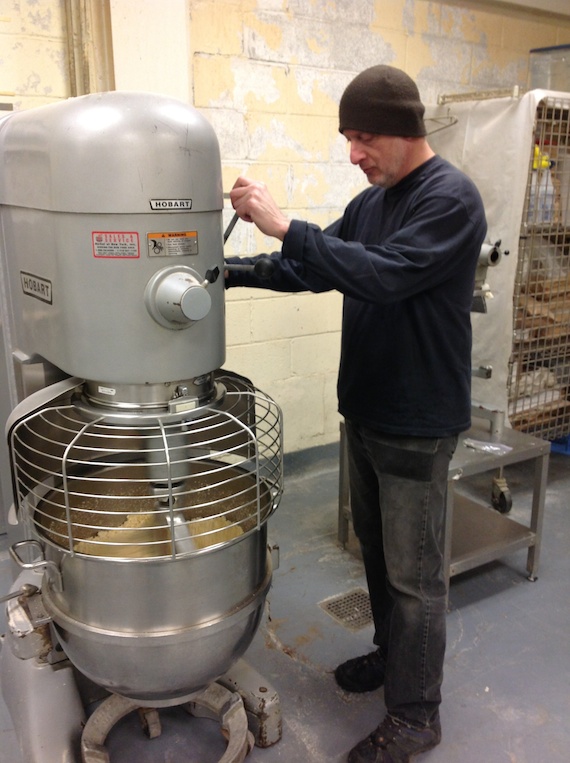 Once the tempeh is mixed with the starter, it is weighed out and stuffed into perforated zip-lock bags (1 lb each). Once the bags are filled and labeled, they are placed on metal grates and eventually loaded into bread-proofer (I think that's what it's called) where the tempeh culture really does it's thing on it's overnight slumber. Barry likes to stay overnight and keep his eye on the tempeh. According to Gordon, Barry eats the tempeh the next day for breakfast. THAT'S quality control! For a recipe idea of what to do with Barry's Tempeh, see Part I. For locations where you can buy Barry's Tempeh, click here. And here is a great video highlighting Barry and the tempeh-making process by Liza de Guia at Food. Curated.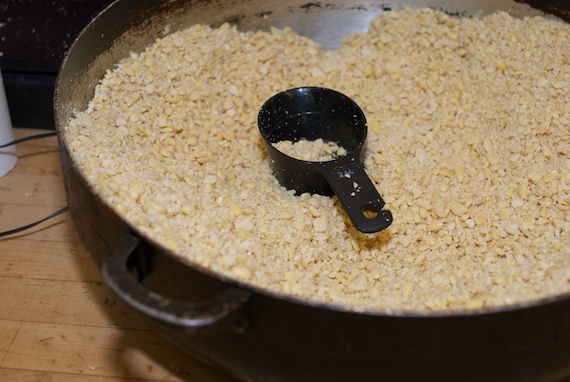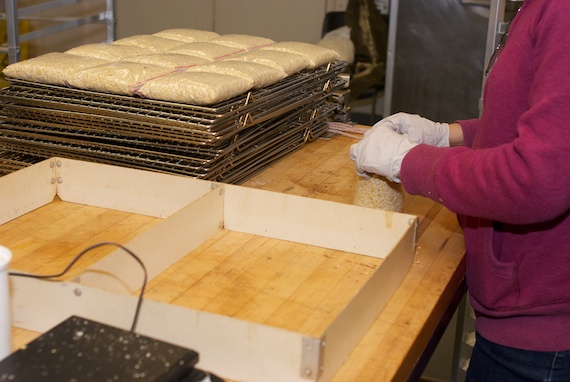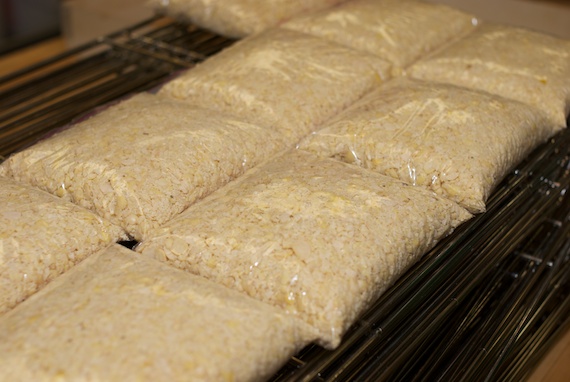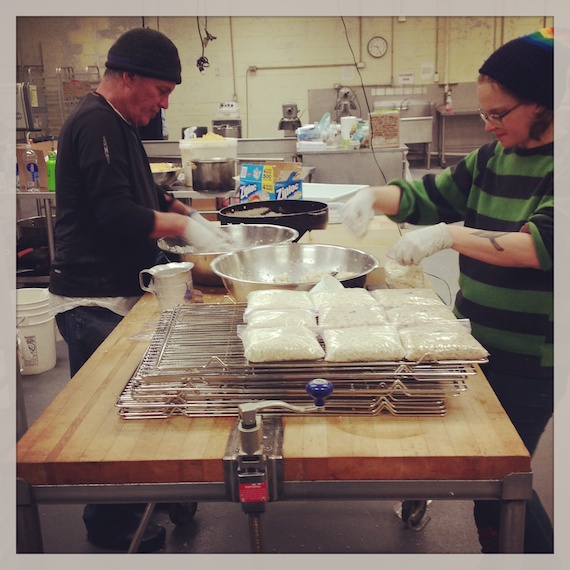 Barry was nice enough to give me my own little dose of starter so I can experiment with tempeh-making at home. My CSA's bean share from Cayuga Pure Organics will be starting soon, so I'll wait until I have enough beans to make a few pounds of tempeh, since Barry said that it's really not worth it to do in small batches, and hey, you never know… maybe there will be a Part III of this tempeh series?!

Similar Posts: