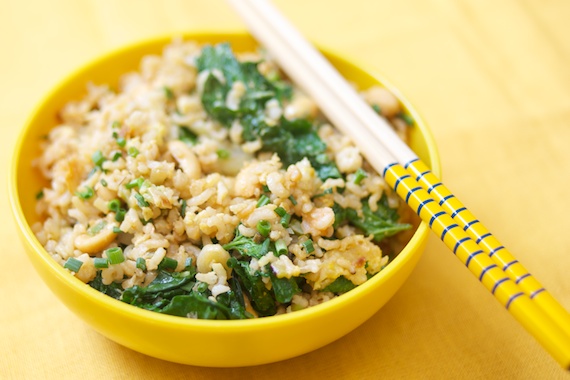 A few weeks ago on a Friday afternoon, I was tuned in to my local NPR station listening to Leonard Lopate while doing some Passover baking. Leonard Lopate, who hosts a daily interview show from 12-2 each weekday on WNYC,  has been dedicating Friday's shows to all things food for 10 weeks. On this particular afternoon, he was interviewing Tama Matsuoka Wong, a NYC-based ex-lawyer and professional forager (only in New York!), who discussed seasonal foraging options. (Hear to the segment here). I listened intently to her descriptions of the different weeds and plants in season right now and  mourned the fact that I didn't have a lawn since she said everyone has wild garlic (also called field onions or field garlic) growing in their yard. I enjoyed listening to the segment, but assumed it wasn't something I could put into practice.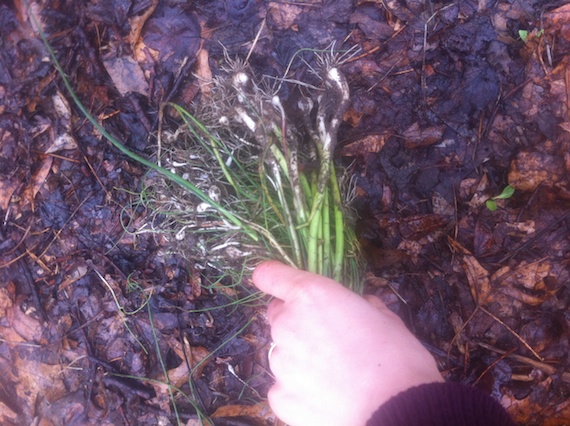 Two Fridays later, just 20 minutes before that week's Food Friday show, I was driving to Fairway Market in Douglaston, Queens, when I noticed something resembling what Tama described on the side of the road. Could it be?! Could there be wild garlic growing on the side of Douglaston Parkway?! I pulled over, jumped out of the car, grabbed a stick, and started digging around the bright green shoots, and low and behold, it WAS onions! Dirty, muddy, onions! It was a super chilly and rainy day, so I threw the muddy heap of onions on the floor of the back seat, and continued on my way to Fairway. (But first I posted on instagram, obvs!) When I got home, I sifted through the pile of petite alliums, cleaned them up, and marveled: how could I have not known that these were all around me?! Then I took even more pictures of them (how cute are they?!) and whipped up a simple pesto with the garlic, arugula, pine nuts and olive oil which I threw over some roasted vegetables. It was so fresh, and bright, that I decided I must go out again on a non-rainy day.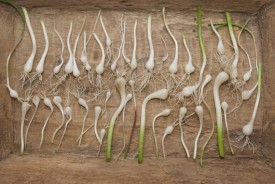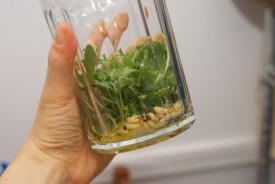 A few Sundays ago was a day of plentiful sunshine, and with Matthew off at a Knicks game, I decided it was time for me to go back out to the wilderness of Queens and see what I could find. I researched seasonal weeds on Tama's website Meadows and More, and saw that in addition to field onions, garlic mustard is pretty ubiquitous in this area. According to that site and a bit of internet sleuthing, I learned that garlic mustard is a tender green which tastes like a mix between (you guessed it!) garlic and mustard – two of my favorite things. I geared up with a bucket, latex gloves, scissors and a borrowed spade from my building's handyman, and set out.  I initially headed back to the area adjacent to Douglaston Parkway where I first made the sighting of the roadside wild garlic, then ventured on foot from there. I immediately spotted lots of wild garlic and what a quick Google search confirmed was garlic mustard, but there was also a ton of trash ranging from beer cans, plastic bags, cigarette boxes and straws. In some cases, the resilient shoots of the garlic grew right up and literally through plastic bags. While this was an impressive botanical feat, I was looking forward to foraging in more of a non-littered environment, so I headed into Alley Pond Park.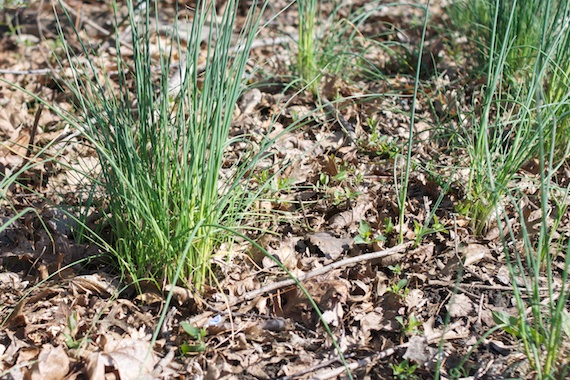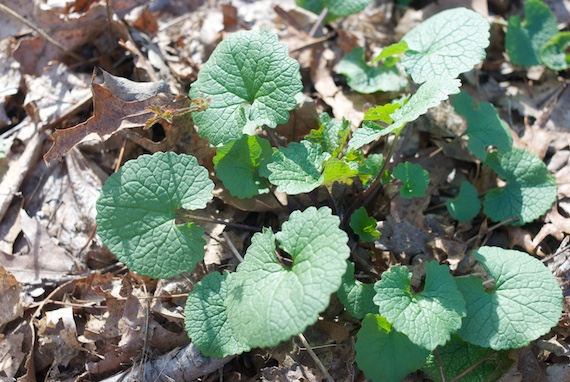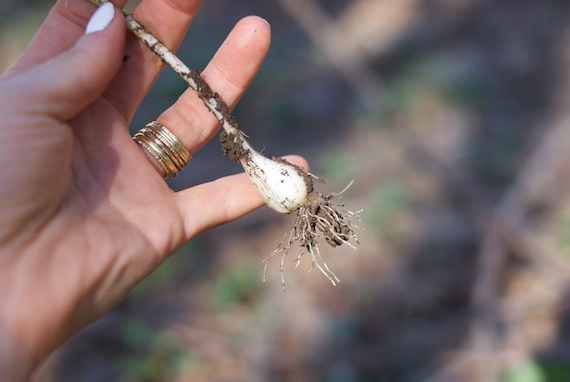 Alley Pond Park is the second largest park in Queens, encompassing more than 600 acres of freshwater and saltwater wetlands, tidal flats, meadows, and forests. I actually haven't spent much time in this park, since Queens' biggest park, Flushing-Meadows/Carona Park is so close to me, so I was excited to trek into unfamiliar territory. I took a hiking path into the park and walked for about a half mile when I started seeing wild garlic and garlic mustard on the forest floor. So, to get this out of the way, it seems as though foraging in NYC parks is technically not allowed according to ordinance §1-04 (Prohibited Uses) of the NYC Parks Rules and Regulations, which states:
No person shall deface, write upon, sever, mutilate, kill or remove from the ground any plants, flowers, shrubs or other vegetation under the jurisdiction of the Department without permission of the Commissioner.
So, since I didn't contact the commissioner, I guess I technically did – GASP – break the law?! I treaded lightly, did no damage to any other plants, and took only what I knew I would consume, but still, I couldn't believe what I was doing was technically illegal since I know of a number of foraging tours in NYC parks around the city. Nonetheless, I guess I won't be going into parks in the future – hey friends and family with lawns, I'm coming for you!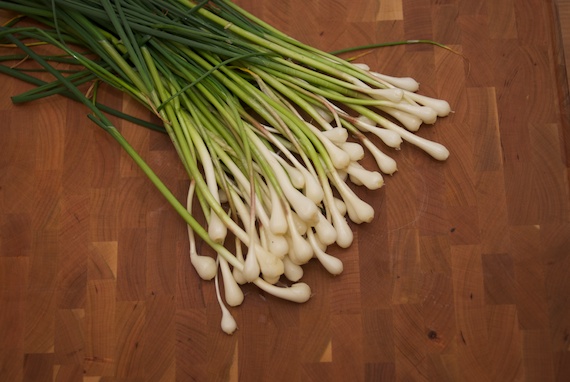 And now, what to do with such a beautiful, fresh, spring (illicit) bounty? Fried rice seemed like a great way to feature both the garlic mustard and the wild garlic without overpowering either. I chopped the garlic and sautéed the bulb-end in olive oil for a few minutes before adding some cooked brown rice, a handful of roasted peanuts and a whisked egg. After a moment of stirring, but when the egg was still somewhat runny, I added the garlic mustard, then some of the chopped tops of the wild garlic, and garnished with a dash of tamari and sesame oil.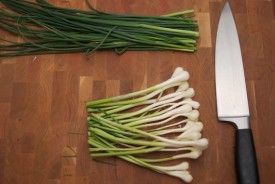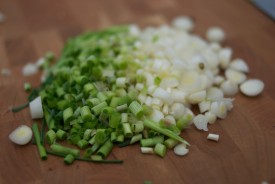 This is the first illegal meal I've made, and I gotta say, I kinda liked it. Kinda is an understatement, I loved it! I loved the taste for sure, but more so the act of going out into the wild, getting my hands dirty, and connecting with the land. I wrote last week about how the spring season can often be a hectic time of wild emotions and frustrations, and I felt (literally) grounded by feeling the cool earth in my hands. I am inspired by the feasibility of harvesting fresh vegetables for a meal so close to home. If you live in a house, go outside and see if these delicious weeds are growing in your backyard! Then cook them! Then eat them! Below are some other websites and resources for foraging.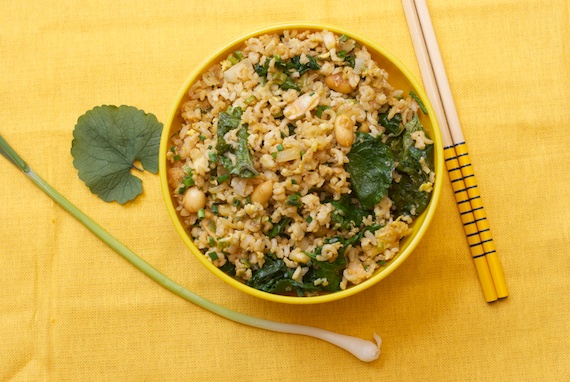 Tama Matsuoka Wong: Lawyer turned weed-eater and forager. She (and Leonard Lopate who invited her to his show) was my original inspiration to park my car and pull up that first bunch of wild garlic in the rain. Thank you.
Wildman Steve Brill: This NY-Based naturalist runs foraging tours of local parks. He has a new app that helps identify plants for your own foraging expeditions!
Foraging Blogs:
GardenFork: Cooking, DIY, Gardening, Green Videos & Podcasts
First Ways: Urban Foraging and Other Adventures
Fat of The Land: Adventures of a 21st Century Forager
Similar Posts: