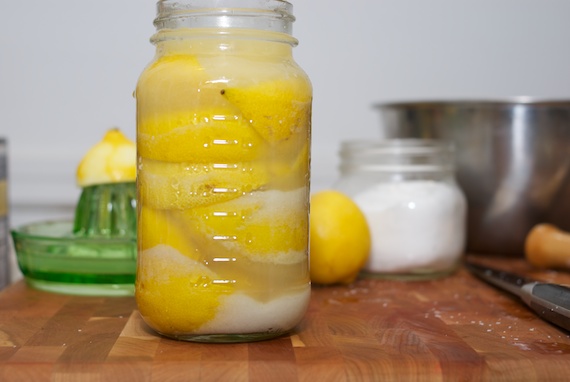 Lemons + salt = sunshiney day.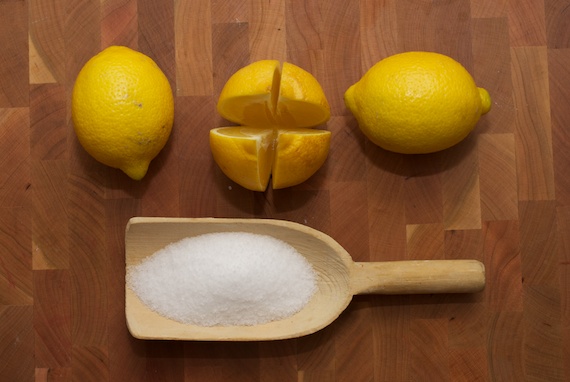 Preserved lemons are a relatively new addition to my pantry since my friend's mother, Josiane, coached me through making my first batch last year. Josiane is Moroccan, and assured me they were easy to make, and essential to have on hand. How right she was! Once they were in my fridge, they made their way into a range of tasty recipes from dressings to salads to soups to marinades, just as Josi predicted. Their taste is kinda lemony, duh, but also SO much more. The salt brings out the umph in the lemon, while in some ways minimizing the acidity. One medium-sized jar lasted almost a full year, even though I did not shy away from putting the pungent slivered rinds into everything. And when I ran out, we were smack in the middle of wintery citrus season, and it seemed like a great time to put up another batch. The "recipe" doesn't have any amounts, and Josi said that it's really just salt and lemons; you'll need a clean glass jar and sharp knife as well. Using organic lemons here is super-important since the only part you do eat is the rind, and non-organic lemons are sprayed with tons of waxes and sealants. Not tasty.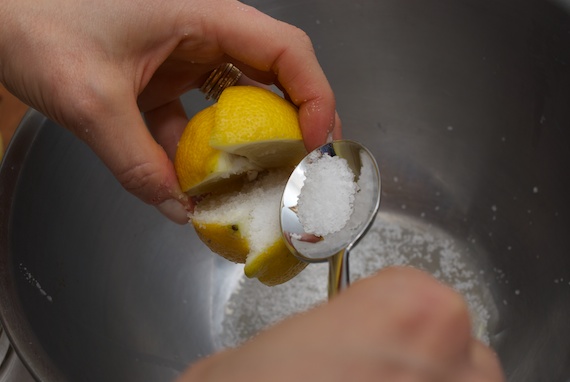 First, wash the lemons. I mean, they are organic, but you don't know who has touched them, right? Next, cut the lemons into connected-quarters, meaning don't cut all the way through to the other side. It should look like a 4-petaled flower/lemon. Then, stuff about 1 tablespoon of salt into each lemon, doing your best to get it into each slice, and place the salted lemon in a clean jar. When you transfer the lemons to the jar, some of the salt will fall out and into the jar – it's all good. Keep doing this with all the lemons, tamping down with a wooden spoon or your fingers. I use a muddler, which really gets the lemons crunched in there well. If you need to, you can cut some lemons in half (still with the extra quarter-slice), salt them, then squeeze them into the awkward corners of the jar to get the jar stuffed to capacity. The point is to fill every nook of available space with lemons, and get the lemons to release some of their juices so they are totally covered. If that doesn't happen when the jar is filled with lemons, top it off with some freshly squeezed lemon juice.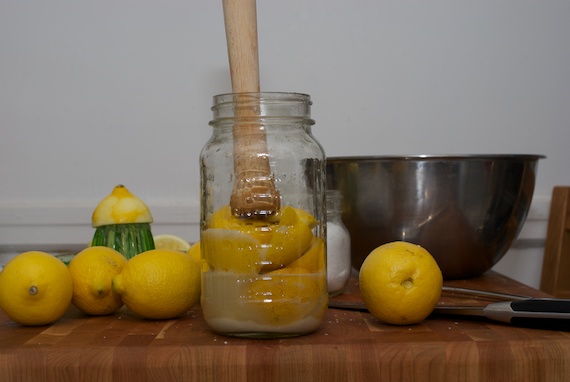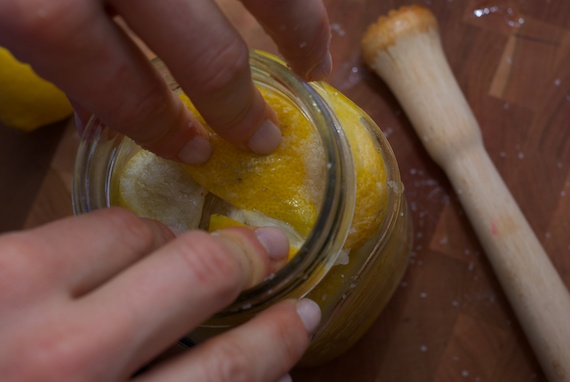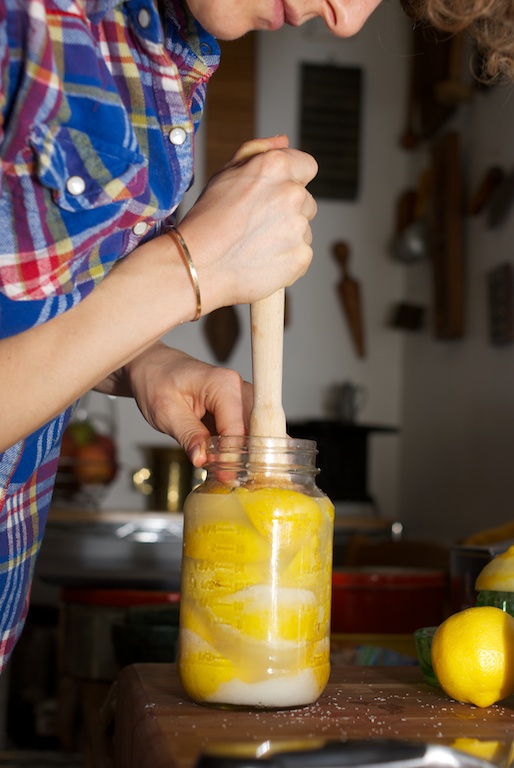 Once the lemons are all cozy in the jar and the level of juice is above the lemons, close the jar and leave it in a cool place for about 7-10 days. For the first few days, open the jar and re-tamp down on the lemons; you'll see the lemons will let off a lot of juice over the first week, so it's a good idea to put the jar over a plate in case the juice erupts, which happened to me! After a week or so, place the jar in the refrigerator, and wait another 2-3 weeks before you use them. You'll know when the time is right – the lemon rinds become a bit translucent-seeming (I say seeming because they're still completely opaque, they just seem translucent), and you'll be able to cut through the rind with a fork.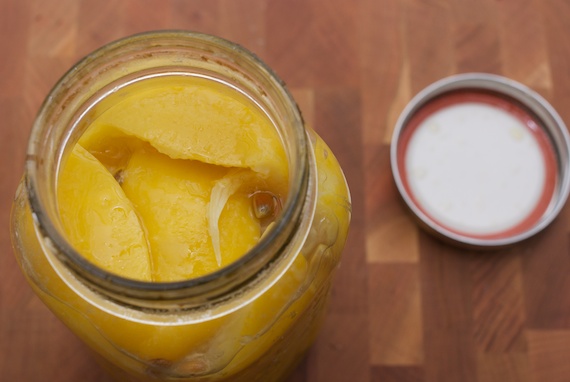 To use, take a quarter out of the jar, and remove the pulp, which will be easy-peasy, it just peels right off. Since 99% of the dishes that call for preserved lemon use only the rind, in general, I discard to pulp, rinse the rind, and julienne into strips or dice finely. (One fish tagine I made used both the rind and the pulp – what a lemony treat that was!) Where to use these umphy sunshine strips of preserved goodness? A great rule of thumb is to throw some in to any dish that you use lemon juice in, like salads, stews and dressings. I used preserved lemons in my chopped Israeli salads all last year, and it really freshened up the whole dish. I used some yesterday in an eggplant tomato stew and it imparted a lightness to the otherwise heavy meal.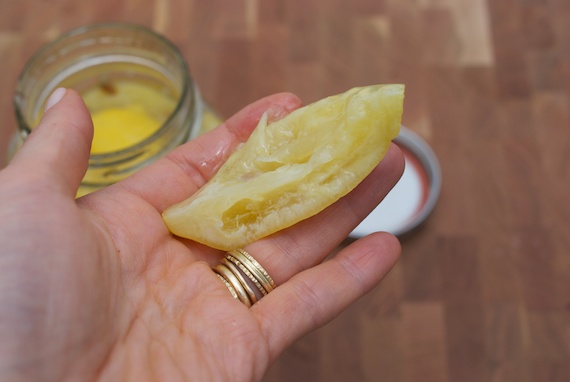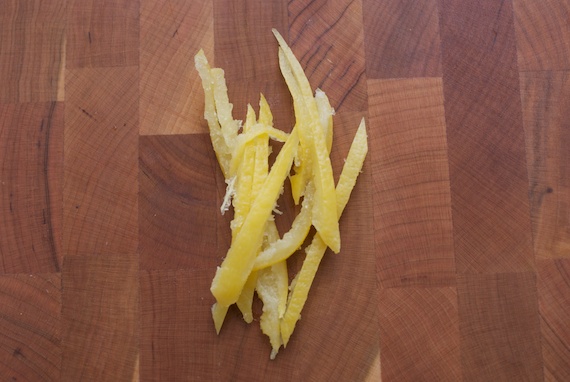 I posed the question on our Facebook page: "What pantry staple do you keep on hand to kick up your dishes?" and I got great responses: anchovies, peanut butter, sesame oil, picked garlic, dulse flakes, and cumin.  Stay tuned for more in this series, and learn how to create some of these pantry staples, as well as fun, tasty ways to use them.

Similar Posts: