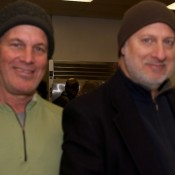 I'm writing this on a sugar high.
I'm also on a Queens high, since I have a kind of borough pride about all the awesomeness coming out of the Queens Economic Development Corporation's E-Space Kitchen Incubator, which celebrated it's 2nd anniversary this evening in Long Island City. The event showcased the incredible chefs and caterers which call the E-Space communal kitchen their home, and let me tell you – what they make, you should get, because it's gooooood!
Please click on the pictures above to learn about these food visionaries, their products and their companies. Save this post for next year's holiday gifts – Support small businesses, support Queens, and support people following their dreams.
Also worth mentioning, fellow Queens blogger Meg Cotner from We Heart Astoria, has written an unbelievably helpful resource: The Food Lovers' Guide To Queens. I was so excited to meet and chat with her at the event tonight – she even signed my copy of her book! Which you should also buy – come eat in Queens!
Stay tuned for a future article when I follow-up on an extremely generous invitation to help one of the companies above make their product in the ESpace kitchens! Who do you think it is?!

Similar Posts: