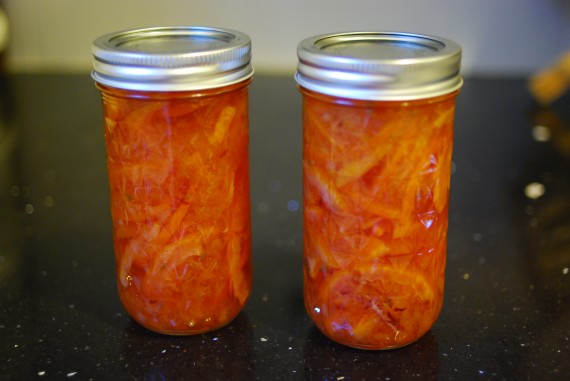 Let me just start by saying that I am no pro canner.  Yes, I dabble, I have the special canning tongs and lid-lifter-magnet, and I have performed the canning process a handful of times, but it was never anything too complicated.  But after a satisfying tomato canning experience (fresh, local, organic produce turned into a pantry staple by my very own hands!),  I knew I wanted to expand my canning credentials and venture into more advanced canning endeavors, but where to start?  Enter The Can Jam.
I've been using Twitter a lot lately (follow me @PantryTweets), and through it I have met and exchanged ideas with some amazing cooks all over the world who are doing some really exciting things.  One of these cooks has two wonderful blogs that I read, and wouldn't ya know it, she is a fellow Queens resident, and she LOVES to can (and pickle!).
Tigress is holding a year-long online canning project which I am enthusiastically embracing with all of my canning heart.  Each month, she'll post an ingredient on her site, and then invites others to can/preserve/pickle a recipe highlighting that ingredient and share their results.  January's ingredient is citrus, and I immediately thought of attempting a true champion of preserves: Marmalade.
Before you read any further know this: canning marmalade is sticky business!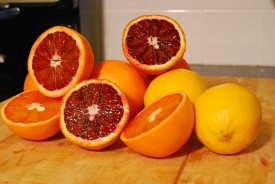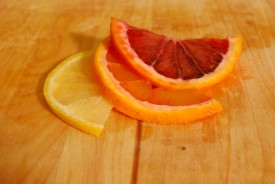 The first thing to do was to figure out what type of marmalade I was going to make.  Since citrus isn't found in the Northeast I can't just rely on my CSA to provide it, so I had to see what organic citrus looked good at my grocer (not just any grocer, Fairway Market), since with marmalade you end up eating the rind, where pesticide residues can collect, organic is the way to go. I was excited to find not just organic lemons and oranges, but organic blood oranges–what a treat!  When I got home I consulted my trusty cookbook collection and found a nice recipe in Joy of Cooking for Bitter Orange Marmalade, which I modified to include blood oranges, ginger, and fennel seed.  The following is an account of the steps (and occasional missteps) I took.  I hope this gives those of you who'd like to try canning that extra push you need to just GO FOR IT!
IMPORTANT: If the preserve is not prepared properly, it can be dangerous.  If you are new to canning (myself included) follow the recipe exactly, especially amounts of sugar, fruit, and processing times (spices can be played around with without compromising safety).   For canning steps, and a great resource, check out the National Center for Home Food Preservation, or these great bloggers and fellow Can Jam participants: Tigress in a Jam, Married…With Dinner, Food In Jars, Dorris and Jilly Cook, and Garden Fresh Living (for a full list of participants, check out Tigress' master list.)
Tricalore Spiced Citrus Marmalade
Makes about 10 1/2 pint jars (I made five 4 oz jars, and five 12 oz jars.  (I processed the 12 oz jars for 15 min, vs. 10 min for the 4 oz)
1 lb oranges
1 lb blood oranges
8 oz unpeeled lemons
Chill, wash, halve crosswise, snip out tough centers, and thinly slice, removing any seeds.
Combine in a bowl, with their juice, and add:
8 cups of water
2 T chopped or grated fresh ginger (Feel free to add more, I will the next time I make this)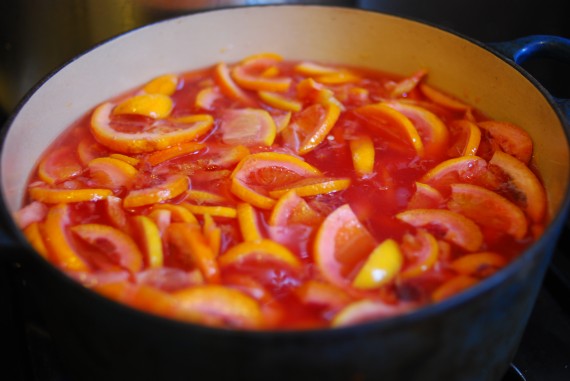 Cover and let stand overnight in the refrigerator.  The following morning, simmer with the water until the citrus peel is tender.  Then add:
6.5 cups sugar
1 T fennel seeds (again, what was I thinking? I would definitely add more of this next time too.)
Divide the mixture in half and cook in 2 batches.  Bring each batch up to a rapid boil, stirring frequently, until you reach the jelling point*. Remove from the heat and skim off any foam. Combine the batches, then pack into hot 1/2 pint jars, leaving 1/4 inch headspace. Process for 10 minutes.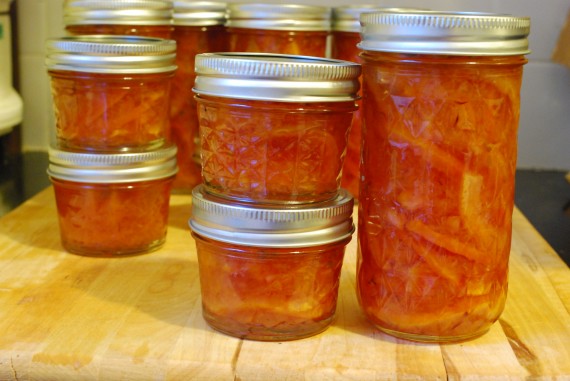 * The jelling point is a temperature/moment when the pectin reaches it's zenith, and the preserve sets.  But…MY MARMALADE DIDN'T SET!  There are various tests to see if the jelling point has been reached;  I did the "quick chill test", in which you drop a small amount of the syrup onto a chilled saucer, let it sit for a few minutes, and then run a finger through it.  The marmalade is set when the line of your finger stays, and the sides don't move or when the marmalade crinkles when running your finger through it.  Mine never got to that stage, but it did hold a line, which various sources explained as a "soft" set.  I was afraid to keep boiling away (my sources said that if boiled too long, the preserves will overcook and be runny), and convinced myself, at the time, that a soft set was fine.  In retrospect, I should have boiled a little longer.  I'm told this jelling point thing will get easier with practice and experience, which I'm excited to get tons of this year!
Despite the syrupy consistency, I am thrilled with the color and flavor of my first foray into marmalade.  It's a little bitter (which I don't really mind), and I think it will be delicious with sweet buttered bread.

Similar Posts: