Confession: I'm not the biggest lover of kugel. I find most kugels heavy, filling, and bland. So when I came across this inspired reinterpretation in Martha Stewart Living's April issue that she called a "potato kugel gratin", I knew I wanted my passover kugel to go in this novel direction. In her version, potatoes are wedged on their edge into a baking dish, topped with an egg/matzoh meal mixture and then baked to a beautiful golden brown. I basically followed her lead, but removed the chicken broth, added carrots and rutabaga with the potato (all from our last Winter CSA share a few weeks ago), used tons of fresh garlic, and since I didn't have shallots, I used a regular onion. But before Tuesday's version for the second night of seder, I made a test batch for a Saturday night dinner party at a friends' house, and went more-gratin/less-kugel by using cream and grated parmigiano reggiano. It was a big hit in both incarnations, and has definitely changed my kugel tune… Two kosher-for-passover thumbs up!
Potato Kugel – On Edge!
Adapted from Martha Stewart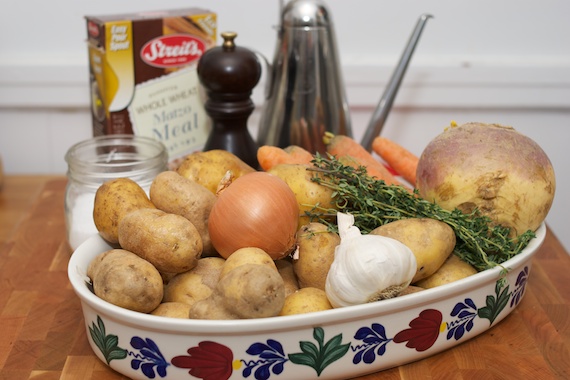 Root vegetables – use any combination of potatoes, sweet potatoes, carrots, rutabaga, turnip, parsnip, all cut to the same thickness
Eggs
Extra virgin olive oil
1 onion
5-6 cloves of garlic
1 lemon
Salt and freshly ground pepper
Fresh thyme
Chives (optional, for garlic)
Matzoh meal, about 1/2 cup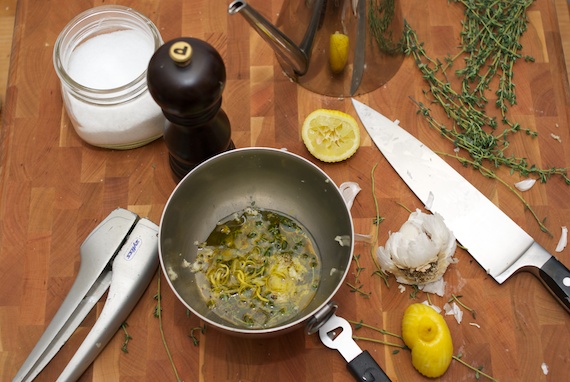 Preheat oven to 350F. Mix up a good amount of olive oil with the zest and juice of a lemon, garlic, fresh thyme and salt and freshly ground pepper. I didn't chop the thyme leaves, I just took them off the stem and added them to the marinade.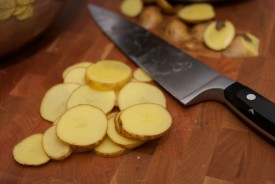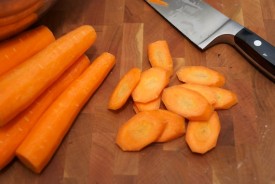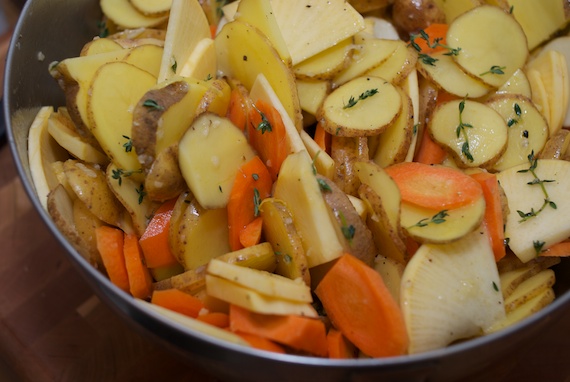 Cut the potatoes, carrots and rutabaga into even 1/4-inch slices, and toss immediately with the marinade, taking care to break up stuck-together pieces and coat evenly with olive oil mixture.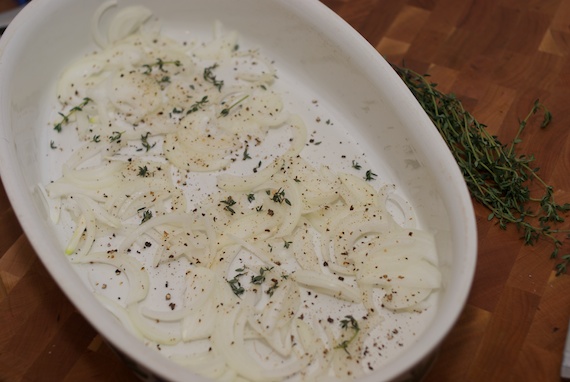 Place a thinly-sliced onion on the bottom of a casserole dish, and sprinkle with salt, pepper and thyme.
This is the fun part – squeeze in the vegetable slices as tightly as you can on their edge, using the small end pieces to fill in all the gaps, until the dish is completely filled up. Whisk the eggs (I think I used 5 for this dish), mix in the matzoh meal, and pour over the vegetables, gently tapping the dish on the counter to release any air bubbles. Cover with parchment paper then foil (thank you Martha for your thoroughness!), and bake for about 40 minutes, until the egg sets. Then uncover and bake for another 15-20 minutes until golden brown. Garnish with chives.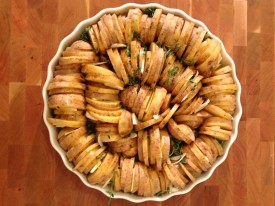 For the more-gratin-than-kugel version, I mixed a bit of heavy cream and grated parmigiano reggiano into the egg mixture, then topped with more freshly grated cheese when I uncovered and browned the topping. I mean… Can you ever go wrong when adding cream and parm?!

Similar Posts: