This is a synergistic salad, meaning the resulting dish is much greater than the sum of its parts. Not that the ingredients on their own aren't fabulous – I love them all. But together, they meld into a salad that is just out of this world.  The first time I had this dish I fell in love with the flavors. The salad is based on a recipe from my dear friend Victoria, whose mother Josiane is Moroccan. In the original version, the carrots are par-boiled and chopped. While it's not an extremely complicated step, I've removed the need to cook the carrots, and instead rely on The Cuisinart, and possibly my favorite attachement – the shredder. Once you peel the carrots, a quick zip through the shredder creates a beautiful confetti of orange.
This salad is a perfect combination of bold flavors, and you can really play with and vary the proportions of each: GO CRAZY!  If you want to use a whole bunch of parsley, go for it! If you're feeling like you want it more garlicky, as you wish. You won't be disappointed, as I have yet to use any measuring utensils when making this salad, and all times it's come out perfectly. The one thing I will say, is that it is essential that you use a good amount of whole cumin seed and toast it before tossing with the salad. This will give the spice a warm earthiness that contrasts nicely with the freshness of the other ingredients.
Moroccan Carrot Cumin Salad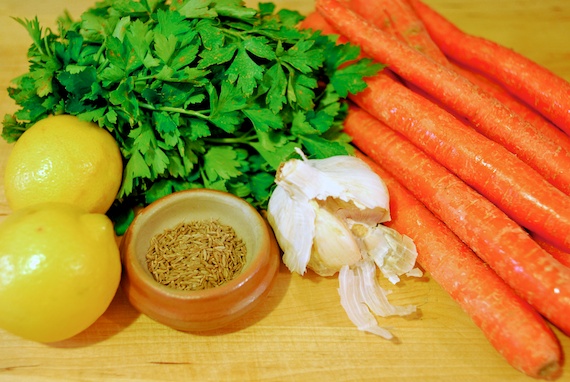 Carrots, peeled and shredded
Garlic – diced or put through a press*
Parsely – cleaned and chopped
Cumin seed – toasted
Lemon juice
Extra virgin olive oil
Salt
Freshly ground black pepper
Mix all ingredients. If you make this salad the evening before, hold off on the olive oil and store in the fridge. Toss with olive oil an hour before serving. Serve cold or room temperature.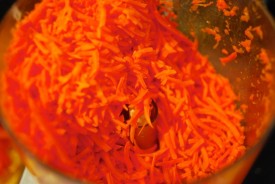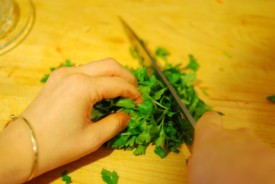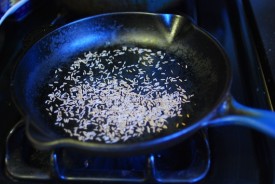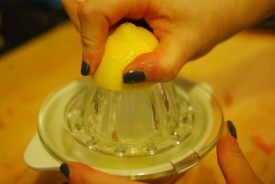 * I used to be majorly anti-garlic press. I was ridiculously rigid about having to chop or dice my garlic by knife, on a board…until one day, I took note of Cooks Illustrated's review of the best garlic presses. The next time I was at a kitchen supply store, I bought their recommendation, and (let me tell you) it kinda changed my life. Sure, there are still times when I want to be intimate with my garlic, but on a day-to-day basis, I just smash a clove with my knife, peel the clove, throw it in my press, and squeeze. It's a breeze.  (Couldn't resist!)

Similar Posts: