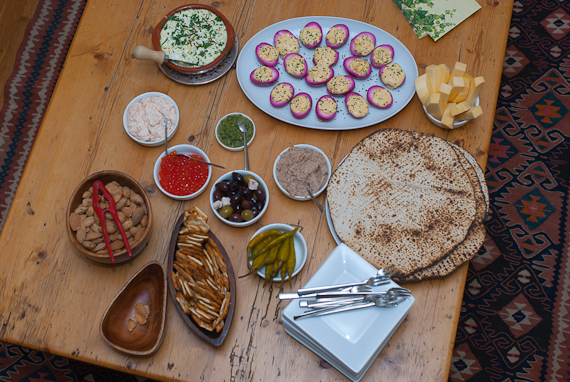 Yesterday I made the prettiest thing I've ever made ever. No contest! Can you pick it out in the picture above?! Those beautiful ruby-red beet-pickled deviled eggs were the perfect addition to our pre-meal nosh. I had been meaning to make these eggs for a while, since I first came across them at brunch at Northern Spy Food Co. over a year ago. I loved the color, the concept, the pickling-ness and most of all the taste, and knew immediately I wanted to make them at some point in the near future. Well, near future it wasn't, as I kept putting it off and off until finally I decided that time was yesterday. I used the Passover flavor profile as a jumping off point, deviling the yolks with horseradish, and voila… The eggs of affliction!
Pickled eggs have been having quite a resurgence in general, and on the social media-picture-sharing app instagram specifically, probably because they're THE most photogenic food item in the history of the world. Take a picture of a beet-picked egg, crop it in a square and add a hip filter, and you make high art – instantaneously! So I kept being reminded of those fuchsia pickled eggs as the 430-something people I follow would periodically post pictures of their versions, and I finally decided that our cousin and sibling passover meal Sunday night would be the perfect time to try try my hand at the pickled-egg trend. I swung by the Union Square Greenmarket on Friday to get a few dozen eggs, knowing I would need them for this dish and also the frittata I was planning on making, and set to work. It was also a bit of a kill-two-birds-with-one-stone-thing since I was already planning on pickling beets for my grandmother's famous herring salad, something that MUST be served whenever us Meyers cousins get together.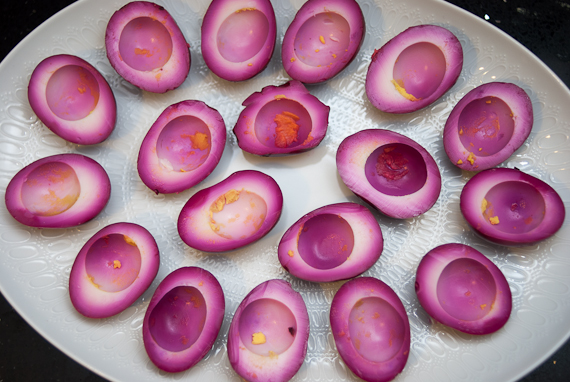 To pickle the eggs and beets, I boiled together a quick pickling liquid of red wine vinegar, water, salt, and sugar then poured it over a jar with sliced, peeled roasted beets and peeled hardboiled eggs. Once it cooled, I stored it in the fridge over night.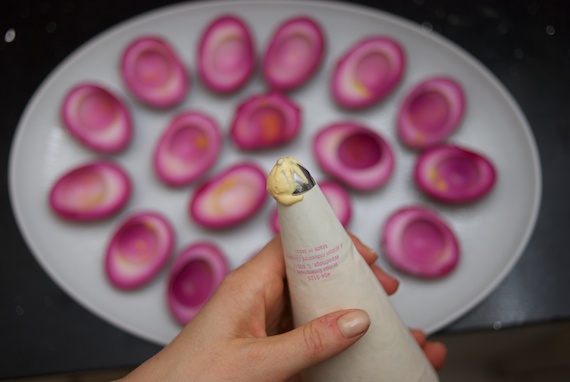 I could hardly wait to slice them open the next day, and when I did, I was amazed to see the hot pink ombre effect on each egg. I added the yolks to the bowl of my stand mixer fitted with the paddle attachement, and mixed up greek yogurt, salt, pepper, chopped chives, lemon juice, and a hefty amount of prepared horseradish. I piped the filling back into the egg whites… err, pinks, with a large star tip. Unfortunately, the filling wasn't as stiff as I would have liked, and it didn't keep the piped shape, instead kinda flattening out. But it don't worry none…They STILL looked incredible!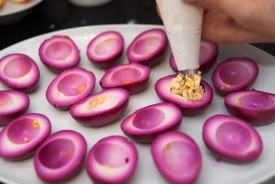 Pipe, pipe, pipe!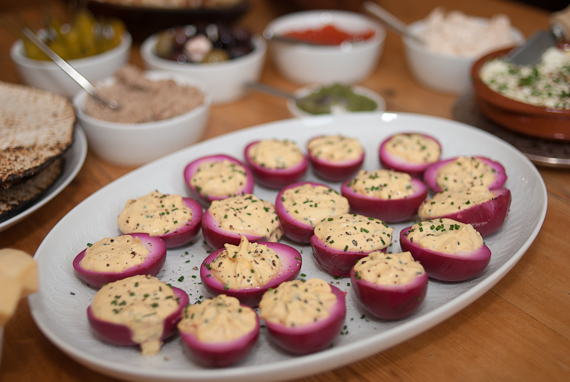 The eggs were served along with a beautiful pre-meal spread of mushroom-walnut spread, olives, grandma's herring salad, warm chèvre, ikra (a carp roe spread similar to taramosalata) and skhug (a hot pepper condiment) from Carmel, our local Russian grocery store.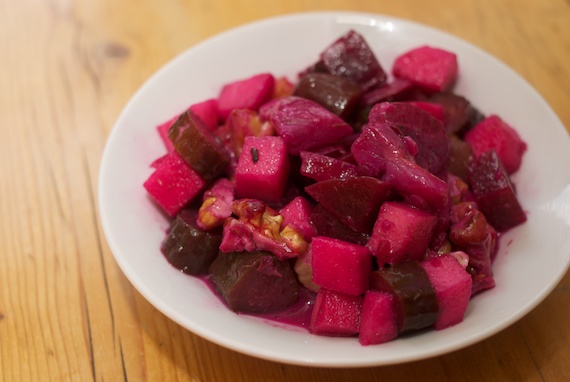 As for the pickled beets that kept the eggs company and imparted their gorgeous hue, they were diced up and tossed with toasted walnuts, sweet gherkins, chopped apple, and drained pickled herring. My cousins and I grew up on this salad, and a family gathering wouldn't be the same without it. Sometimes grandma would throw in a chopped egg or cooked potatoes, sometimes I throw in fresh dill, and no matter what, it's always delicious.

Similar Posts: