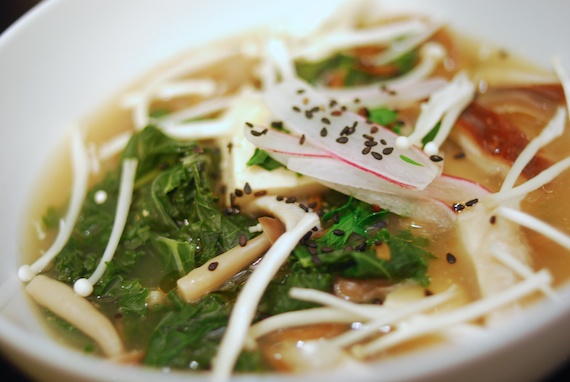 While you wouldn't know it from the warm, balmy weather in New York City over the past few days, but Autumn has arrived. And with it comes the wind, drier air, cooler weather, and…….cold season! In my other life as an acupuncturist, I'm often advising patients on how best to adapt to the changing seasons. One of the ways I suggest during this seasonal shift is to incorporate medicinal foods which boost immunity, and this recipe is packed with them!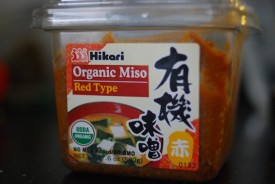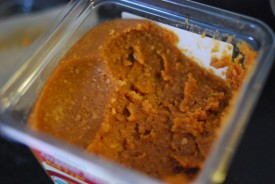 Miso is a superfood. Made from soybeans (or another legume) fermented with rice (or another grain) and salt, the result is a pungent, salty, umami seasoning paste. Used for thousands of years in Japan and China, the bacteria used to ferment miso is the same used in the production of soy sauce and sake (some of my other favorites). Since miso is fermented, the paste is considered 'live', so it is advised to not boil miso, and instead add it to the warm soup at the end of cooking so that the bacteria remains unharmed. It is thought that the bacteria in miso help promote intestinal health, eliminate toxicity in the body, and support the body's immunity. All those old people that they find living in Okinawa, Japan? They all eat miso soup before each meal! You can find miso paste in well-stocked grocery stores and health stores in the refrigerated aisle, usually near the tofu and tempeh.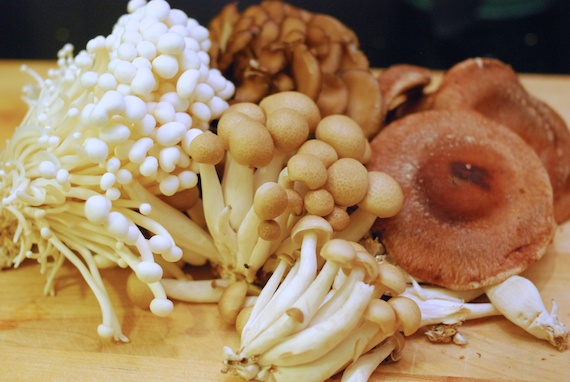 In addition to miso, this recipe includes 4 different mushroom varieties which help boost immunity. When choosing mushrooms for their health benefits, it's a good rule to stick to the Japanese varieties. In this soup, I used shitake, maitake, enoki, and bunashimenji. These varieties all exhibit immune-boosting, antimicrobial, antiviral, anti-cancer and blood pressure-regulating effects; there is much exciting research being done on the effects of these medicinal mushrooms. While you can probably find shitakes at most supermarkets these days, these other varieties can only be found at Asian markets. I rely on H-Mart, a Korean grocery chain in Queens, for my (organic!) mushrooms.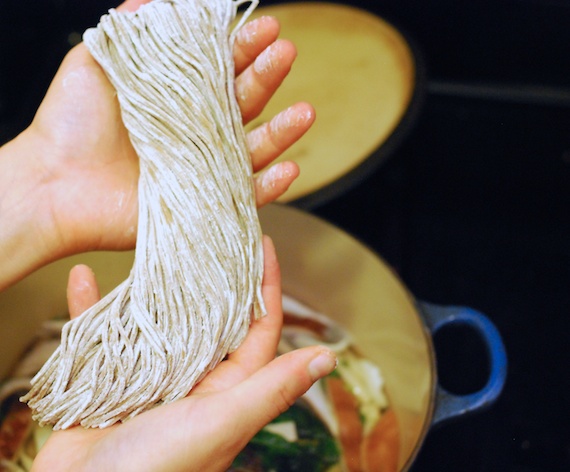 Another ingredient that I rely on H-Mart for is fresh soba noodles. Soba noodles are made from buckwheat, and while you can definitely use dried soba noodles for this recipe, I find that the fresh ones cook faster, since I can just throw them in the soup while it is simmering. In the picture above, you can see that they come coated with flour. I find that the soup is clearer (and doesn't thicken) if you rinse off the noodles prior to adding them to the soup. If you use dried noodles, just cook until almost done in boiling water before adding them to the soup.
Immune Boosting Mushroom Miso Soup with Soba Noodles
Mushrooms (any combination of Japanese mushrooms); shitake caps sliced, others may remain whole. (Freeze shitake stems, as they are excellent to make a stock, but don't work in this recipe)
Fresh ginger (to taste)
Miso Paste (to taste)
1 cup of washed and julienned kale
Soba noodles
Cubed tofu
Garnish ideas: Sliced radish, black sesame seeds, sesame oil, scallions, soaked wakame seaweed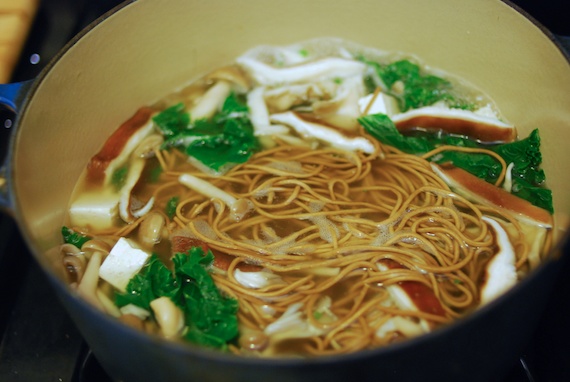 Add sliced mushrooms (except enoki, which don't have to cook) to pot of boiling water with 1 tablespoon (or more) of freshly grated ginger. Lower heat to a simmer and cook for 5 minutes.
Add kale, soba, and tofu. Cook for 3-5 minutes until noodles are cooked through. Turn heat down to low and add enoki mushrooms.
Ladle out about 1 cup of warm broth into a small bowl, and dissolve about 1 tablespoon of miso paste into it. Add miso-broth back into soup. Taste, and dissolve more miso paste in as taste dictates. I find that some days I crave a bland bowl of soup, and others I want a more pungent salty experience.
Ladle into serving bowls and top with garnish of choice. Above I used sliced radish, black sesame seeds and a drizzle of sesame oil.
In addition to the health benefits of the miso and mushrooms, this soup also features ginger and kale, medicinal/nutritional powerhouses themselves. So when you are feeling slightly under the weather, OR even before you get to that point, stock up on this soup so that you remain healthy all fall and winter long!

Similar Posts: